By Mary Ellen Psaltis
The sign on Highway 101 says, Walter Dacon Winery – Tourist Attraction. Delay your errand in Shelton and turn right on Skookum Road. It's not far to the winery. Award winning wines accompanied by their down-to-earth vintners are ready to charm your taste buds, and then keep you coming back for more.
Lloyd and Ann Anderson, owners of Walter Dacon Winery, are a two-person show. The grapes may be grown in Eastern Washington, but the crushing, crafting, bottling and labeling are done right on their property. The vintage tasting room is open Wednesday through Sunday from noon to 6:00 p.m. Ann or Lloyd is there to talk with you about the wine, answer your questions and share a friendly visit. The official greeter is Beaux, their dog who is noticeably quiet but attentive.
Their at-home winemaking enterprises blossomed into a business after years of coaxing by friends. Who imagined that that first bottle of wine they shared on a trip to Reno air show with mutual friends would end up with their marriage and a business? Both Ann and Lloyd had already had careers. Ann had retired from 25 years at the state and Lloyd had a forestry consulting business. The couple studied wine making and traveled to UC Davis to further their wine knowledge.
Anderson sold the big equipment from his timber business and replaced it with winemaking equipment. He smiled as he noted the machines are quite similar, but the wine equipment is not greasy. Ann went back to work for the state for five more years as the business got underway.
People noticed. Awards were given. Then the Andersons started throwing holiday and weekend wine events with live music and food. These have become wildly popular.
The next two, Memorial Day and the Fourth of July, are just around the corner. Lucky partygoers will get Taylor Shellfish steamed clams (May) and then gourmet hot dogs (July). There will be music and good cheer. They expanded their parking lot to accommodate more cars. Be sure to check their website for exact times and dates.
If you're curious, Walter Dacon (rhymes with bacon) is Lloyd's grandfather with whom he spent quite a bit of time. His photo hangs in the tasting room. You can be the next person in line who sees the photo and exclaims, "That looks just like Patrick Steward – Captain Picard himself." It's not, but you'll do a double take. Lloyd told me that his grandfather drove the first Stanley Steamer, an early automobile powered by steam, to the then governor of Michigan.
Early Walter Dacon wines were French-inspired Syrahs and they remain popular: C'est Syrah Belle and C'est Syrah Beaux. One of the newer wines is Grenache, Syrah, Mourvedre (GSM), which is described to have "ultra rich, opulent and elegant" reminding you of "your passion for chocolate or mocha." Yum.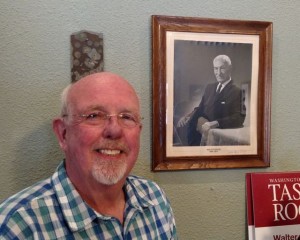 Bottles can be purchased at the Tasting Room and in several locations throughout Thurston County including Bayview and Ralph's Thriftway. Order a glass while dining at Hearthfire, Water Street Café, Mercato Ristorante, Lemon Grass, Dockside Bistro or Rivers Edge and by the bottle at Swing Wine Bar. You can also join their wine club.
"We're inspired by making good wine," said Lloyd Anderson. Of course, you can taste the wine yourself and discover your own inspiration. When you do, remember that life is truly magnifique.
Eat Well – Be Well