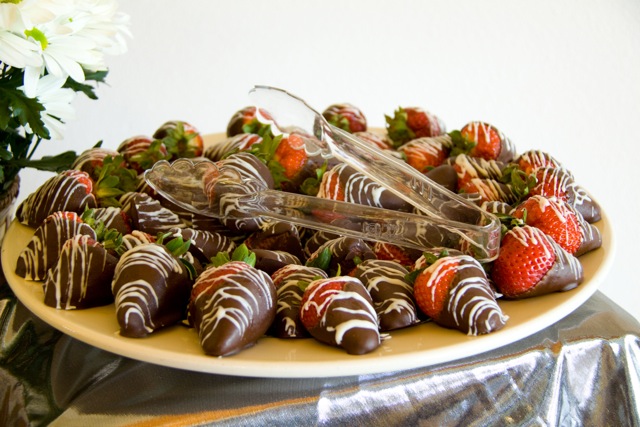 By Kathryn Millhorn
Brace yourselves; Valentine's Day is rapidly approaching. If you're more Jon Stewart ("I have complete faith in the continued absurdity of whatever's going on.") than Martha Stewart ("I think baking cookies is equal to Queen Victoria running an empire. There's no difference in how seriously you take the job, how seriously you approach your whole life.") you probably need a little help.
As usual, look to the skilled staff at Ralph's and Bayview Thriftway to save the day. Produce Supervisor Nate Conat is one of a team of dedicated Thriftway employees set on making your romantic night one to remember.
Conat has worked for the Thriftway family for more than 15 years. He was employed locally for eight years before moving north to the Stadium location in Tacoma. After six years there, he was wooed back to Olympia where he has happily spent the last three years.
One of the ideas he brought with him on his return south was the in-house crafted chocolate dipped strawberry promotion for Valentine's and Mother's Day. He is proud to see them "fly off the shelves" and warns that they almost always sell out.
This year the event takes place on Friday, February 13 and Saturday, February 14. Conat says the treats are hard to miss because display tables and a flowing chocolate fountain are set up prominently in both locations. There, staffers dip and decorate fresh berries on the spot which "really makes the event since they're that fresh."
No special orders will be taken to insure the peak of freshness and berries are available on a first come, first served basis while supplies last. Hours for pick-up are from 9:00 a.m. – 6:00 p.m. on Friday and 9:00 a.m. – 5:00 p.m. on Saturday.
Berries sell for $3.99 for 2, $6.99 for 4, or $12.99 for 10. Go for the big pack, it's got to tide you over until Mother's Day.
Need a great bottle of wine to seal the deal? Thriftway is an amazing source of variety, varietals, and the knowledgeable palate of Rob Backman, their Direct Store Delivery Manager by day and Beer, Wine, and Liquor Manager by night. He and the teams at either location are able to match the perfect wine or beer to your specific meal, dessert, and budget.
Last year's 'Best Grocery Store' in the South Sound, the Thriftway family of stores is a one-stop shop for amazing food, community spirit, and a variety of events and classes for all ages. Want to make next year's Valentine's even more personal? Sign up for a hands-on class at the Bayview School of Cooking. Previous romantic offerings have included 'Squeeze Me' Lemon Raspberry Fizz, 'Apple of my Eye' soup, pomegranate-glazed salmon, and chocolate turtle cake.
Visit Bayview Thriftway at 516 West 4th or Ralph's Thriftway at 1908 East 4th. You never know just what you'll find when you do.