By Gail Wood

If you can't find Andrew Wright, check the swimming pool.
In addition to his afternoon workouts with the Olympia High School's swim team, he's in the pool by 5:30 a.m. three mornings a week, swimming lap after lap, improving his endurance and perfecting his stroke.
What's the price of success? For Wright, a junior who's shooting for his third straight trip to state, it includes early morning, fight-the-sleep rises. He'll tell you there are no shortcuts to success.
"It's all about hard work," said Wright, who is seeded second in the 100-yard breaststroke for Friday's district meet at Curtis High School. "I'm hoping to make it to state again."
That's the dream for Wright, who swims year around and is on the Evergreen Swim Club. Besides his drive to succeed, there's another motivation for swimming laps about 13 hours a week.
"It's just a lot of fun," said Wright, who started swimming when he was seven years old.
The fun includes the winning, the success. And there's the friendships and the teammates. That comradeship is a big reason why Anthony Newsome-Moffa turns out for swimming. But unlike Wright, a year around swimmer, Moffa swims only during the season. A week after his final football practice with the Bears, Moffa was in the pool, swimming laps. He's not chasing the same dream of going to state as Wright. He's never qualified in his four years with the swim team. But that doesn't diminish his influence as a leader. Even if he's not the fastest swimmer on the team, he's still a leader, an encourager and a friend.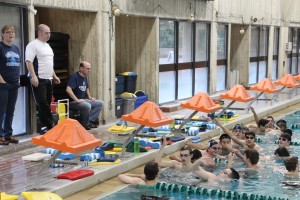 "Anthony's a great leader," said Henry Valz, the Bears assistant coach. "He's in his second year as a captain and I couldn't ask for anything more out of a senior captain."
Moffa, a wide receiver on the football team, isn't sure what hits harder – a linebacker or the swimming pool wall.
"When I was younger, I chipped a tooth on the wall," Moffa said with a chuckle.
James Waltz, while only a sophomore, is already making a big splash for the Bears. He's seeded fifth at district in the 200-yard individual medley with a 2:07.9, eighth in the 100 freestyle with a 51.6 and 11th in the 50 freestyle with a 23.6.
"James is our sophomore phenom," Valz said. "He's on track to be our most improved swimmer this year, probably. We'll see how district goes. He worked really hard in the off season. He put in a lot of yardage with Evergreen and got ready for this season."
Waltz, who also swims year around with the Evergreen Swim Club and has been swimming competitively since he was in the seventh grade, has been focusing on improving his start this week, hoping to trim his times.
"My starts are really slow," he said.
What Waltz likes most about swimming on his high school's team is the teamwork, sometimes a forgotten part of swimming.
"A lot of people don't know how swimming is a team sport," Waltz said. "They think of it as an individual sport. We know it as a team sport because of all the cheering."
And, in addition to the cheering, there's the "hanging out" together. On a number of Saturdays during the season, the team gets together for breakfast. Before a practice this week, Valz handed out donuts – just for fun.
Waltz said the secret to what makes a good swimmer is simple. "Dedication is probably the biggest thing," Waltz said. "You need to be willing to put in the effort and the hours to get faster."
While Waltz works hard in swimming, he's not just a swimmer. All the dedication hasn't hurt his grades. He's a 4.0-student, never getting a B.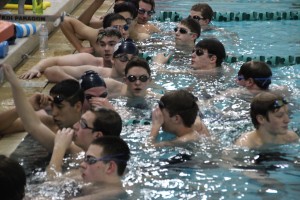 "I got an A-minus once, but I got it raised back up," said Waltz, who wants to be an engineer.
The Bears have been a ship without their captain this week. Long-time coach Mel Smith had shoulder surgery last Friday and is on the mend. Valz, who is the head coach of the girls swim team at Black Hills High School and has been assisting Smith for the past four years, is filling in.
"I'd have liked to have finished the season out, but the shoulder and three hours of sleep at night weren't working out well," Smith said.
Wright, Waltz and Eli Champagne are the Bears' top seeds. Listed below are Olympia's district qualifiers and what they're seeded and what their top times of the season are.
200 freestyle: 11. Alex Hougan, 1:56.2; 200 IM: 5. Andrew Wright, 2:07.9; 18 Zabdi Hernandez, 2:17.8. 50 freestyle: 11. James Waltz 23.6, 21. Zach Walker 24.2. 100 butterfly: 8. Eli Champagne 58.8. 100 freestyle: 8. Waltz 51.6, 17. Zach Walker 53.5. 500 free: 13. Ben Matthews 5:32; 15. Zabdi Hernandez 5:33.2, 24. Henry Nordhorn 5:50. 100 backstroke: 14. Eli Champagne 1:03.3. 100 breaststroke: 2. Andrew Wright 1:01.8, 10. Matthew Kamimura 1:72, 24. Ryan Underland 1:11.1.