By Kelli Samson

Valentine's Day is right around the corner. This year, why not let that date on the calendar serve as a reminder to spend some quality time with your sweetie?
No pressure. It certainly doesn't have to be on February 14 (which is a Saturday this year, in case you hadn't checked).
But make the time for a real date. Even if it takes place in your living room.
Settling on a time can be challenging enough, so I've taken the liberty of scouring our fair city for date night ideas so you don't have to worry so much about that part. There's bound to be something here for everyone.
Dinner and a Play: Trinacria Ristorante & Harlequin Productions
If you like a quiet, traditional date night, this may be for you.
Trinacria is, hands-down, my very favorite restaurant in Olympia. It's not flashy, but its beauty is in the details.
The tables – of which there are less than ten – have simple paper place mats and are each set neatly with Fiestaware and Duralex glasses from France. Wine is charmingly served in a juice glass.
The lights are always very, very dim, with the brightest spot easily being the twinkling lights around the front – and only – window.
The menu is letter-pressed by Olympia's Sherwood Press, and it's very classy. The stars are the Sicilian pizzas, often called calzones elsewhere. It's nearly impossible to finish one, but they are so indescribably amazing.
The no-frills salad comes after the meal and is very authentic. It's a small plate of greens dressed with a basic vinaigrette.
Dessert is either tiramisu or cannoli. If you know which one you'll be having, make your request to set it aside when you call for your reservation. One small pan of tiramisu is made the night before, and there are only n-i-n-e coveted pieces in the pan. Don't be the sad person who gets told, "We ran out."
Things to know: You must have a reservation. (Call 360-352-8892.) You also need cash or a local check, as they do not take cards of any kind. But they will wait for you to run to the ATM down the street if you forget.
A short walk from Trinacria is the State Theater, home of Harlequin Productions. If you've never been in before, prepare yourself for Jazz Age elegance. The theater has been restored to its original time period, complete with a gorgeous painted ceiling in the lobby.
Their productions are always fresh, even if they're showing a classic. Artistic Directors Scot and Linda Whitney make sure each show is expertly cast, and you will often see someone you know on stage. Most productions aren't targeted toward children, so the audience is filled with adults who know their theater etiquette. It's a true escape for all of you parents.
Harlequin is currently in the middle of its run of The 39 Steps, which ends on Valentine's Day. This is a comical theater adaptation of an Alfred Hitchcock film, and four actors play the 139 roles. Tickets tend to go quickly, so be sure to plan ahead.
The Throwback: Skateland & The Reef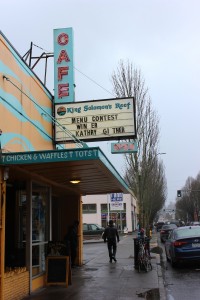 True story: my mom used to skate at Skateland when she was a kid. She is now 67 years old. According to her, it hasn't changed a bit.
If you and your date are young and hip or just young-at-heart, this one's for you. And a bonus about this date? It can happen pretty much any time of the day.
How about paying around ten bucks for the two of you to skate for two hours? Not bad.
Skateland's got a decent music collection and a deejay that happily takes requests. This is a date with laughter, maybe some falls, and a guaranteed special someone with whom to hold hands during all the couple's-only skates, making up for all the times you skated alone to "Please Don't Go Girl" back when the New Kids on the Block were cool.
After your two hours are up and your blisters have set in, drive downtown and get off of your feet by taking a seat at King Solomon's Reef. Order a hand-dipped milkshake with two straws (may I recommend the Oreo flavor?), some out-of-this world burgers and fries, and maybe, if you're going crazy, some pie. Or breakfast – they serve it until 3:00 p.m. daily. Because The Reef is diner food at its best.
But wait! There's more! Located by the front door is something that's sure to get the adrenaline flowing for everyone who grew up in the 1980's – a tabletop Ms. Pacman game. Bring your quarters, because you can't leave without showing your date you've still got skills.
Takeout and a Night In 
Maybe a night out just isn't in the cards for you for any number of reasons. In that case, bring the date to you.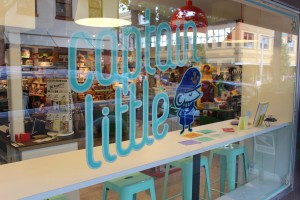 Make the effort to set this night apart from any another night. Set up a picnic in the living room, complete with candles and your best dishes. You're busy, so don't cook. Let someone else do that for you.
Olympia has some stellar options for takeout. Call ahead to the Lemongrass and place an order for your favorite Thai dishes. Or pick up a pizza from I.talia. Make a little time earlier in the day to grab some dessert from the Bread Peddler or the San Francisco Street Bakery (resist the urge to sneak a bite). One of you can pick up dinner while the other sets up the picnic.
After the picnic? Well, that's up to you. There's always Netflix or a rental from a local Redbox or change it up and play a board game. Captain Little's got you covered in that department.
As with any holiday, the best gift you can give someone is the gift of your time. With a little bit of effort, you and your honey can enjoy some sweet Valentine memories for years to come.
You're welcome.