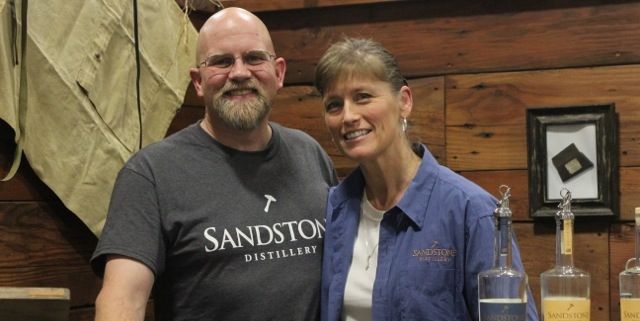 By Holly Smith Peterson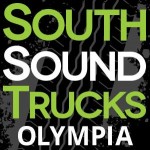 It's at the end of a winding drive through the bucolic cattle pastures and alpaca farms of Tenino that you'll find the large red, purpose-built warehouse encompassing Sandstone Distillery.
What you might not know after stumbling upon it is that it's Thurston County's sole craft liquor production site, and the first to open there since Prohibition.
"Twenty-five years ago we tore down a 100×100 foot barn, pulled 20,000 nails from the roof and created a lumber yard," says owner John Bourdon, who runs the business with his wife, Jenny. "Those materials were used to build this place 2.5 years ago. The old wood brings out the history and character."
As he shows off frays in the giant timbers where Jenny's mare once gnawed in the old barn, it's clear that the entire facility is a museum of local stories. Just inside the door, near the tasting credenza, is a tinted late-19th century photo of one of Tenino's famous stone carvers. Atop the ochre dividing walls of the foyer are an antique chisel and carving tool once used in the city's famous stone quarries, which a century ago fueled its economy. In the restroom is an old photo of that stone operation.  Along the gravel drive, the building itself is fronted by a massive boulder hewn with the distillery's name.
"Our neighbors, who are in their 70s, are descendants of the town's original stone carver, whose statue you can see outside of City Hall," Bourdon says. "That's how we decided to name the business. Everything here represents that stone-carving heritage."
The Bourdons are eager to highlight this history as they begin the walk through the facility, a well-practiced tour they're getting more and more used to giving impromptu these days. Word of mouth about the distillery's unique business spin is spreading fast throughout Puget Sound, as well as reverberating praises for its high-quality, reasonably-priced liquors. In recent weeks, the family has hosted stop-in and tastings for passersby from Port Orchard, a band of North Thurston firefighters, and a scattering of curious Puget Sound restauranteurs and bartenders who have heard the word that Sandstone is something special.
"We're privileged to be able to share our local heritage, not just about this area but about our family," Jenny explains. "We have four generations working here on the weekends, from ages 84 years to 18 months. It's wonderful to be able to share that."
Indeed, inside the timber-hewn foyer with its tasting stand and wall of Sandstone Distillery shirts and souvenirs, a set of iron gates open into a production facility that's not only functionally sparse in design but also captures history in every piece of equipment. A set of gleaming metal cooker tanks and boiler pipes, designed by John, steam from one side of the clear cement floor.  These are flanked by oversize sacks of grain from Eastern Washington farms.
On the right are a duo of oversize kettles whose former lives were as soup tanks on a 1970s Navy ship — today they're dubbed "Hark" and "Herald," for angel figures John one year proposed to his family as toppers for a double-spiked Christmas tree. Drinking glass-sized "plates" perch above each: a stack of four creates lower proof, more flavorful whiskeys; an eight-stack distills cleaner, higher proof vodkas.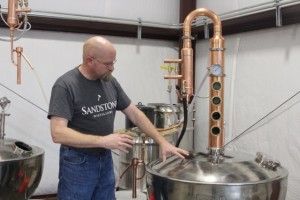 In which forms those spirits appear is often the genius of Jenny, who by day runs an Olympia surgical facility, and who by night and weekend concocts liquors infused with sweet and savory natural flavors. From the Bourdon's own acreage come extracts of blackberries, apples, rosemary and mint, while botanicals like sweet orange, cardamom, cassis, cinnamon bark and licorice root are sourced from as close to home as she can get. For her most frequent seasonings, the upper walls of the warehouse are lined with narrow shelves of small planters, which feed off the steam from the cookers.
"We're big on the 'Farm to Table' concept, and sourcing local," Jenny says. "We think that's a sustainable way to go."
Currently two gin varietals feature lemon or licorice, the latter of which she says is surprisingly favored by men. A jalapeño vodka has found its way into the local Mexican restaurant's menu. The dining venue at Offut Lake Resort has signed on to use the Sandstone white whiskey in its holiday "White Christmas" hot chocolate drink. And regional foodies and spirits connoisseurs throughout Puget Sound, including Governor Jay Inslee's executive chef, are tasting and buying up the limited batches of bottles — which are themselves slim and elegant glassworks, with a local artist-designed label featuring the hands of a Tenino stone carver at work.
"Growth has been on all sides, but we just want people to understand the process and to see what we have here," says John. "We want them to be able to connect with the product, and with us. Sales are just a byproduct."
As for any small business, though, the Bourdons' road hasn't been simple. After owning a successful trucking company, and subsequently embarking with the family on a cross-oceans sailing excursion, while Jenny was at work John began dabbling in distilling from home. That turned into an investment in education on the distilling process, focused on learning how to run such a business.
Breaking into the state's undefined liquor industry, though, with all of its recent tax additions and rules, also led to involvement on state liquor discussions at the legislative level, where parameters for everything from distillery fire codes to tasting room guidelines to labeling formats were on the table.
"We're where microbreweries were 25 years ago," John observes. "We're at the forefront, with just a few others ahead of us. That means we have a lot of the basic knowledge, and also the opportunity to help define the industry's future."
As the tour winds down, John describes the path for Sandstone Distillery's next few months.  "We just want to hold steady, to keep selling out of our own backyard." By 2016, the couple is aiming to build a self-sustaining portfolio throughout the Pacific Northwest; by 2020, they're looking to be recognized across the U.S. and in Asia.
The caveat, says Jenny, who keeps the books, is that the business must always be self-supporting. Expansion is eventual, and inevitable: set hours for visits, tour group capabilities, educational outreach, and in-house "Distiller for a Day" experiences. These are all ideas that the couple is closely embracing.
"You're only given so much time on this earth, and this is our passion," she summarizes. "It's all about maximizing the daylight that you have."
You can learn more about Sandstone Distillery on their website or by following the business on Facebook.  Driving directions can be found here.