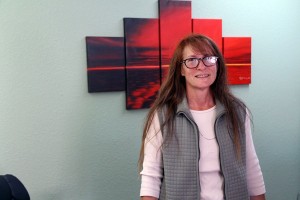 Between doctors, dentists, chiropractors and everyone else in between, finding a healthcare provider that is right for you can be a challenge. That is, unless you're in the market for a massage therapist. Customers of In Touch Therapy in Olympia rave about the outstanding care and service provided by all of the massage therapists and staff at In Touch. From Founder and Clinic Director, Kenton Stuth and LMPs Mimi Miya-Kaposztas and Brittany Padilla, to the friendly, helpful service provided by Office Coordinator Shannon Monahan, everyone at In Touch Therapy brings experience and skill that their clients trust and respect.
Diane Frank has been coming to In Touch Therapy for six years and says her life is better because of it. "I come in whenever I have an injury and can't deal with the pain anymore, or I come in to relax before going in for a chiropractic adjustment," says Frank. Frank says prior to In Touch she had visited four other massage therapists, but that the experience she gets at In Touch is the best she's ever had. "[Kenton's] my guru pain management adjuster," she says with a smile.
What Frank says is most impressive about In Touch Therapy is the knowledge each therapist is backed by. "When I hurt my shoulder or my lower back, [Kenton] knew how to get right to those areas and free me up of my pain and relax my muscles." Frank also loves the friendly, casual environment, and recommends In Touch Therapy to anyone in need of pain management services.
Kim Andresen was recommended to In Touch Therapy by her chiropractor four years ago. Now a regular at In Touch, Andresen says it's the people at In Touch that keep her coming back. Andresen says each therapist has their own style, but that each provides an outstanding experience backed by knowledge. "When I'm with Kenton, I learn a lot," says Andresen. "It's a teaching moment for me. I have really applied his techniques and methods at home."
Expert care in a respectful, comfortable environment is all part of the experience at In Touch Therapy in Olympia. Of course, don't just take it from In Touch Therapy clients, experience it for yourself by booking a massage. For more information about In Touch Therapy, visit their website here, or contact Shannon at 360-866-8940.