Start by converting a large empty space into a welcoming furniture store.  Then, stock it with not just mattresses and sofas, but instead an array of furniture options that radiate warmth, charm, and a sense of family. It is almost a magical feat.
Allen Starkey and Eddie Nelson, owners of The Olympia Furniture Company have created just that type of setting out of the 14,000 square foot space.  Located in West Olympia, Starkey and Nelson have transformed the warehouse location into a self-described "community furniture store."
Starkey and Nelson have intentionally involved their family in the business, welcomed friends to come visit them in the store, and deliberately conveyed their commitment to local businesses and giving back to the community.  Nelson explains, "When I was a kid my grandmother would take us to this general store in Elma. It was a catch all store with furniture, clothing, housewares and an assortment of items. We would go on the weekends and we would watch the cartoons they played for the kids while she shopped. We want to be that kind of local community store – where families feel comfortable coming to visit us to shop and share what is going on in their lives and the community."
"We show the Seahawks when they are playing," Nelson continues.  "We want a family oriented setting. It is a family thing for us. Our kids work here and our wives help out. We want that community feel."
Starkey and Nelson opened the store in mid-2013, offering more than 40 collective years in the furniture industry. Nelson explains that he started selling furniture directly out of school and has worked in all aspects of the industry from stocking the warehouse, to selling on the showroom floor. His experience also includes back office administrative duties and store management.
When the opportunity presented itself to open their own store, Starkey and Nelson felt confident, based on their industry expertise gained through working in different positions and at a variety of furniture stores in the area.
Nelson explains, "It is about guiding the customer toward what will work best for them. It is not about just selling a piece of furniture. If we do not have something in the showroom, we are knowledgeable about what is available and can help the customer get what they need. We are even willing to go out to their home," Nelsons explains. "Really, this work is so rewarding because I get to meet new people all the time and provide them with something they will enjoy for many years."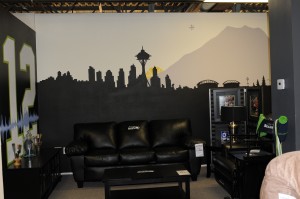 Nelson continues, "Our concept is to be as local as we can be. We use a couple of local custom builders such as Grandwood Furniture from Lakewood and Anderson Woodworks in Olympia to build custom bedroom sets, bookshelves, and coffee tables if you have a specific spot in your home or want a particular wood. Our mattresses are made locally such as Sealy out of Lacey and Lady American from Sumner.  We have 30 mattresses to choose from offering three different brands within driving distance from us. And we use American made vendors. We do carry the major brands whose upholstery lines are made in the United States either in California or back east. We start as close to home as we can and then work our way out if necessary."
Starkey chimes in, "As long-time Olympia residents and now local small business owners, we have become more aware of our personal shopping habits and re-committed ourselves to supporting local businesses. For example, rather than go to a national chain restaurant we will just go for a short walk to Vic's Pizzeria or Wally's for lunch. Or if we need something from the hardware store we will cross the street to shop locally rather than go to one of the big box stores. We want to keep our support and dollars right here in town."
Nelson admits, "We have grown a lot faster than we thought we would. We estimated it would take three to four years to reach where we have in just over one year. A lot of things have happened so quickly."
The Olympia Furniture Company was recently selected as the best furniture store for the Thurston County Chamber Best of South Sound awards as well as recognized by Evening Magazine's The Best of Western Washington Nominee for Best Furniture Award.
To learn more about The Olympia Furniture Company, click here to visit their website.
The Olympia Furniture Company
2302 Harrison Avenue NW, Suite 101 in Olympia
360-338-0638
Hours:
Monday through Saturday from 11:00 a.m. – 7:00 p.m.
Sunday from 12:00 p.m. – 5:00 p.m.