By Gail Wood

At the same moment, they'll be coach, dad and alum.
In Friday night's Bear-Cougar clash, in the annual Spaghetti Bowl where crosstown rivals Olympia and Capital meet, it will be a been-there-done-that moment for three of the Olympia coaches.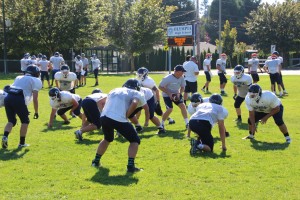 Kevin Gunther, Jeff Markoff and Steve Davis, as former Bears, all played in this game. They all wore Bear Blue and played for Olympia in this rivalry game that will draw 6,000 screaming fans at Ingersoll Stadium. And for these alums turned coaches, this game will have an added reason for being pumped up and excited.
Each coach will have a son playing, lining up against the red-shirted Capital Cougars.
"It's pretty cool," Gunther said as he watched his team practice. "I've coached my sons since they were in second grade and through youth football. It's been awesome."
There are 11 Oly coaches who once played for the Bears. It's part of the recipe head coach Bill Beattie has used in turning the Olympia Bears into winners in his 20 years at OHS. It's a page out of the playbook from his high school coach, Sid Otton, among the state's winningest high school coaches and the Tumwater Thunderbirds coach since 1973.
Fathers coaching their sons is all part of the Bears' family experience.
"I played for Coach Otton," Beattie said during the Bears practice. "Developing a family atmosphere in that program was so critical to the success of Tumwater."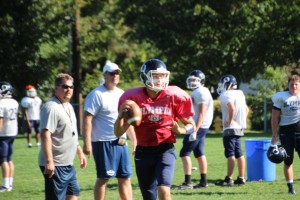 Having gone through Tumwater as a player and then having an opportunity to coach there for a couple of years, had a huge impact on Beattie.
"In fact, I wouldn't be doing what I'm doing with it wasn't for Coach Otton," Beattie said.
To create the family atmosphere, Beattie has dipped into the Bears' past. Impressively, 11 of Olympia's coaches played football for the Bears. Seven of the coaches, including Beattie, have had sons play football for OHS while they coached there. Besides Markoff, Gunther and Davis, Tim Sokolik, Phil Harlan and Denis Shea have all watched their sons play in the Spaghetti Bowl for the Bears. For Beattie, it's about tradition and about belonging.
"I wanted to make sure we had guys who had Olympia ties coaching," Beattie explained. "It's so important to make these kids realize they're now part of something a lot bigger than they ever thought of. They've now been adopted, or integrated into this huge football family."
Beattie took the father/coach role one step farther. Two of his sons have coached with him after their playing days at Oly ended. Andrew Beattie is still on his dad's coaching staff.
Gunther, a 1991 Oly graduate who now has two sons on the Oly football team, was a running back at OHS. His youngest son, Scott, a sophomore, is also a running back and wears the same number his dad did for the Bears – No. 36.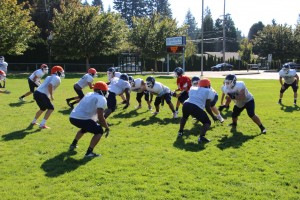 "That's kind of neat," Kevin said with a smile. "It's sentimental for me."
James Gunther, a 5'11" 230-pound junior, will start at center for the Bears.  Kevin sees a good and a bad side to being a coach and a dad.
"Being able to watch it as a dad and a coach is pretty fun," Kevin said with an emphasis on the word fun. "The hard part is sometimes you have only a little separation between dad and coach."
Sometimes "coach" comes home. And Kevin's sons get another coaching session. James has been on the receiving end of one of those extended coaching encounters, when the dinner conversation isn't so much about what happened that day but about a correction for a mistake on the football field.
James sees the good and the bad to having a dad/coach. But he's used to it. His dad, who was drafted by the Oakland A's and played four years in the minor leagues as a pitcher, has coached James ever since he started playing baseball in kindergarten.
"It's a good thing because he's been there supporting me," James explained with a smile. "It's also a bad thing because if I'm not doing something right, he lets me know about it when we get home."
It's not that there are regrets. Just extended coaching moments.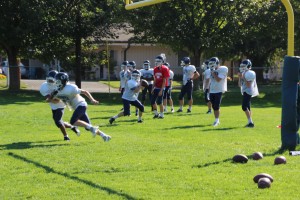 "It's been amazing," Kevin said.
Markoff, a lineman for the Bears in the 1980s who was named all-state, coaches the defensive line and his son, Clay, is a fullback and linebacker. So, he doesn't coach the position his son plays.
"I love coaching," Markoff explained. "I love being on the field. But sometimes I'd just like to sit in the stands and watch. You can't do both. When you're on the sideline, you're coaching."
Markoff and Gunther both remember their games as players against the Cougars, emphasizing the importance of a crosstown rivalry. It's a game players remember. Gunther finished 4-0 against the Cougars, winning his freshman and JV games before moving up to the varsity. Markoff remembered losing 21-20 to Capital after jumping out to a 20-7 halftime lead his senior year. Both Capital and Olympia qualified for the playoffs in the old Black Hills League that year. Capital lost in the semifinals and Olympia, under coach Bob Dunn, won the state title.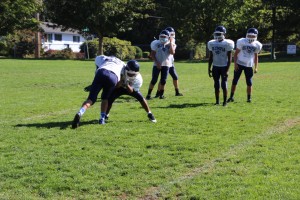 Their memories of that rivalry game against Capital tells of the importance of the game. It's still for bragging rights, but the game doesn't quite have the same clout as it once did since the two schools aren't in the same league.
"It's a little different now because we're in different leagues," said Markoff, who walked on at Washington State University after high school to play football. "But I think the rivalry is still pretty good. I think the kids know each other pretty well. They grew up playing against each other in youth football."
But in the Gunther family there's an added edge to the Capital-Oly game. There are relatives on both sides of the football. James Gunther's cousin, Conner Kennedy, is Capital's starting running back. Gunther said there's not a lot of talk about the game and about the school's rivalry when the two families get together.
"Nobody talks about it much," James said with a grin. "But between the families there's a favoritism toward the Capital side. One side of my family roots for Capital."
But James is hoping for a win Friday.