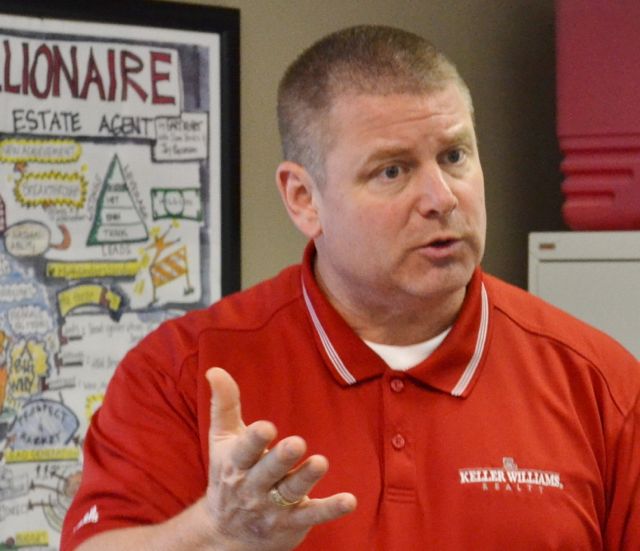 By Barb Lally
"Seahawks Coach Pete Carroll gets it right when he says they celebrate individuality in service to the team's common goals," says Phil Harlan who is building two successful teams, not only as the operating principal at Keller Williams Realty South Sound, but also as the defensive coordinator for the freshman football team at Olympia High School (OHS).
Phil's passion is evident from the office to the football field.  The common thread of his training lessons in both arenas is the importance of building individual strengths that contribute to the success of the entire team.
On the field at Olympia High School
Harlan is one of the 16 assistant football coaches at OHS where he has volunteered his time and expertise for 12 years.
OHS Head Coach Bill Beattie will tell anyone that the assistant coaches make the OHS Football Program run. "I spend a lot of my time during practice watching our assistant coaches teach the game of football and the game of life," says Beattie, who has a Masters degree in Educational Leadership and believes that their program fails if they just teach football.
"The life lessons involved are discipline, accountability, teamwork," Beattie adds.
The OHS freshman football team plays on a different field each game, but Coach Beattie says they always know where they are because they can hear Phil Harlan's passionate voice teaching those lessons.
From his office in the weight room Beattie's own booming voice reminds students to put away their equipment. It is something he does not have to do with Coach Harlan.
"If it's picking up equipment after practice or hauling our team gear with his own trailer down to Spring Training Camp at Oregon State University, Phil sets an example that it's all about the team."
Lessons in success and failure
Lessons start early when Coach Harlan asks freshman football players to write down "What Bear football means to you." He gives it back to them their senior year.
"It gets them to think about their motivation and set goals. Eventually, it reminds them how quickly their experience passes and to enjoy the journey."
Teaching accountability right at the start in their freshman year is another key lesson.
"We teach our freshman team to 'cut the cord' as far as their responsibility to the team," says Harlan. "It's not their Mom's fault if their 'uni' isn't clean or if they forget their socks or other gear for practice."
Failure is just another opportunity to learn according to Harlan. "Everyone fails," he says. "Seven out of ten times at bat, batters fail. But failure shows you what you need to learn or change. In a way, failure is success if you learn from it."
Harlan was a successful wide receiver when he played at OHS, setting two records in his junior year for most receptions and most yards gained. The records have not been broken in the 35 years since.
"No one ever succeeds on their own," says Harlan, quickly crediting his 1979 team. "My junior year we had a potent, offensive attack. If we ran our routes right and got our spacing correct we gained yards – together."
Real estate coaching
Early on Phil Harlan sought a profession that would reward his effort in direct proportion to his hard work. He saw that in real estate.
"My first five years in real estate were 12 to 14 hour days, most days of the week," Harlan recalls. "Nothing can be done without hard work."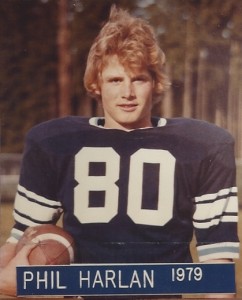 In real estate as in football, training and practice are critical to success. "Though many of our football players dream of being a state championship team, they have to commit to the work necessary to achieve it," the assistant coach explains.
He likens that to brokers just starting out in real estate. "They are wide-eyed," describes Harlan. "They are excited about being self-employed, doing things on their own time and being financially successful. They soon learn it is a lot of training and work and that they need mentors to help them define their vision and strategically build a business."
Eric Prehm, the team leader of the Keller Williams office in Olympia, says the company considers itself a coaching and consulting firm that does real estate.
"I meet with Phil every week to review progress on my goals," Prehm says. "He stopped me suddenly one week because I had skimmed over my personal goals and went right to the business goals. Phil explained that family and personal goals are the top priority."
Prehm says Phil Harlan is passionate about developing each broker's full potential. "He wants to leave a legacy in people, just like any great coach."
Definition of success
Phil Harlan's life lessons and experiences are evident in his success, both on and off the field.
"In football you get tossed into tough situations," Coach Beattie notes. "Phil learned from football how to handle adversity to be the successful businessman he is today."
"Both my own boys bought homes with Phil's help," Beattie continues. "He didn't just sell them another house. He worked hard to find just the right fit, to get them just what they wanted.
"Phil is a Realtor and a part of the Bear family. He gets to do the two things he is passionate about—make a great living at real estate and coach football at a place where he first learned many of life's valuable lessons."