By Gail Wood
Finally, the anticipated moment had arrived – the football was kicked, sailing end over end down the field at Olympia's Ingersoll Stadium to begin the game. The 41st football season for the Thurston County Youth Football League (TCYFL) had begun. Finally.
But before the Olympia Bears could play the Rainier Mountaineers in their season-opening game for 9-to-10 year olds and before Owen Shaw scored the game's first touchdown on a 30-yard run, there was some business to take care of. Uniforms, shoulder pads and helmets had to be bought. Coaches needed to be found. Referees hired. And schedules planned for the eight-game season.
There were 41 games played on Saturday, kicking off the TCYFL season.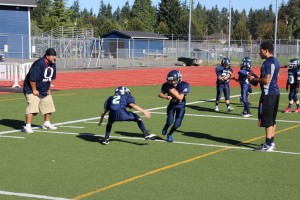 "It's an amazing league," said Dirk Rasmussen, whose son plays for the Bears. "They do a tremendous job."
TCYFL, which began in 1973, is bigger and better than ever. It had an all-time high 2,100 players signed up with 12 different franchises, one for each of the local high schools in the county. The teams are from Olympia, Lacey, Tumwater, Yelm, Rainier and Tenino. The teams are divided into five age groups based on age ranging from 7 – 14. Because Lacey, Olympia and Tumwater have dropped their middle school football programs, the last two age groups fill a void in those school districts.
Some claim that this year's turnout boost is perhaps tied to the excitement of the Seattle Seahawks Super Bowl championship.
TCYFL is possible because of volunteers. A 12-member board, led by league president Scott Erickson, oversees the league, coordinating schedules, officials, coaches and purchasing equipment. It's a busy time for the board.
"You're making sure everyone gets their jerseys, coaches receive badges and coordinate fundraising," explained Erik Martin, TCYFL board secretary.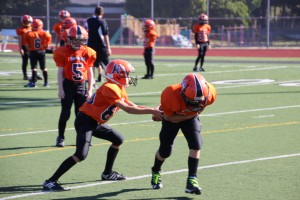 The board meets every two weeks during the season. In the off season, they meet every three weeks, making it a year around commitment. Martin's commitment comes from his belief in the league and what it accomplishes in kids' lives.
"The people on the board are great," Martin noted. "They're passionate. They believe in it. It shows. Everyone works really hard to make it successful."
In addition to being on the board, Martin also coaches the Olympia Bears seventh grade team, which his son plays for. A 1992 Timberline High School graduate, who turned out for football, basketball and baseball in high school, Martin said football teaches a lot of life lessons.
"It teaches teamwork," Martin said. "The kids really learn that every player on the field has a specific job. And they have to do their job and work together as a team for the play to work right. That sense of teamwork and camaraderie is big."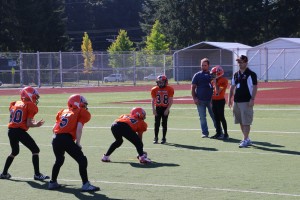 Teams practice three times a week, from 5:30 p.m. to 7:30 p.m. on Tuesdays, Wednesdays and Thursdays. Games are played on Saturday. The younger players practice twice a week when the season begins.
There about 90 coaches in the league and most of them have or have had a son on the team. As volunteers, their payment is simply satisfaction. Seeing the smiles on the kids' faces is their reward.
Line coach, Brian Cockrell, gets to coach his son, Caden. It's his second year of coaching his son. "It's great," Cockrell said while describing the fourth and fifth grade team. "I played the same position, so it's fun to coach him at that position."
Cockrell, a 1988 Wilson High School graduate from Tacoma, played football at the University of Idaho under head coach, Keith Gilbertson. Cockrell is careful to teach technique in blocking and tackling.
"They have good rules in the league about weight limits," Cockrell said. "For example, anyone above 110 can't be a ball carrier. It's a safety rule."
This year all the coaches took an USA Football class on tackling techniques, stressing the importance of keeping the head up.
"Every one of the coaches you see out here, whether they're an assistant or a head coach, has all gone through the tackling certification through USA Football," Cockrell said. "It was a big expense for our league, but it was something we felt we needed to do for safety."
Darren Sprouffske, coach of the Rainier Mountaineers' fifth and sixth grade team, is coaching his son's team for the fourth season. He's also coached his son's basketball team for the past five years. Like his son will probably do one day, Sprouffske played high school football for Rochester.
"It's fun," Sprouffske said about coaching his son. "I enjoy coaching and being able to share that time with my son."
TCYFL teaches more than just tackling and blocking techniques. LJ Tuitele, who coaches an Olympia Bears fourth and fifth grade team which includes his son, Max, said he learned a lot from his days of playing football growing up in Hawaii.
"Football teaches you how to strive to be your best," Tuitele noted. "It teaches a lot about discipline, a lot about teamwork. It teaches how to play together, win together and lose together."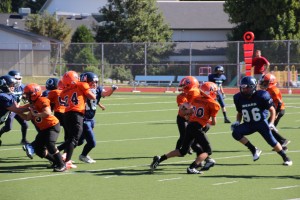 Tuitele first started coaching when his son's Olympia Bears team needed a little extra help.
"They needed help," Tuitele recalled. "After that I fell in love with coaching and just being around the kids. It's an awesome experience. I advise any parent to take a chance and go out there and coach."
Rasmussen was clear on his duty for the day as his son's team, the Olympia Bears 9-to-10 year olds, warmed up for their game against the Rainier Mountaineers.
"I'm here to watch my son play football," Rasmussen said. "I'm a proud parent. That's all I am."