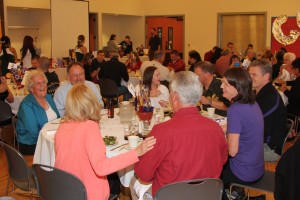 Camping season typically ends when the inevitable autumn rains make marshmallow toasting impossible.  But with the South Sound YMCA, you can enjoy one more night of Camping the Night Away on Friday, September 26.  This is when the non-profit organization's annual dinner and auction take place at the Lacey Community Center to benefit the Y's full range of youth development programs.
A more than 15 year partnership with Olympia Federal Savings, the event promises a summer's bounty of food, drinks, and auction items.  Last year drew over 200 attendees and this year's cornucopia of giveaways should easily exceed that.  With prizes ranging from a Superbowl football signed by Seahawks MVP Malcolm Smith or tickets to a November Seahawks game through getaways to Portland, Palm Desert, and Woodinville there's something for everyone.
Food and drink options are a vast improvement from traditional camping staples like powdered eggs and instant coffee.  Ricardo's will again offer delicious food to accompany Fish Brewing's beer and hard cider.  There will be a photo booth on site for fun, retro pictures with friends, and balloon pop games with gift card prizes for local restaurants, spas, and even house cleaning services.
South Sound YMCA Director of Development and Marketing Susan Callender is excited about all the programs this evening will sponsor.  She explains, "At the Y, we nurture the potential of youth and teens. We believe that all kids deserve the opportunity to discover who they are and what they can achieve. That's why, through the Y, millions of youth today are cultivating the values, skills and relationships that lead to positive behaviors, better health and educational achievement."
With offerings like child care, education and leadership training, swimming and sports teams, and summer camps for all ages, the Y has childhood covered for any season of the year.  Says Callender, this fun event is especially important to highlight "the importance of youth development programs."
Tickets and additional details are available online here. The fun begins at 5:00 p.m. and a live auction sneak peek is available to interested bidders.  With more than 150 silent auction items and 29 live auction items, there's sure to be something that catches your eye.
If you can't make it, donations are accepted any time through the Y's webpage or by visiting one of their neighborhood locations.  Donations for next year's auction are also welcome any time.
Louisiana Senator David Vitter once said that "I continue to believe that if children are given the necessary tools to succeed, they will succeed beyond their wildest dreams!"  To be able to provide those tools simply through a night of fun, food, and community, is the greatest of opportunities…don't let it pass you by.