By Kelli Samson

It's summer. It's so dang hot outside. But do you really need those excuses to meet a friend for a good beverage?
I think not.
Today is your lucky day, people. The nice folks at Swing, Ramblin Jacks, and The Mark have been kind enough to hook us up with a cocktail recipe each.
I know – it's like we just won the lottery.
In case you don't understand the gravity of this situation, let me put it to you another way: they've given us the keys to the kingdom. You don't even have to leave your house if you've got a well-stocked bar. I think this warrants a visit to these three havens of relaxation just so you can thank them yourself.
No. 1: A Margarita
We begin our special little journey of happiness at Swing Wine Bar. It's a great location for evening, as the sunset views are spectacular from up on the hill above Capital Lake.  Owners Jim and Nicole Butigan sure know how to pick a location.
This summer they are featuring a margarita with some kick, aptly named "Burning Down the House." Relax. This drink is much more sweet-hot than it's-going-to-kill-you-hot, so don't be nervous.
This is a fabulous summer margarita. Its gorgeous ruby color is stunning. The staff at Swing collaborates on drinks (Sean Wright is the bar manager) when their menu flips seasonally, and this little number is fresh for this summer.
What makes it really special is that the jam used in the drink is sourced locally from Johnson's Berry Farm. Johnson's is organic and farmer-owned, and their berries and jams are sold in many locations, including here at the Olympia Farmers Market.
Swing's Burning Down the House
1/2 Barspoon of Johnson's Blackberry Inferno Jam
2 oz. Jimador Blanco Tequila
1/2 oz. Lime Juice
1/2 oz. Giffard Triple Sec
1/2 oz. Giffard Blackberry
Bruise ingredients over lime with a muddler.
Salt the rim of a high ball glass, add ice, and fill up with the margarita.
No. 2: A Cosmo
Next up is the cocktail everyone talks about from Ramblin Jacks: the Lavender Cosmo. Any time I mention that I've recently gone to Adam Adrian's and Sonny Bridges' premiere restaurant (others are Mercato Ristorante, i.talia pizzeria, and Ramblin Jacks Rib Eye) for cocktails, someone asks if I ordered this particular drink. I already have known and loved it for years, but I think this adds credence to my taste.
There are a couple of noteworthy facts about this tasty beverage. First, it's on the menu year-round, so never fear. Secondly, the drink actually gets its lovely purple hue from an orange liqueur called Parfait Amour, not from anything lavender-flavored. The lavender comes in the form of ground up bits of the flower mixed with sugar on the rim of the drink. Interesting, no?
Keli Ray Logan has been working for Adrian for seven years now at the bar. She mixed one of these pretty drinks up for me with a smile and said, "This is a fun place."
I couldn't agree more.
Ramblin Jacks' Lavender Cosmo
Parfait Amour Orange Liqueur
Stoli Ohranj Vodka
White Cranberry Juice
Lime
Sugar mixed with ground lavender for the rim
Muddle equal parts Parfait Amour and Stoli Ohranj together with a splash of white cranberry juice over a lime.
Rim glass with the lavender sugar.
After the lime breaks up, strain ingredients into glass and enjoy.
No. 3: A Classic Mojito
We round-out this triumvirate with a contribution from one of the classiest establishments in town, The Mark. The Mark is owned by chef Lisa Scott Owen and named for her late father. Owen uses only the finest organic, local ingredients possible in both her food and her cocktails.
Truly, cocktails at The Mark are pretty much my favorite, and enjoying one in their courtyard in summer is enchanting. It was difficult to decide on just one drink for which to secure a recipe. I went with my old stand-by, the Mojito. I've been enjoying The Mark's Mojito for over a decade now, and I've made it my mission to find one better anywhere in the world. So far, no dice.
You folks at The Mark win, and I am so glad.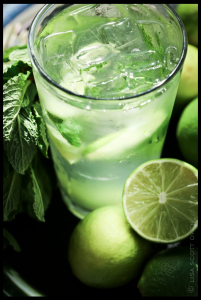 The Mark's Mojito
Light Rum
Fresh Lime
Fresh Mint
Sugar
Soda Water
Spoon a little ice into a large glass.
Add a spoon full of sugar.
Add mint and lime to your taste.
Muddle all together until the mint is fragrant.
Fill the glass with ice.
Add one shot of rum.
Fill the remainder of the glass with soda water and stir.
We are so fortunate that these three establishments so generously shared their secrets with us. I simply dare you not to whip one of these up some hot evening (or afternoon – we aren't judging) this month.