By Kate Scriven
The Olympia Brew Fest returns to the shores of Budd Inlet on August 2 for what promises to be another terrific party.  For the past two years, the fledgling festival has grown in size and popularity with over 2,500 people attending last year.  This year promises to be bigger and better, both in size of venue and variety of offerings for those attending.
The brain child of local businessman Mike Marohn, the Olympia Brew Fest began in 2012 as a way to celebrate Olympia's brewing heritage, showcase the best regional craft brewers, and have fun at one of the most beautiful outdoor venues around – the Olympia Port Plaza.  "I've been to a lot of brew fests," share Marohn, "and I haven't seen a better location than this one."
This year, festival-goers can look forward to the beautiful Budd Inlet view being even more appealing now that the Port of Olympia cranes have come down and the event will expand towards the dock area.  "Last year it got a little crowded at the peak of the event," explains Marohn.  "We want people to have plenty of room, so we are expanding the footprint of the event space along with putting a cap on number of tickets sold."  And with a sell-out crowd predicted, now is the time to purchase tickets online.
Along with the increased venue size, the festival has streamlined entry with bar-coded tickets, allowing for quick admittance.  Once inside, you'll enjoy the same great quality beer, food and live music as in the past along with a few new faces.
In response to requests for gluten-free options, the Brew Fest has invited three area cider makers including local favorite Whitewood Cider.  The number of breweries is up as well with 30+ options to choose from.
"This year I attended the BC Beer Awards and The Great Canadian Beer Festival," says Marohn.  "I had hoped to include more Canadian brewers in our event this year, but crossing the border with beer is apparently a little tricky."  He did however secure Central City Brewers from Surrey, B.C. as an international guest along with several new Oregon and breweries and even one from California.
Marohn is dedicated to including and supporting the local craft brewers here in Olympia and the event boasts four local breweries and one cidery including Top Rung Brewing, Whitewood Cider Company, Kastellan Brauerei, Fish Brewing and downtown new-comer Three Magnets Brewing Co.  While still keeping the local brewer focus, Marohn sees the event growing in the coming years to include the entire region.  "It would be ideal to have brewers representing Washington, Oregon, Idaho, British Columbia and maybe even California.  It would be a true Pacific Northwest Brew Fest," he shares.
Casey Sobol, Operations Manager at Top Rung Brewing shares, "This is a great local event that certainly celebrates the wonderful brewing history of the community.  The Olympia Brew Fest in a great location and in a region that embraces local and craft beer. This festival celebrates that.  The craft brewing scene is picking up in the Thurston County area and we are proud to be a part of it."
What should you expect if you attend?  First and foremost expect a great party.  The event is purely about fun and enjoyment of great food, drink, and company.  However, all that fun is also for a great cause.  The event is in support of the Thurston County Chamber Small Business Development (Incubator) program, helping small businesses get off the ground, adding value to the economy and community right here where we all live, work and play.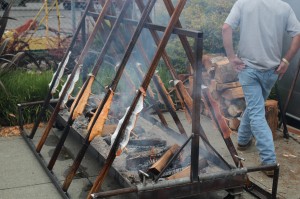 You can also look forward to high quality beers at each and every booth.  "I personally sample and approve each entry into the Brew Fest," laughs Marohn, a true lover of a well-crafted beer.  Options will be plentiful and suit every palate with favorites like 7 Seas Brewing's Life Jacket Session IPA , at 4.4% ABV and Top Rung Brewing's Hose Chaser Blonde, at 5.0% ABV and more unique offerings like Brickyard Brewing's SW Green Chili Blond Ale, at 5.0% ABV  and Narrow's Brewing's Cardamom Coffee Stout at  8.0% ABV.
Along with the brews you'll be entertained by three different live bands throughout the event along with delicious food from Marv's Marvlus Pit BBQ, O'Blarney's Irish Pub, Abby's Cookies and Cupcakes and Hawks Prairie Restaurant.  As in years past, the Lucky Eagle Casino will join together with the Chehalis Tribe to prepare traditionally cooked salmon for festival-goers.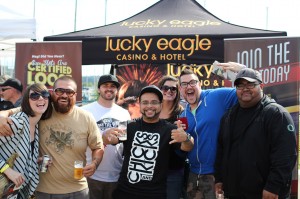 The Olympia Brew Fest starts at 1:00 p.m. on August 2 ending at 8:30 p.m.  Tickets are $25 in advance or $30 at the door, although a sell-out crowd is anticipated so purchasing tickets in advance is recommended.  (Ticket information can be found here.) Your ticket buys you a commemorative mug and six, 5.5 ounce tastes.  A $5 military discount is available at the door.  Drink cards for six additional tastes can be purchased inside for $8. All designated drivers pay only $5 to enjoy the event.  Ages 21 and over only and no pets allowed.
Come thirsty, come hungry, and come ready to have fun.  The Olympia Brew Fest is quickly becoming one of the premier events on the Olympia summer calendar and one you don't want to miss.
All photos courtesy of the Olympia Brew Fest.