Submitted by Harbor Days
For four decades, Olympia has celebrated its long maritime heritage — and the big-shouldered working boats that made it happen — with the Harbor Days Maritime Festival and Tug Boat Races.  The 41st annual festival fills the last weekend of August with a fascinating mix of seafaring, food and fun you won't want to miss. Brought to you by the Olympia Kiwanis www.olympiakiwanis.org
As many as 15 vintage and modern tugs are expected to participate, and most will be open for tours at Percival Landing all day Saturday, August 30th from 10 a.m. to 5 p.m.  Be on hand Sunday at noon to watch the procession, as the tugs get underway for the big race up Budd Inlet.
All weekend long, enjoy live entertainment and over 250  arts and crafts, commercial, and nonprofits booths. See the "Tiny Cabin" craze at Lopka Logs.  Taste cuisine in the food court from around the world and our own back yard.  Exclusively, the Chehalis Tribe's Lucky Eagle Casino will be preparing Pacific salmon in the traditional tribal way, using alder wood and hot rocks.
Lenny Lekanoff, the tough deckhand from the Discovery Channel's "Deadliest Catch" will be a special guest aboard the tug Galene, where you can also meet the oldest crew member aboard — well into his 90s and going strong.
Cummins NW, one of the leaders in marine engines will be on hand.
This year, Harbor Days also celebrates Tacoma Rail's long history with the Port of Olympia and combined working relations with tugs. It's Tacoma Rail's Centennial Celebration at Port Plaza. Come see a live engine and caboose at Port Plaza by Anthony's restaurant. Tour a real working train.
Kitsap Live Steamers will be joining us as well, with over 100 feet of track and a small train you can ride. There will be lots of other activities for the kids, too:  A giant slide, trampolines, trains, model tugs (viewing
only), and much, much, more.
Each year Harbor Days honors one tugboat, and its silhouette becomes the centerpiece of the festival's logo.  This year's logo tug is the Reliable, a former Army tug built in 1945 in Manitowoc, Wisconsin as ST-908.  It's been through several names and several owners, and its still hard at work.  It's been a harbor tug for the Army, an oceanographic research vessel, a gill-netter, and now a tug again.  Skipper Cliff Center gave Reliable a major overhaul in 2006, including sandblasting, new fantail steel, bow thruster, new accommodations, head, shower and galley. She has worked for the navy at Bangor, Bremerton, Everett and Indian Island towing port security barriers between bases and to Port Gamble for haul out and maintenance. A few weeks each year, she gets a vacation hauling Cliff and his wife, Wanda, to the San Juan Islands and Canada.
The Reliable is one of the many tugs that will be open for tours all day Saturday.
We extend a special thank you to Olympia Federal Savings for their financial and staff support. There is great synergy and appreciation supporting our community www.olyfed.com
Thank you to all of our community sponsors, together we make Harbor Days happen.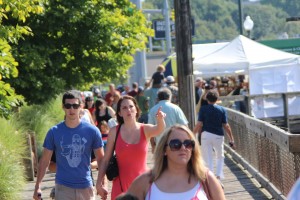 For more festival information log onto www.harbordays.com
We look forward to seeing you Labor Day Weekend!
What:   Harbor Days Maritime Festival and Tugboat Races
When:  5 p.m. to 8 p.m. Friday, August 29; 10 a.m. to 7 p.m. Saturday, August 30 and 10 a.m. to 6 p.m. Sunday, August 31
Where: Percival Landing 405 Columbia St NW, Olympia, WA 98501. From the Oyster House to Port Plaza