By Katie Doolittle

Clearly, Vicki Powers was destined for the equestrian life. Powers was twelve when she won her first horse in a contest drawing. "My mother only let me enter because she knew I wouldn't win." She grins. "I won."
It's been a guiding passion for Powers, and one she's passed on to both her daughter and granddaughter. Becky Paulson, her daughter, was a mere six weeks old her first time on a horse, and she began riding independently at age two. Savannah, her granddaughter, has proven similarly precocious.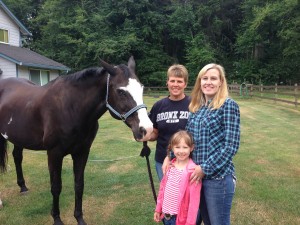 Powers and Paulson both consider themselves blessed to work out of the Evergreen Valley Riding Center. Powers is the barn manager; Paulson is a private trainer. "I teach the basics on up," Paulson explains. Her clients compete at both the 4-H and breed level, and Paulson's students have performed admirably multiple times at the Pinto World Show in Tulsa, Oklahoma.
Paulson loves her job so much that she returned to work just ten days after having her daughter, Savannah. The barn office became a nursery, complete with portable crib and changing table. They even strapped a car seat on the tractor. Paulson describes the impact on her daughter: "She's been a farm girl since day one."
Now age six, Savannah–or Vannah, as she's usually called–is no stranger to the barn. She can already clean a stall, and she's been riding competitively for four years. Currently, Vannah rides Taffy, the large pony Paulson herself used when she was eleven.
"I feel lucky that she likes horses," says Paulson. "It would be a lot harder if she didn't."
Powers has much to say regarding the child-horse bond. The relationship between any rider and her mount teaches valuable lessons about work ethic, responsibility, and teamwork. She points out the power of a 60 pound child giving direction to a 1,000 pound animal. Ultimately, says Powers, it's about "learning how to build a relationship with another living being."
Certainly, Powers and Paulson have reason to be proud of Vannah's empathy. When Vannah first saw Sarah McLachlan's commercial for the American Society For The Prevention Of Cruelty To Animals, she was moved to tears. Vannah asked her mother how they could help. "I honestly thought she'd just forget about it," Paulson confesses. But Vannah mentioned it again near her birthday, and decided to ask for Thurston County Animal Shelter donations instead of presents. It's become her tradition, and to date she's donated over $1,500 of money and supplies.
Giving back to the community runs in the family. Powers is the Superintendent of the Horse Department for 4-H at the Thurston County Fair.
What does this elected position entail? Organizing tons of volunteers, finding judges, getting sponsors, ordering ribbons and trophies, plus arranging for equine vet checks. It's a year-long responsibility that culminates with fair events–and not just the ones attended by the general public. 4-H riders complete pre-fair qualifications. There's also a 15-mile competitive trail ride on Fort Lewis.
"The fair is not possible without many hours of volunteer labor," says Powers. Jeannie Pfaff, for instance, spent between 300 and 400 hours cutting all the trails for the competitive ride. Powers is grateful for everyone's dedication, describing herself as the coordinator of a capable, committed team. She sees one of her main jobs as reminding everyone of their ultimate purpose: "it's all about the kids."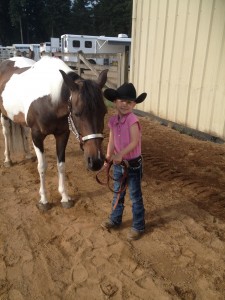 Paulson teases her mother about being too modest. "She's been at this 4-H thing for over 30 years," says Paulson. She views Powers as a consummate multi-tasker and solution-finder. "You never know there's an issue because she figures out how to fix things before there's a problem. She makes it all run smoothly."
Paulson will also be at the fair, supporting several of her students as they compete. "I love to watch those moments when they do well and feel good about themselves," she says. "It's meaningful for them but probably more meaningful for me."
This year holds a special treat for Paulson: one of her students will be riding Reflection's Pride, or RP for short, in his last competition. At age 26, RP has certainly earned his retirement. He is Paulson's horse and something of a local institution. "Someone posted on Facebook that they learned to ride on RP. There were a lot of reply comments along the lines of 'who didn't?'"
Powers sums it up quite nicely: "We feel pretty blessed to be able to live and work our passion."
"And to give back to the community," Paulson adds.
All three generations of these remarkable horse women will be at the 2014 Thurston County Fair. Come say hello, or take the opportunity to cheer on Reflection's Pride. This year the fair runs from Wednesday, July 30 to Sunday, August 3. Check the calendar of events for more detail.