By Tom Rohrer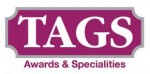 When he began working with the Thurston County Special Olympics Softball program, Mark Barker remembers the initial turnout.
"We had about nine players," said Barker, a coordinator and planner for Thurston County Special Olympics. "It just wasn't well known then."
Twenty years later, the program has an enrollment of around 90 individuals, ranging in age from age eight to 65.
One of eight sports within Thurston County Special Olympics, softball is the most popular activity according to Barker.  Up to 10 players can be on the field on a time and the game is played outdoors, as opposed to sports such as basketball and weightlifting.  Seeing the participation and interest in the sport grow over two decades has been special for Barker.
"It's big to my athletes that they have a place to compete, and I know it makes them feel good," Barker said. "They just enjoy it."
In late July, the local athletes will welcome competitors from across Washington State for the annual Southwest Region Softball Tournament.  The tournament, which will be held on Saturday, July 26 at LBA Park and Stevens Field, will feature around 100-120 local athletes along with 500-600 out-of-town competitors.
"We have athletes coming in from Tacoma, Vancouver, Grays Harbor, all over," said Barker, who coaches a team within the TCSO softball program. "It's great because a lot of athletes are beginning to form friendships with each other because of tournaments in the past."
The tournament format will be similar to any Special Olympics event.
"We will have opening ceremonies, athletes giving out our official athlete's oath and one athlete will be singing the national anthem," said Barker.  "After the games are over, there will be awards, medals for first second and third place in each divisions.  It's a tremendous day for everyone involved."
Teams that win their division will move on to the Washington State Special Olympics Softball Tournament in August, held in Everett and hosted by Boeing.  Barker has coached a team to the state tournament the last five years, an incredible feat that has led to even more incredible experiences.
"It's a tournament that requires a stay overnight.  There's an athlete's dinner and an athlete's dance," said Barker. "The competition is very high. The athletes, they really respond to that."
The teams within the local softball program vary in age and skill level.  Barker and the collection of Special Olympics volunteers make it their mission to move athletes up to higher skill levels by teaching them the fundamentals of the game in tightly structured practices.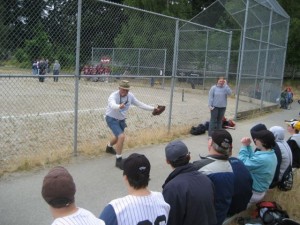 "As any coach would tell you, seeing that improvement is why you're coaching," Barker noted. "We want the kids to have more fun playing, and that happens by them learning the correct fundamentals and how to play the right way."
Barker became involved with Thurston County Special Olympics through his 35-year-old son Dustin, an athlete within the program.  For years, Barker has been coach and father to Dustin, though at times, he prefers that other coaches instruct his son.
"We're around each other a lot, so it's good for both of us to have some other coaching now and then," Barker said. "We still enjoy it just the same."
There is plenty of enjoyment from the parents of Barker's athletes.  Special Olympics coaches and coordinators are all volunteers, meaning their work is done out of care and passion.
"We have a great support group around here from the parents who are involved," said Barker. "When you're around and working with people on a volunteer basis, a bond naturally forms.  We're all there for the same cause, and that's very unifying."
Though he receives support from parents and volunteer coaches, Barker needs additional help for the upcoming tournament.
"We need all sorts of help," he described. "People to keep score, announce awards and just to make this tournament function."
Barker will likely gain the help he needs, as the Thurston County community has continued to show support for the Special Olympics programs.
"It's really cool to see people come out just to watch and take in the tournament," Barker said. "The support means a lot to us but most importantly, it means a lot to the athletes."
For more information on volunteering for the Thurston County Special Olympics Softball Program, contact Mark Barker at 360-791-0742 or at bballdad11@comcast.net.  You can also visit www.sowa.org or follow their Facebook page.