By Eric Wilson-Edge
The Capital City Pride Festival starts Friday, June 20. The event brings 15,000 people into the downtown area for a weekend of fun and celebration. "Think of it as LBGT Lakefair – without the rides," says Pride Chair Anna Schlecht.
This year's Pride promises to be bigger than any other in the event's 24-year history. The festival kicks off with a street dance in front of the Urban Onion. There will also be fire-twirlers and search lights. On Saturday "Rhythm is a Dancer" singer Thea Austin performs. The event's biggest draw – the parade – is on Sunday.
This year's Pride also has major sponsorship from companies like Mini-Cooper and Absolute Vodka.  Despite the growth, Schlecht believes balance is important. "We want people to feel they're part of the festival, that you won't get lost in the crowd."
Not too long ago Pride Festivals were only held in major cities like Seattle or San Francisco. In the early 1990s a group of community based drag queen performers and The Evergreen State College students decided to hold an event in Olympia. Schlecht has been involved since the beginning. She says, "Olympia was the first small town Pride in Washington State." The rationale for staging one here is simple.  "If we can't celebrate Pride at home then it has no meaning anywhere," says Schlect.
Three hundred people attended the first Pride in Olympia in 1991. At that time, Pride focused more on activism and spreading the message about LGBT rights. Schlecht considered herself a hardcore activist and this approach seemed right to her. However, other members of the LBGT community wanted something different. "We needed to celebrate the things we're fighting for," says Schlecht. "It took me awhile to realize this. We had to start creating the community we wanted to live in."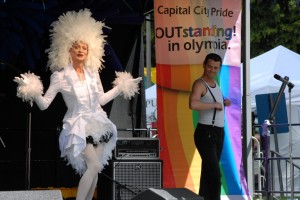 48-year-old Troy Dazell remembers the early years of Pride. Dazell, also known as Flirticia Fondue, lived in Seattle for 19 years. "My first experiences attending Pride Parades in Seattle were joyous and sorrowful at the same time," says Dazell. He recalls seeing police officers, teachers and fire fighters walking with bags over their heads out of fear they could be fired. "It brought me to tears. It still does," says Dazell.
An Olympia native, Dazell moved back a few years ago. In 2011 he entered a contest called "So You Think You Can Drag" put on by the Capital City Pride Foundation. He won. His prize included a chance to perform in the festival.
The change in attitudes isn't lost on Dazell. "To be part of these celebrations now, this many years later is moving to say the least." Dazell stays involved with Pride for a number of reasons including a sense of responsibility to honor those lost to HIV and AIDS. "I participate in memory of my friends who've died and I participate to see the beautiful diversity our community embraces," says Dazell.
A lot has changed in the 24 years since the first Pride in Olympia. The festival reflects this shift. The event has something for everyone. Families are encouraged to attend. Schlecht tells me Olympia was one of the first Pride Festivals to ensure that LGBT families were welcomed with fun activities for kids.
Despite the broad acceptance some may be hesitant to attend. "The single most important element of our evolution has been letting our friends and family and coworkers know who we are," says Schlecht.  "We walk among you – we are your police officers, fire fighters, baristas, parents and grandparents."
Dazell puts it another way, "These are people you have much more in common with than you realize, they're just maybe a little more colorfully dressed."
For complete event information, including an entertainment line-up, click here.