By Kate Scriven

Our culture today is a fast one.  Amidst our frantic world, is a quiet company working steadily, planning for a future that is measured in decades and centuries.
Port Blakely Tree Farms is a family-owned company based in Tumwater, Washington that owns and manages over 140,000 acres of forestland in Washington and Oregon.  This year, the company celebrates its 150 year anniversary of caring for forests in our region and providing quality timber products around the globe.
The company, founded in 1864, has been a fixture in the South Puget Sound region since before Washington was a state.  The original company included a sawmill on Bainbridge Island and extensive tracts of forestland throughout the region.  John W. Eddy purchased the company with a partner in 1903, which included the flourishing sawmill, a shipbuilding company, and associated managed forests.
Twenty years later, the company split and Eddy took the timber business, focusing on acquiring and managing forestland for the future.  The groundwork laid by Eddy is the foundation of the successful company that Port Blakely Tree Farms is today.
John W. Eddy is the great-grandfather of current Forestry Manager, Mike Warjone.  Mike's father, John Warjone, led the company as President for many years before his retirement.  "I grew up following my dad around in the woods," shares Mike Warjone. "It really defined my world view.  I was going to be a forester from the time I was about five years old, because that was what my dad did.  It was a long time before I really understood my family connection, but I knew this was what I was going to do with my life."
Warjone graduated from Willamette University with a degree in economics and began work with the family company right away.  "I did a lot of field work, learning all I could," reflects Warjone.  He moved up in the ranks as a forest analyst and eventually as the company's Silvicultural Forester, managing the trees from sprout to harvest.  In 2012, Warjone transitioned to overall Forestry Manager.
"I have a real passion for the science of growing trees.  90% of what we do is the growing of trees," explains Warjone.  "It's rewarding.  I've been here long enough that I see the fruits of my labor.  There are four standing forests out there that I planted."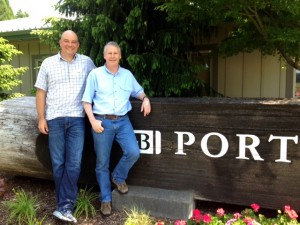 At the helm currently is Court Stanley, President of Forestry.  Stanley's over 40 years of experience started in the logging camps of Alaska.  His Port Blakely career began as a dirt forester in Southwest Washington and he managed forests for years.  "I'm a forester at heart," he shares. "I just love the woods."  While he now spends more of his day inside the office than out, Stanley's connection to the woods – the heart of Port Blakely – guides his leadership for the long-term.
It's the future that characterizes this community-focused company in all they do.  From their extensive environmental education program to the unique Family Council that governs the company's over-arching goals and planning, Port Blakely is not looking forward to just the next generation but to the next four or five.
"There are many family members involved in the business in some way," shares Warjone when asked about the Family Council structure.  "You have to have a stable family unit if you are going to have a stable business."  The council structure has worked so well for the past 15 years it has become a case study for the Harvard Business School.  The rotating elected board manages the family side of the business and helps guide the long-term direction of Port Blakely. "It's really sets us up to be successful for the next 150 years," says Warjone.
An important aspect of the company, spearheaded by John Warjone in 1991 and continued today by Kelly Stanley, Court's wife, is the environmental education program.  "Our program brings fourth graders from all around the region into the forest," shares Stanley.  Over 66,000 kids have been through the program so far, experiencing the forest, becoming stewards, and possibly future foresters.
The support of community doesn't stop with fourth graders.  Port Blakely is deeply committed to giving back to communities near their forests including areas of Thurston, Lewis and Mason counties.  Service on non-profit boards, funding environmental education grants, and donations to groups such as the Hands On Children's Museum, Boys and Girls Clubs of Thurston County, South Puget Sound Community College, the Providence St. Peter's Hospital Foundation characterize the commitment of Port Blakely.  "We are not going anywhere," explains Warjone. "We are going to be here for another 150 years and we want these communities to be here as well."
Support of small, rural communities is especially important to the company. "We feel we reap what we sow and investing in these communities is important for all our futures," shares Director of Communications Teresa Loo, also a life-long forester.
Port Blakely Tree Farms isn't just looking forward to next month or next year.  They are creating a future for their children, grandchildren, and great-grandchildren.  "We have a fairly unique philosophy in the timber industry in that we never cut more than we can grow," shares Stanley.  "Our forests are always growing so that we have more standing timber each year."
They welcome everyone to visit their forests as well from legislators to environmentalists to families.  "We are proud of what we do and we like to give people a chance to come see it for themselves, allowing them to draw their own conclusions," comments Loo.
"We were here before buildings were built with steel and we'll be here long after that's an option as well.  The family understands that growing trees is one of the best things you can do from an environmental perspective.  They are clear that they want to do this for the next four generations to come," summarizes Warjone.