By Doris Faltys

"My Dad had his 90th birthday June 2," remarks my husband Barrett. "It is hard after all these years of listening to his stories to imagine him in France during the D-Day Invasion. That was 70 years ago and my Dad had just turned 20."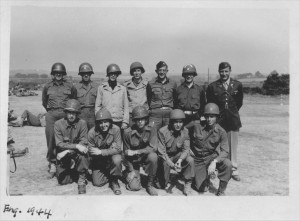 I asked my husband's father, Walter Burr, if he'd be willing to share his account of the Normandy Invasion. He agreed to my request to talk about the war.
"For a period of time, I was the youngest commissioned officer in the army," my father-in-law, Wally, tells me. It was 1942 and Wally had just graduated from Culver Military Academy in Culver, Ind. "I had my 18th birthday on June 2, and two days later I was sworn in at a military base as a fuzzy-cheeked, Second Lieutenant. I was 18, but looked 15. I thought the war would be over in a few months and it would be an adventure."
Wally explains that the ROTC offered at his boarding school was serious military training, sometimes beyond the college level. Prior to graduation, he was offered a commission as an officer. "My mother had to sign to give permission for me to accept the commission," Wally says with a smile.
Shortly after Wally was sworn in as Second Lieutenant, he received orders to report to the highly decorated Fourth Cavalry Group at Fort Meade in South Dakota.
"We received two years of intense training in the California desert, the hills of Tennessee and the Louisiana bayou, following which we were sent to New York, where we boarded the British troop ship, the Highland Chieftain, for a 21-day, mid-winter ocean voyage to England. It took us that long," Wally says, "because our convoy zig-zagged across the North Atlantic to avoid contact with the German u-boats. We had no idea whatsoever where we were headed."
"We landed in the middle of the night. One of the guys on board called out to a dock worker and asked where we were. 'Liverpool' was the answer. We got off the boat and onto a train. The train windows were blacked out. Our home base turned out to be on property that was part of the Goodwood Estate, which belonged to the Duke of Richmond. We trained here for about six months."
During early June, Wally and his comrades were moved out of Goodwood. With only two hours notice, they set forth on a 40-mile journey to Southampton, one of the major coastal ports where the invasion was launched. "When we got there," says Wally, "the activity in the area was unbelievable. We suspected we knew what would happen next. The question was, 'when'?"
The port quickly began to fill with ships. So many in fact that it was said you could walk, ship-to-ship across the entire 5 mile distance between the mainland and the Isle of Wight without ever touching water. "There were more ships than had ever been assembled in the history of mankind," says Wally.
It was the morning of June 6, 1944, when Wally's Commanding Officer called for a meeting. All of the ships were gone. "I want to read you a message from Eisenhower's headquarters," announced Wally's Commanding Officer. "This morning, the Allies have landed and are securing the coast of France. They are successfully pushing back the Nazis."
"We wondered what we were going to do. When were we going to be used. Were we being left out? No, we were being kept in reserve, ready to throw in where necessary," explains Wally.
On June 9, four days into the invasion, Wally and his comrades were given orders to board a LST (Landing Ship, Tank) that was headed for Utah Beach in France. Upon arriving, there was little sign of battle. The main battle had been on Omaha Beach days prior.
"Our mission was to help take the port of Cherbourg away from the enemy. It was a commercial port where large ships could deliver supplies," Wally recounts."We had two tanks and two half tracks. I had 25 guys, all at least two or three years older than I was, under my command." Wally and his troops headed for Cherbourg, stopping only to sleep. The following day, as they neared the port, they could hear fire in the near distance. Armed with 88 mm anti-aircraft guns used as anti-tank guns and surrounded by high ground, the enemy was well defended. They would be able to see Burr and his troops from a long way off.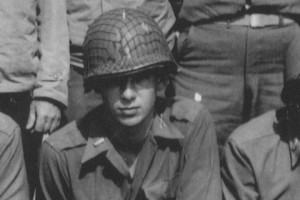 "When we were a few miles away, we began firing. The Germans returned fire and we were soon ordered to move off the road. My tanks got high centered on the shoulder of the road and couldn't proceed. I had my half track driver pull in behind a farm house and radioed the men in the tanks to get out and wait to be picked up by us. The eight soldiers from the tanks climbed into the half track and we headed back where we had come from.  My half track suddenly had engine problems. It had taken a hit. We all got out and ran back behind our lines.
"After we regrouped, my Commanding Officer noticed I was limping and sent me to the medic. I thought they would put a band-aid on my leg. But no, an infection had set in. I was put on a medical transport ship back to England," explains Wally.
Wally returned to Southampton on a bright, sunny day. "It was a relief to get out of combat for a while, but I felt sorrow for the vast number of wounded. All of this just to destroy Hitler, but we did feel proud of what we were doing," Wally reflected.
Wally spent two weeks in England before returning to France and joining his troops, now 60 miles from the coast. "I had missed some horrific battles that I most likely would not have survived," he explains.
There is no room in this article to tell all the other stories Wally shared, such as watching a commander break down, participating in the Battle of the Bulge, taking on the job of calculating the angle of fire for the big guns with a slide rule, exiting a church tower just in time, being part of the first troops to cross the Siegfried line into Germany, and helping to free the Nordhausen concentration camp, to reference a few.
"At the end of the war," Wally shares in a relaxed voice, "I was promoted to captain. It was 1946, and I was 21. I had been in five combat campaigns in Europe. I was wearing captain's bars and had five stars on my European theater ribbon. Soon I would be enrolled at Northwestern University to start college life."
My husband, Barrett Burr, says of his dad, "At 90 years old, my dad is quite an inspiration.  He still rides his bike wherever he wants and whenever he wants. He is appreciative of the diversity in humanity, and he is committed to the idea of stopping things like wars and petty human disagreements.  Dad makes a habit of engaging strangers in conversation. 'Engage' is his favorite word…"