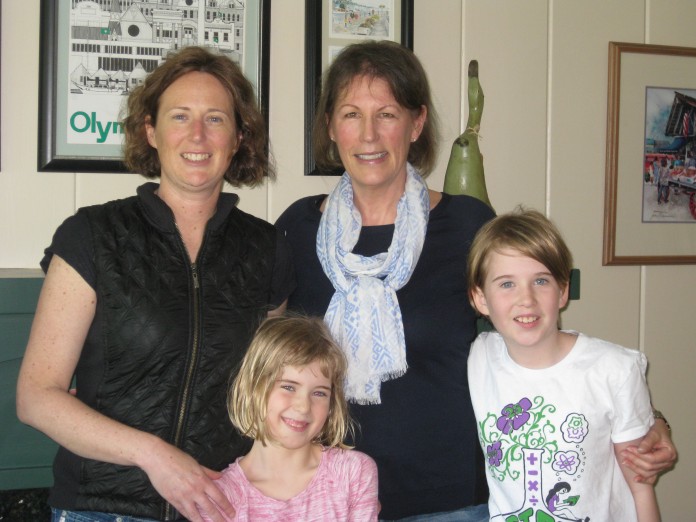 By Leslie Merchant
Benjamin Franklin once said, "Today is yesterday's pupil." If his quote was translated literally, then one might see a picture of the Phillips family standing in front of Garfield Elementary. Three generations of Phillips women spent their formative years in the halls, on the grounds and under the protective tutelage of one of the oldest neighborhood schools in the Olympia School District.
First Generation
In the case of the Phillips family, history most definitely repeats itself. Jennifer Helget was in the third grade when she first set foot on Garfield's campus. "It was a pivotal time in my life. I had been to six different schools prior to Garfield, and when I came to Garfield it was the most embracing environment."
Jennifer still recalls the name of her first teacher at her new school, Miss Ernst. The stability and friendliness of the school made Jennifer's transition about as storybook as a third grader could hope for. "My all-time most favorite teacher of my life was Mr. Hemmi. He was like a second grandfather to me. Compared to the other schools I attended, the school was such a safe welcoming environment," she exclaims.
Jennifer vividly remembers all of the teachers promoting individuality and making each child feel special and supported.
Second Generation
Future daughter-in-law, Kylie Phillips, began her Garfield experience in kindergarten, and she happily remained throughout her elementary years. Like her mother-in-law, Kylie remembers each of her teachers fondly and by name. "I was a Hickle's pickle! He was my fifth grade teacher and he was great. We raised money to go on our camping trips and we were the Hickle's pickles."
As she begins talking, the memories start pouring out. "Walking to school with lots of friends, the old wooden playground with a ginormous zip-line, and the old stage where we used to keep our newspapers, I loved everything about it." Kylie went on to Jefferson Middle School and then Capital High School, but she continues to be actively involved in Garfield now that she has school-age children of her own.
Third Generation
Neighborhood schools like Garfield evoke feelings of belonging and ownership in a community. Kylie exclaims, "My kids attend Garfield now, sometimes they act like they own it."
Kate Phillips is a third generation Garfield student and is currently in second grade. She says that her favorite subject is math. "I have a really good math teacher and we play good games. I am on times seven," she proudly exclaims. "All of my teachers have been really good."
As if to prove her point, Kylie says that at the end of each year Kate wistfully hopes her current teacher will loop up to the next grade with her class.
Fifth grader, Sydney, has had an equally memorable experience at her neighborhood school. As she recounts the years she has spent on Garfield's campus, she easily recalls each teacher by name.  Sydney plans to keep in touch with her posse of friends as she bounces off to sixth grade and middle school in the fall.
Permanent Record
Communities grow and thrive when their citizens give something back. Histories are passed down from generation to generation and with them comes a sense of belonging and pride. As one of the oldest schools in the district, Garfield is part of the history of a number of multigenerational families.
The school is holding a fundraiser aimed at those who would like to recognize the impact that Garfield has had on their lives. Kylie and the Parent Teachers Association (PTA) are hoping that when alumni find out that there is an opportunity to commemorate their time at Garfield, they will jump at the chance.
Sponsors will be able to leave their personal mark during the Purchase-a-Paver Fundraiser, which is currently taking place through the PTA. Pavers purchased before May 30will be in place for the beginning of the 2014-15 school year.
Today truly is yesterday's pupil, especially when it comes to families like the Phillips. The lessons and memories of each generation are unique, yet all are woven from the common thread that is Garfield Elementary.
For more information on how to become a permanent part of Garfield's history, please contact the Garfield Elementary PTA by visiting their website or Facebook page or via email at olygarfieldpta@gmail.com.