By Kate Scriven

*Editor's Note – you have found our 2014 Easter Egg Hunt list.  Click here to see the 2016 list of local Easter Egg Hunts.
This year the Easter holiday comes quite late.  April 20 is the day, leaving us plenty of time to prepare our baskets, purchase Easter outfits, and scope out the best hunts in town.  With the late Spring date, chances of sunny weather for the Easter Bunny are also increased greatly, making the large number of outdoor hunts around town much more attractive.
Our list of hunts offers something for everyone, including an adults only egg hunt in the dark, an Easter fashion show for Fido, and the traditional grassy lawn hunt.  A family tradition for many, local egg hunts bring together children, families and, well, chocolate.  And really, what could be better than that.
April 5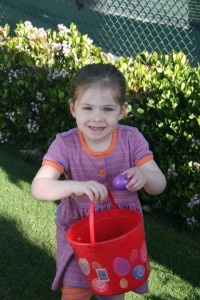 Bayview Thriftway Egg Hunt – 10 am, Bayview Thriftway 516 W. 4th in Olympia, Free – Bayview once again opens their store, chock full of hidden eggs, to the community.  Kids 10 and under are invited to participate and even meet store mascot Peare.
April 11
Extreme Adult Flashlight Egg Hunt –8pm, South Sound Church – 1416 26th Ave SE, $10 – South Sound Church again provides a great event and this time, it's for the big kids.  Adults only at this evening hunt through the wooded areas around the church.  Prizes are in every egg from 1 penny to $100.  Be sure to register online prior to the event.
April 12
7th Annual Dog-Gone Easter Egg Hunt – 10am – 3pm, Regional Athletic Complex (RAC), $3 / kids under 12 free – Pet Connection Magazine again holds this terrific community event.  Activities include a dog's egg hunt, a children's egg hunt, a canine fashion show, agility demonstrations and much more.  The event benefits local animal charities.  More information can be found here.
Ralph's Thriftway Egg Hunt – 10 am, Ralph's Thriftway 1908 E. 4th in Olympia, Free – Like their partner store, Bayview Thriftway, Ralph's fills the aisles with eggs full of candy and prizes for children ages 10 and under.  Join mascot Peare for a photo after the hunt.
April 13
Breakfast with the Easter Bunny – 8 am – 10 am, Applebee's Restaurant 625 Black Lake Blvd in Olympia, $10 adults / kids 10 and under free with paid adult – Enjoy breakfast with the Easter Bunny and raise funds for Boys & Girls Clubs Thurston County.  A breakfast of pancakes, eggs, bacon, sausage and beverages will delight as the Easter Bunny visits with diners for photos.  Tickets at Capital Mall and Applebees.  Click here for more information.
April 19
O Bee Credit Union Egg Dash 2014 – 11 am, Dream Team Park 425 Marvin Rd SE in Lacey, Free – Mixx 96.1 and O Bee Credit Union sponsor this enormous community event with over 17,000 prize and candy filled eggs for kids ages 2 to 10.  There will even be four grand prizes awarded by age group of a new bike and helmet.  More info here.
Hands On Children's Museum Dinosaur Egg Hunt – 10 am – 4 pm, HOCM 414 Jefferson St. NE in Olympia, Free with paid admission – Bunnies don't really lay eggs, but dinosaurs sure did!  Search the Outdoor Discovery Center, the museum's newest area of exploration for six types of dino eggs.  Indoor activities include all things "egg."
Lattin's Country Cider Mill Easter Egg Hunt – 1 pm, Lattin's 9204 Rich Rd SE in Olympia, Free – The farm opens at  9 am so come early and enjoy the baby animals, cider, and of course a fritter.  Hunts are scheduled by age group and the Easter Bunny will be on hand for photos.  All the details can be found here.
Hippity Hop Garden Party – 10 am – 2 pm, Capital Mall, 625 Black Lake Blvd in Olympia, Free – Ages toddler to nine are invited to join this fun event including face painting, crafts, and Easter activities.  Local groups including the South Sound YMCA and Hands on Children's Museum  and Gyro Psychology will be joining the fun.  Event info found here.
City of Tumwater's 18th Annual Easter Egg Dash – 11 am, Tumwater High School, 700 Israel Rd SW in Tumwater, Free – Over 20,000 eggs will be hidden for children ages infant to 10 to find on the grass behind the Tumwater High School Stadium.  Bring your own basket to collect and enjoy this annual tradition.
13th Annual Easter Egg Eggstravaganza – Noon, South Sound Church, 1416 26th Ave SE in Olympia, Free  – Over 10,000 eggs will greet hunters at this family event. Face painting, jumpy toys and the Easter Bunny are all part of the fun. Prizes include a bike in each age group, All Free.
April 20 – Easter Sunday
Olympia Eagles Easter Egg Hunt – 2 pm, Priest Point Park, Olympia, Free – Kids ages one to twelve are invited to search the park for over 21,000 eggs.  Come early to this popular hunt.  It starts on time and the eggs go fast!  This event is in the fourth-eigth year and going strong.
Olympia Lodge #1 13th Annual Easter Egg Hunt – 4 pm, South Sound Manor, 455 North St. SE in Tumwater, Free – This local tradition is sure to please children of all ages.  The hunts are divided by age group and welcome kids up to age 12.  The Easter Bunny will be available for $5 photos with all proceeds to local charities.  Coffee, juice and snacks are provided to help keep your stamina up.  Additional info found here.
Thrifty Thurston highlights inexpensive family fun in Thurston County.  The weekly series focuses on family-friendly activities throughout our community.  If you have a suggestion for a post, send us a note at submit@thurstontalk.com.  For more events and to learn what's happening in Olympia and the surrounding area, click here.