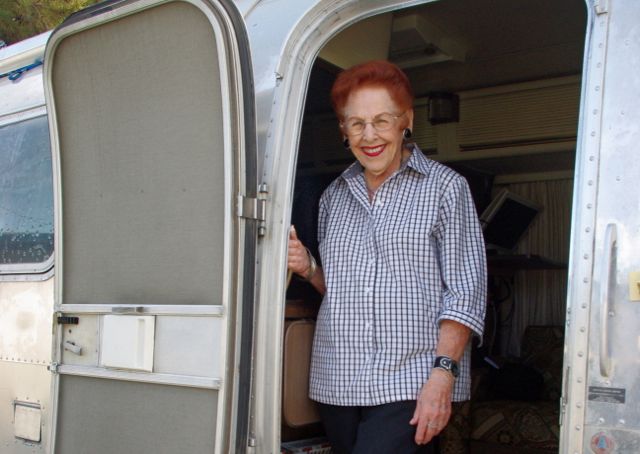 By Carolyn White

As two-thirds of all Airstreams manufactured since 1936 are still on the road, many opportunities exist for modern owners to adopt and adapt a vintage Airstream trailer. To be considered "vintage," the trailer must be over 25 years old.
Since it's people that keep legends alive, what motivates these owners to spend time and money to preserve this American icon?  To find out, I visited with vintage Airstream owners in the Washington Land Yacht Harbor (WLYH).
Airstream trailers and classic motorhomes are fabricated in a manner similar to airplanes. They survived over the years due to their mostly aluminum construction. Unlike their early counterparts that sported wood framing, the Airstream's inner aluminum ribs resist the deleterious effects of water and time.
Even though an Airstream starts its life with a design and construction advantage, it is still subject to the same wear and tear as all other travel trailers and motorhomes. The road throws its share of hazards in addition to environmental challenges — rain, UV, extreme hot and cold temperatures.  As well, many of the Airstream's components and systems deteriorate over the years. Restorations of these vintage units range from preserving the original functionality to expressing personal creativity.
To keep a vintage Airstream on the road takes a lot of dedication and TLC. Often, original parts from the pre-1990 models are unavailable as they were either custom made in the factory or the original equipment manufacturer (OEM) is no long in business.  Vintage ownership involves creativity and ingenuity combined with imagination and problem-solving skills. Ultimately, it's a labor of love.
Airstream often customized their products for a specific use, such as the Airstream Astro Van, a 1983 Excella motorhome famous for shuttling the astronauts to the launch pad. In 1960, the Republican National committee commissioned the 22' Airstream Space Liner as a mobile press box for then Vice President Nixon's unsuccessful bid for the presidency. This 1961 model-year trailer still had "Republican National Committee" (RNC) emblazoned on its side when Paul and Charlinda (Charli) Westerfield purchased it in 1972.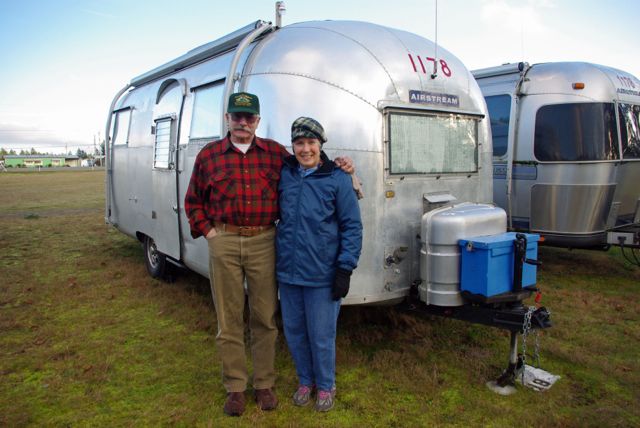 Long after the RNC decal faded, the Westerfield's Airstream is still making the scene at local rallies. Although they also own a 1995 31' Airstream trailer, Paul favors the '61 for fishing trips. Charli relates that there have been a few scratches and repairs along the way. A close encounter with an unmovable object necessitated a door replacement and repair of two outside panels. Once repaired, their trailer was back on the road again, ready for more adventures.
Unlike many vintage Airstream owners, Paul decided to forgo polishing their trailer. He'd rather spend his time traveling and not worry about the upkeep that a mirror-like finish requires.  They adapted the interior to serve their needs. Over the years, the Westerfields have upgraded appliances and systems for safety and functionality. Even with these changes, the heart and soul of their 1961 remains original.
Vintage owners, like the Westerfields, often own another Airstream.  In 1996, Joel Ware, the current president of the Washington Unit of the Wally Byam Caravan Club (WBCCI), purchased his first Airstream, a 19' motor home, called a B van.  Now, he is the proud owner of two vintage Airstream trailers and a rare—only 17 survive out of 20 produced —1994 36' classic diesel pusher motor home.
Joel's 1982 31' classic Airstream trailer boasts innovative features like a built-in Nutone food processing center and microwave oven.  This specific trailer also serves as his ticket to membership in the Classic Airstream Club, an intra-club of the WBCCI.
Both Joel and his 1965 Globe Trotter are Vietnam era veterans. He loves the built-tough quality of this 19' Airstream. Back in the 50's and 60's, these trailers travelled on back roads throughout the world. Caravans visited exotic places and blazed roads where there were only trails. During that era, the Interstate Highway system was in its infancy. These Airstream trailers had to be designed to withstand the rigors of back roads.  Joel plans to polish the exterior until it gleams as well as update the interior.
From 1973 to 1979, Airstream produced the Argosy brand, which was a painted version of their classic product.  The Argosy was a structurally identical, no-frills model line that served as a test bed for innovations and provided a more affordable option to consumers who wanted the Airstream experience on a limited budget.
In the shadow of the first gas shortage, Airstream developed the first motor home under their Argosy brand.  Ranging from 20' to 28' long, the Argosy motor home repeated the iconic design of the Airstream and Argosy trailers. These trend-setting motor homes, fully self-contained with luxuries —like a 120V electrical generator to operate the air conditioner in the middle of nowhere— evolved into a full-fledged shiny Airstream motor home like the one Joel Ware owns.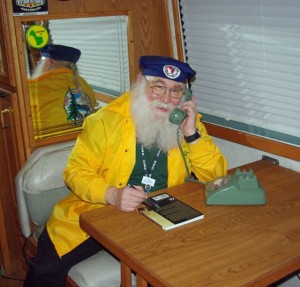 Vintage motor homes come with their own set of complexities. Besides the "trailer" restoration aspects, there's the engine and transmission. Think of it as a combination of trailer and truck. When Richard Stolarik purchased his 1978, 24' Argosy motor home last year, he was fully aware of the challenges he faced.  Richard owned and upgraded a 1976 31' Airstream trailer. After several years of attending local rallies, he decided to experience the motor home advantage in a vintage way.
Richard invited me to come back this summer to take some "after" pictures, as the current interior is a work-in-progress. In the meantime, he's having fun with planning, renovating, and creating unique hood ornaments.
Original Owners
Occasionally, a vintage Airstream remains with the original purchaser. In the case of the Lisius' family, Don and Mary handed down their 1969 18' Caravel to daughter, Jennifer and her sons. Keeping it in the family is a challenge. Jennifer relates that her son, when pulling their trailer on the highway, often gets flagged down by passing motorists who want to buy their trailer. Other than flooring and upholstery, this Caravel is as original as the day it left the factory.
Yvonne DeRoule purchased her 31' Sovereign double with rear bath from the California Airstream factory in 1975. Many miles later, Yvonne still owns her trailer. Like other vintage units, this trailer has experienced several upgrades —carpeting, upholstery, water heater —and regular maintenance to keep it roadworthy.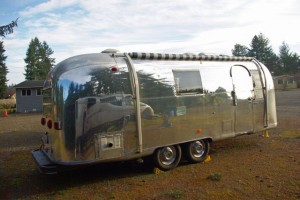 As full-time RVers, Yvonne and her late husband, Hank, travelled across the United States, Canada, and Mexico. They attended many WBCCI rallies and were frequent visitors to the WLYH.
Over the years, Yvonne realized that hitching and unhitching her trailer became more of a challenge. To solve this issue, she and her family engineered and manufacture an easy to hook up trailer hitch, appropriately name the "E-Z Hooker." This invention allowed her to keep on traveling and enjoying her trailer.
The longevity of these recreational vehicles is a testament to the American-built quality that Airstream put into their manufacturing. That these units are still on the road is a tribute to the dedication of their owners. They have preserved a piece of American history while living it.
Airstream Fun Facts
Wally Byam, the namesake of the WBCCI, sported a blue beret whenever leading an Airstream caravan. Today, officers, like Joel Ware, as well as club members, wear the blue beret at many club functions.
The red numerals affixed to the front and rear of Airstream RV's are the WBCCI membership numbers. These numbers identify members while on the road.
The typical 22' to 24' vintage Airstream trailer requires 250+ hours to polish. This assumes that it has never been polished before and the original clear coat has been removed.