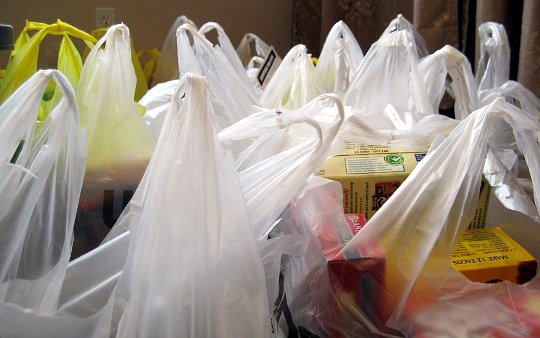 On July 1, the single-use plastic shopping bag will be a thing of the past in many parts of Thurston County, and the staff at the Thurston County Solid Waste Division are gearing up to help retailers, grocers and their customers prepare now for the change coming this summer.
Beginning in July, single-use plastic bags will be banned in Lacey, Olympia, Tumwater, and in unincorporated Thurston County. Certain plastic bags are exempt, including in-store bags for things like bulk items, produce and meat. The bans do not include plastic bags for prepared take-out food, dry cleaning, newspapers, or garbage bags sold in packages. In addition, all retailers that provide grocery-sized paper bags will charge a minimum of five cents to act as an incentive for customers to bring their own reusable bags and to help retailers recover some of the cost of the more expensive paper bags.
Thurston County Solid Waste educators are helping retailers and shoppers get ready for the change with a fresh new look and new information at www.ThurstonSolidWaste.org/plastics. The full text of the ordinances from each jurisdiction is available, as well as details and exemptions, resources, tips, and lists of frequently asked questions and answers. Shoppers can find helpful hints on how to remember their bags, the best choices for reusable bags, and information on the importance of keeping reusable bags clean. Along with all of the resources for shoppers, the website also has a page just for retailers that includes various signs they can download and print. Retailers and shoppers can also sign up to receive periodic email updates.
"Based on what we've heard from other jurisdictions that have bans, the transition can go pretty smoothly for the customers if the stores prepare." said Loni Hanka, one of the county's solid waste educators. "So we're making a real effort to get with grocers and retailers this spring and give them all the tips and resources they need to be ready for the change on July 1."
Along with all of the new information and resources at www.ThurstonSolidWaste.org/plastics, Thurston County Solid Waste Division staff will mail a letter to all retailers in March, and an informational flyer will be included in the March/April LeMay commercial trash bills. Information and resources have also been distributed to local chambers of commerce and area retail and grocers associations that they can share in their regular outreach to their members. Solid waste educators will be visiting as many area retailers as possible before July.
Solid waste educators will also be hosting a series of informational meetings specifically designed for retailers and businesses throughout April. Retailers and business owners are welcome to stop by any of the four open house information sessions between 5 and 7 p.m. to see samples of bags, ask questions, and share outreach ideas.
Bag Ban Open House Information Sessions for Businesses, 5 ̶ 7 p.m.
Wed, Apr. 2—Tumwater Fire Department at 311 Israel Road SW
Wed, Apr. 9—Thurston County Public Works, Bldg. B at 9605 Tilley Road S
Wed, Apr. 16—Olympia City Hall, Room 207 at 601 Fourth Ave. E
Wed, Apr. 23—Lacey City Hall Community Room at 420 College St. SE
For more information about the plastic bag ban, the website or the April open house information sessions, contact Loni Hanka, Thurston County Solid Waste Education and Outreach Specialist at (360) 867-2282 or HankaL@co.thurston.wa.us.