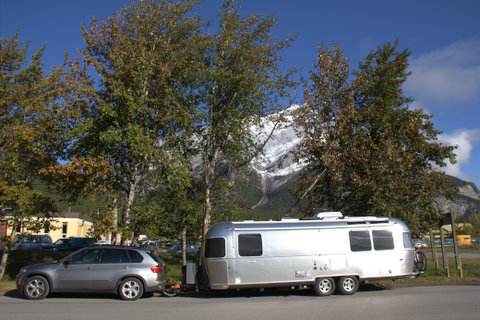 By Carolyn White

Airstream – the name evokes images of travel and on-the-road adventure. You have probably seen these gleaming aluminum beauties travelling along the highways. This sleek trailer is a featured supporting character in TV advertisements and the movies. Airstream devotees have established numerous forums and publications dedicated to all aspects of this American-made icon – from design and restoration to traveling and its celebrity ownership status. The Airstream story is an American one, intertwined with Thurston County's history.
The Making of an Icon
With the advent of better cars, the 1930's travelers started taking their accommodations with them on road trips. These "towables" came from mostly backyard builders, working off plans from magazines. One such California designer, Wally Byam, conceived an aerodynamic trailer constructed like a modern aircraft. He built his first aluminum riveted trailer in 1936, naming it "Airstream, because that's the way they travel, like a stream of air." This original design boasted the sleek shape that evolved into today's Airstream.
Byam custom built his Airstreams until World War II when the government halted the manufacture of house trailers for the duration of the war. After the war, Byam resumed production.  A master marketer, he promoted his trailer by leading groups of Airstream owners on adventurous caravans. With expeditions ranging from Maine to Mexico, Alaska to Florida, and Capetown to Cairo, Byam tested and refined his product while creating a vehicle to satisfy the wanderlust of post-war Americans.
Wherever Byam led his caravans, he carried the spirit of community and friendship.  He viewed his travel groups as ambassadors that promoted international goodwill and understanding among the peoples of the world via person-to-person contact. On their journeys, Byam's caravaners would lend a hand and volunteer to help a community in need.
This message of travel adventure and fellowship appealed to those that desired a world of new experiences and drove sales of the Airstream travel trailer. Byam created a product and a lifestyle to complement it. Yet he realized that only a small percentage of his Airstream owners could participate in many long-distance caravans. Most of them would venture to places closer to home.
In 1955, a group of Airstream owners beat Byam to his next logical step as they created a brand-specific travel club of their own. This new club, named the Wally Byam Caravan Club International (WBCCI) after the founder of Airstream, localized caravanning and operated on a year-round basis. WBCCI organized into regional units, each one hosting rallies and short distance caravan experiences.  Chartered in 1958, the Northwest unit included Airstream owners in Washington, Oregon, and Idaho.
The Thurston Connection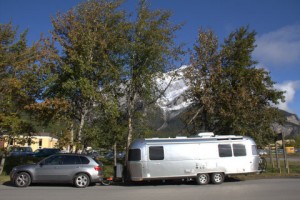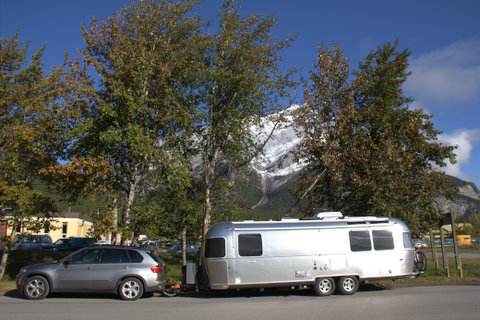 By 1960, club membership grew to the point that they wanted a permanent facility. The then Northwest unit of WBCCI envisioned a community where members could live and park their trailers when not travelling as well as host rallies and visiting WBCCI members from other units. By consensus, the members launched a building fund for the future Washington Land Yacht Harbor. In December 1960, the unit purchased 43.7 acres in rural Thurston County near Lacey. This was the first Airstream community created in the world. The founding members chose wisely, as the location at 9101 Steilacoom Road SE, Lacey WA, is now optimally located within two miles of several big box stores and major tourist attractions with easy access to I5.
Why the name Washington Land Yacht Harbor (WLYH)? Wally Byam loved to name his trailers based on their function and overall length:  Bambi (17'); Safari (22'); Tradewind (24'); Overlander (26'); Ambassador (29'); and Sovereign of the Road (31'). As the 1950's Chevys named Bel Air and Impala, Airstream had two brand appointment levels – The International and The Land Yacht. Since this new community was a safe "harbor" for the Airstream travelers to call home, it became the Land Yacht Harbor.
Volunteers – all Airstream owners – contributed their individual talents and built this community with an eye to the future. Besides 194 permanent homes with ample parking for an Airstream or two, there is a Terraport, which offers 163 sites with full hookups for visiting RV's to stopover and enjoy the local area.  Residents and visitors can enjoy the park-like setting for strolls in this now 61.3-acre facility.
In the spirit of serving the Thurston County community, the WLYH offers its facilities to the public for a nominal fee. Harmony Hall, which has a banquet hall, stage, several game rooms, and full kitchen, has hosted many unit Airstream rallies as well as local events. A smaller building named the Gatehouse provides room for small meetings and receptions.
Next time you see an Airstream travelling along the interstate near Lacey, consider that this American icon might be heading to its Land Yacht Harbor home in Thurston County.
Airstream Fun Facts
Airstream Inc. is the only recreational vehicle manufacturer established in the 1930's that is still in business today.
Of all Airstreams manufactured since 1936, two-thirds are still licensed and on the road.
Airstream manufactured class A motorhomes from the late 1970's to 2008.
The Washington Unit remains the largest in the WBCCI with 500+ members.
9101 Steilacoom Road SE
Olympia, WA 98513
360.459.0198