By Tom Rohrer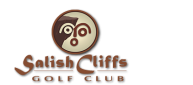 Leading Saint Martin's by 15 at halftime Friday night, the Western Washington University women's basketball team appeared ready to advance easily into Saturday's GNAC Conference Tournament Championship.
However, Saint Martin's made the Vikings passage towards a second consecutive tournament championship very difficult.
Down 44-29 at halftime, the #6 seeded Saints went on a 17-4 run to start the second half, cutting the Vikings lead to 48-46 with 14:30 left to play.
"We've had two games with them where we got up and they came out in the second and made things difficult for us," said Western Washington University head coach Carmen Dolfo.  "They keep fighting and they certainly did tonight."
Western would weather the furious Saints run and eventually pulled away in the final eight minutes to an 81-71 victory inside a passionate Marcus Pavilion in Lacey.  Led by Katie Colard's 23 points, the Vikings shot close to fifty percent in the contest and held Saint Martin's to 38.3 percent shooting.  The victory for the #2 seed Vikings sets up a NWAC tournament championship affair with Simon Fraser tonight at 7:30 p.m. at Marcus Pavilion.
The loss ends Saint Martin's (18-11) season and the career of senior standout Chelsea Haskey.  The forward had 17 points on 8 of 12 shooting in her final collegiate game.
"She's done so much for this program and she played tough tonight," said Saint's head coach Tim Healy. "She gave everything and doesn't have to hold her head."
SMU sophomore forward Megan Wiedeman added 17 points of her own and continued her tournament dominance on the glass. Wiedeman followed up her conference tournament record 17 rebounds in a win over Alaska-Anchorage Wednesday night with 15 boards more against the Vikings, seven of which came on the offensive glass.
"Her development is impressive and she has so much room to grow as a player," said Healy of Wiedeman.  "The future for her is very bright."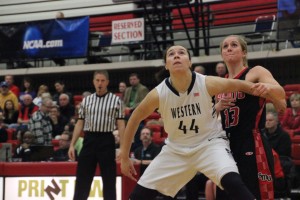 Despite the efforts of Wiedeman and Haskey, Saint Martin's was unable to slow down a potent Viking offensive attack when it mattered most.
Along with Colard's scoring output, the Vikings received 15 points on 5 of 8 shooting from Jenni White and 17 on 7 of 9 shooting from Sydney Donaldson.
"We've been able to shoot the ball well all season and that's won us a lot of games," said Dolfo.  "That's what we needed tonight and our girls got their legs under them and followed through."
Defensively, the Vikings held the Saints to eight points in the final four minutes and put Saint Martin's in unfavorable positions on the court.
"Every day in practice we do a five minute overtime period where we have to lock-in for that stretch," said Donaldson, who added eight rebounds in the win. "It wasn't anything new for us.  We just kept our intensity up and communicated like always."
A Division II national semi-finalist a season ago, Western got off to a slow start to the 2013-14 season, and at one point their conference tournament hopes were in doubt.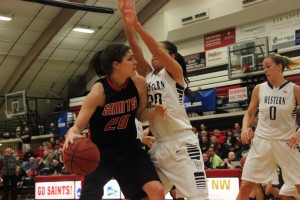 "We just wanted to get here at the beginning of the season" said Dolfo of her team, who started the season 3-5.  "Now we're starting to play some of our best basketball, and it's at the right time."
The resurgence from Western during the season and the fight displayed by Saint Martin's in defeat speaks volumes of the level of competition in the league.
"It's unbelievable," said Healy of the quality of the league. "There isn't a better group of ten teams out there."
"It's a test every night, and Saint Martin's, they aren't a six seed in this tournament, they're just a really good, tough team in this tournament," said Dolfo.  "You have to work hard for every victory."
After a season that saw the programs first ever GNAC Conference Tournament victory, Tim Healy is optimistic regarding the present and future of SMU basketball.
"We have a lot of girls coming back and I hope they remember the feeling of what it's like playing in this environment," Healy said. "We just need to keep improving."