By Tom Rohrer

It appears the best of the Timberline High School basketball team is brought out once the playoffs begin.
After an incredible run in the district tournament a season ago, the Blazers found themselves in a familiar position in their opening game of the District III 3A boys' tournament.
A loss Monday would have ended their season while a victory would give Timberline a chance to rekindle the same magic that led them to the Tacoma Dome in 2013.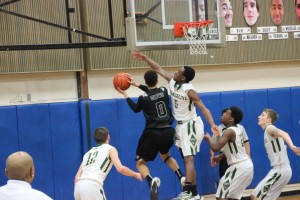 The magic appears to be back for the time being in Lacey, as Timberline outlasted Peninsula High School 63-55 in an intense and temper-filled contest.
Down 7-2 in the first four minutes of the game, Timberline went on a 20-to-10 run to take a 22-17 lead late in the first half.
An impressive coast-to-coast finish by University of Washington commit Donaven Dorsey following his block of Peninsula's Jimmie Ricthie gave the Blazers a 26-19 advantage with two minutes to play in the second quarter.
Dorsey would score on a put-back with 2 seconds left in the half, giving the Blazers momentum and a 32-23 lead heading into the locker rooms.
Despite the deficit, Peninsula would come out in the second half on fire, scoring 22 points in the third quarter alone to cut the Blazers lead to one entering the fourth quarter.
Peninsula sophomore point guard and Oregon State University commit JaQuori McLaughlin scored eight of his game high 27 points in the third quarter to help spur the Peninsula comeback effort.
McLaughlin's electric play had the crowd buzzing throughout the game, but it was the play of Timberline sophomore forward Jarryn Bush that would be the contest's deciding factor
With Dorsey limping due to a lingering ankle injury, Bush almost singlehandedly took on the scoring role in the fourth quarter.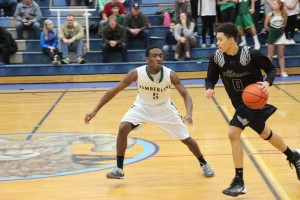 Bush scored nine straight points for the Blazers to start the final quarter, the seventh of which came on a free throw following a successful turnaround bank shot on which he was fouled.
Bush's "and-one" finish gave Timberline a 53-49 lead, and two more baskets added to his team-high 21 point performance.  Dorsey chipped in 19 while junior guard Brandell Evans scored 11 points, two coming on a running bank shot late in the final quarter that extended Timberlines lead to 57-49.
Timberline moves on to face Enumclaw on Wednesday, Feb. 19 at Washington High School in Parkland.  A victory over the Hornets would clinch a Blazers appearance in the regional round of the state tournament for the second consecutive season. Last season, Timberline fell to Lincoln in the district title game before beating Mercer Island in the regional round in thrilling fashion.