By Alyssa Ramsfield
Thrifty Thurston stories focus on inexpensive family fun around Olympia.  And, it doesn't get any more "thrifty" than Free Friday Night at the Hands On Children's Museum.  Free Friday Night occurs the first Friday of each month.  HOCM opens its doors from 5:00 p.m. – 9:00 p.m. and waives all admission charges, as part of its Free & Reduced Access Program.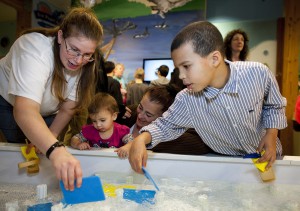 "For many families, this is either their first or sometimes only chance to visit the museum," explains Communications Manager, Genevieve Chan. The museum boasts areas for children of all ages, sizes, and capabilities.
Whether your child likes to build, create, or explore, there is a section of the Museum suited to learning.  Try the airways maze or let you child climb 70 feet into the air inside the Tides to Trees Climber before sliding down to the main floor.
"The evening also typically revolves around a theme or special guest," explains Chan. For example, November's special visitor was Smokey the Bear who talked with kids about exploring the Olympic National Forest. The South Sound Reading Foundation and South Sound YMCA have also contributed activities to these free nights.  In February, local dentists will promote healthy dental habits and perform free screenings.
The new HOCM building has helped make Friday Free Night a success. "Visitors used to line up outside our door in the old Museum, waiting for their turn to come in. With our new building, we've been able to double our capacity for this program, giving more access to more families," explains Chan.  "In the old space we used to max out at around 700-800 attendees in one Free Friday Night. In the new space, we've seen as many as 1,500 children and their families in one Free Friday Night!"
"I took my children to a Free Night and they enjoyed the arts and crafts and special exhibits," says Thurston County resident, Shaunna Hill.  "The museum staff was friendly and very available. It's a very well organized night, the location is huge, and there is plenty for kids to do."
This night couldn't happen without some very important fundraisers. "Funding for Free Friday Night comes from a combination of corporate sponsorships and grants," describes Chan.  "We also raise funds for Free Friday Night and all of our Free & Reduced Programs (which includes Free Field Trips, Parenting Workshops, and Memberships) through our annual breakfast, Imagine That!, and our annual summer fundraiser, the Sand in the City Gala."
"Including Free Friday Night, Hands On's Free & Reduced Programs is one of the largest access programs in the state," notes Chan.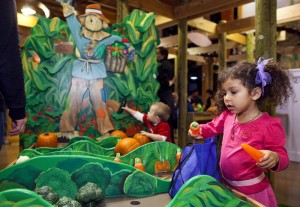 Do you want to join in on the free fun? Discover what HOCM has to offer by visiting on the first Friday night of each month. Parking is available in the Museum's lot.  Grab a metered street parking spot which are free after 5pm.  The museum is also conveniently located near the Intercity Transit center if you want to avoid parking altogether.
414 Jefferson St NE
Olympia, WA 98501