By Margo Greenman
Washington State shellfish farms are re-inventing the oyster.  Using a man-made take on a natural process, farmers are able to organically enhance the shape, texture and even flavor of an oyster. Eager to replicate this natural process on a larger, commercial scale, local shellfish farms have developed an innovative process known as "flip-bag farming." While the technique may vary slightly from farm-to-farm, the concept is the same and the result is, well, delicious.
Oysters grown naturally in shallow, rocky waters tend to get knocked around a bit more than beach grown oysters that grow in the mud or sand. Because of the frequent jostling, or "tide tumbling," the brittle new growth that would typically give an oyster its long, ruffled shape, is broken off as the bag flips, allowing the oyster to form a smooth, deep cup. The constant motion also causes the oyster to work a little harder as it grows, ultimately resulting in firmer meat and enhanced texture of the oyster.
So what is flip-bagging anyway? Marco Pinchot, Community Relations and Sustainability Manager at Taylor Shellfish Farms explains the unique set-up that Taylor uses in producing their renowned Shigoku oyster. "[The farm has] a rope running horizontally to the beach, about two feet up with mesh bags hanging from it. Attached to the bottom of the mesh bag is a buoy. The oysters are kept inside of the mesh bag, causing [the oysters] to rise and fall with the tide," explains Pinchot. The movement caused from the tides allows new shell growth to break off, producing a desirable, deep cup shape – great for enjoying on the half shell.
Pinchot also explains that, "normally when you farm an oyster on the bottom there is always silt and sediment being processed by the oyster along with the oyster's main diet of algae. But when the oyster is suspended in water, it's consuming a different blend of algae and a lot less silt and sediment. This changes and enhances the flavor profile of the oyster." Beyond creating a tastier oyster, suspension also gives the oyster more access to food, which in turn, causes it to grow significantly faster than oysters grown on the bottom.
The popular Shigoku oyster is the product of what happens when Taylor Shellfish Farms tumbles a Pacific oyster to flip-bag perfection. A deep cupped, texture-perfect and flavorful oyster, Shigoku oysters are grown in Willapa Bay and Samish Bay, and are fittingly named after the Japanese word for "ultimate."
While Taylor Shellfish Farms, the largest producer of farmed shellfish in the United States, is the only farmer of the Shigoku, there are other local farms producing their own flip-bag oysters, including South Sound-based Chelsea Farms. Initially attempting to find a process that would speed up oyster growth, Chelsea Farms found that by using the flip-bag process, not only did the oysters grow more quickly, but they grew better, too.
A forerunner in the field, Olympia-based Chelsea Farms harvests their Chelsea Gem out of the Eld Inlet in the South Puget Sound.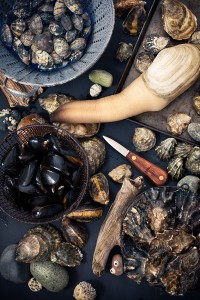 The Hama Hama Company harvests their tumbled Blue Pool oysters at their farm located at the mouth of the Hamma Hamma River. Renowned for producing crisp, clean flavored oysters, the Blue Pool is Hama Hama's take on a flip-bag oyster. Hama Hama encourages consumers to try the Blue Pool alongside of their classic Hama Hama oyster to fully experience how this unique process is changing and elevating the shape, texture, and flavor profiles of Washington grown oysters.
Pinchot says that this fairly recent process – Taylor Shellfish Farms has been producing their Shigoku oyster for about four years – has even inspired some East Coast interest. As more and more farmers search for fast ways to produce oysters that taste as though they've been slowly grown to perfection, this innovative Pacific Northwest-born technique is gaining momentum and popularity among both farmers and consumers.
Want to try a flip-bag tumbled oyster yourself? Taylor Shellfish Farms' Shigoku oyster can be found at many South Sound locations, including Tacoma's Marrow Kitchen and Bar (often served as a special on their menu). Take a quick drive to Shelton to visit the Taylor Seafood Market for fresh oysters.  Visit Taylor Shellfish Farms' website for more information on where to buy Shigoku oysters and other Taylor grown shellfish.
Or, if you'd like to try a Blue Pool or Chelsea Gem, check out the Hama Hama Company and Chelsea Farms for more information and where to buy.