By Tom Rohrer

Prior to the beginning of the 2012-13 season, Allen Thomas, then the junior varsity boys basketball coach at Timberline High School, shared some exciting news with the program's best player.
Allen, who played for River Ridge High School in the 1990s and then for the Evergreen State College, had just been promoted in-house, to be the head coach for the Blazers varsity team.
"One of first people I told when I got the job was Donaven. To see the excitement on his face was huge for me, just knowing there was that confidence," said Allen. "I said to him what we do from now on will determine if the athletic director made a good decision or a bad one."
After a season where Timberline finished with a 16 – 11 record and their first appearance in the WIAA 3A State Tournament since 2004, it appears Pat Geiger, the athletic director at THS, made a good decision.
Last February, Timberline defeated Mercer Island 56-55 in a thrilling loser out game to earn a spot in the eight team field at the Tacoma Dome.  Timberline would eventually fall to two traditional Seattle powerhouse basketball teams – Franklin and Seattle Prep – and be eliminated from state tournament play.
The Blazers three starters from a year ago include 6'7″ senior Donaven Dorsey, a member of the 1st Team All 3A Narrows League as a junior.  Dorsey committed to play for the University of Washington in October and earned a reputation as one of the state's best players following his terrific performance in both the district and state tournaments.
After an entire offseason filled with grueling workouts and match-ups against top flight competition on the AAU circuit, Dorsey is ready to lead the Blazers one last time.
"Last year, I was a 'lead by example' guy because we had some more vocal seniors.  Now, I'm much more vocal and can pick guys up or get on them if necessary," said Dorsey, who played for the Inner City Players and Team Access over the summer. "I just got a lot stronger and mentally I know the game better.  I can pick and choose my spots and visualize things before they happen."
Back as well is junior point guard Brandell Evans, and senior wings Chase Ryan and Tyler Gartner.  The emergence of Evans as the team's floor general was a big reason for Timberline winning 8 of their 10 games before entering the Tacoma Dome.  This year, both Evans and Thomas believe the talented guard can take another step forward.
"His commitment to the game is miles ahead of last year," said Thomas.  "The commitment he's shown in the classroom, weight room and in conditioning has really resonated with the team."
"I'm more comfortable on the court and just feel more in control," said Evans. "A lot is riding on me and I know that.  I knew I needed to work on some things"
Ryan, a team captain along with Gartner and Dorsey, is described by Thomas as the glue and inspiration for the team.  During the district playoffs and the victory over Mercer Island, Ryan was dealing with an illness and two cracked ribs.
"I remember just going into the locker room at halftime and throwing up," said Ryan of his condition during the Mercer Island game. "But I wasn't going to miss that game.  I  just gave it everything I had."
"He is the guy that is the ultimate teammate that sacrifices so much," said Allen.  "He's an inspiration to the team, and I don't think we would be in the position we're in without him."
The trio of Dorsey, Evans and Ryan, coupled with the terrific shooting ability of Gartner, will be a major part of the foundation for the Blazers throughout the year.  A challenge has been replacing the inside presence of Elijah Sanders and Levi Lambert-Wilson, both graduating last June. Dorsey's ability to play inside and out will be key, as will be the emergence of sophomore Jarryn Bush.
"I'll be playing everywhere and doing everything I can," said Dorsey, who chose to attend UW over Gonzaga University.  "Depending on the situation of the game, I could be in the post or playing point guard. I will be playing anywhere to make the team better."
"Jarryn has been a huge surprise," said Allen of the sophomore who led Timberline in scoring against River Ridge. "He has a knack for getting rebounds and being around the ball."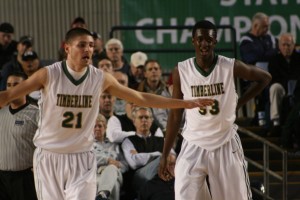 Thomas added the Blazers will also need contributions from freshmen Tariq Romain and juniors Sam Tarabochia and Taylor Adams.  The mix of experience and youth is an exciting prospect for the program.
"I love seeing the younger guys because next year we will need them to step up even more," said Evans.  "It's a good mix."
"We have older guys who can set that example for our younger players," said Thomas. "They can show them the blueprint."
Almost identical to the 2012-13 season has been the Blazers start to the 2013-14 campaign.  A year ago, Timberline defeated River Ridge 59-50 in the season opener before falling to Olympia 61-50 a day later.
On December 2, the Blazers ran past River Ridge 76-74 before falling to Olympia 47-45 four days later on December 6.
Thomas says the loss to Olympia has served as a teaching point for him to his team, and Dorsey believes the growing pains shown by the Blazers early on will make way for success later in the season.
"Right now, it's not about winning or losing, it's about the level we're competing at," said Thomas. "We want to be peaking towards the end of the season.  As long as we've learned our lessons from these games, we will be fine."
"Playing these games helps us learn who we are as a team," said Dorsey. "It's about us getting that chemistry back that made us so successful."
To get back on the winning track after splitting the first two games, the Blazers will need to step up their level of play heading into the holiday season.  Two days after Christmas, the Blazers will head to Hillsboro Oregon for the Les Schwab Invitational, one of the premier holiday tournaments in the country.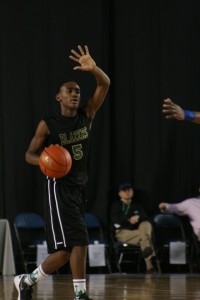 Participating teams in the tournament include Seattle's Rainier Beach High School, winners of the last two WIAA 3A State Championships, and Whitney Young High School of Chicago featuring the nation's number one college recruit for the class of 2014 in Jahlil Okafor (committed to play for Duke University).
Being invited to play in such a tournament is exciting for the Blazer players and shows Thomas just how far the program has come.
"We've talked about it a lot, and it's something that has really kept us focused," said Ryan. "We know we need to be ready to play down there."
"It's an honor honestly, and I think it's a testament to how hard we've worked to get to this level," said Thomas. "We want to be able to play and defeat the best teams in our state, so playing in an event like this will only help us prepare for later in the season."
Luckily for the Blazers in their quest towards a state championship, they have a set of contributing players that are now accustomed to the environment within the Tacoma Dome.  Dorsey's 30-point performance in the first loss against Franklin followed by his 21-point out-put against Seattle Prep earned him and the Blazers respect from the rest of the state.  Now, it remains to be seen, if the Blazers can use their experience to get back to the dome.
"Our goals are league champions, then district champions, then state champions," said Dorsey. "That's all we've talked about."
"They won't be overwhelmed by the moment if they get there again.  I think they would play a little more loose too," said Thomas. "They know what to expect now."
With only six home games the entire season and a slate of match-ups within one of the toughest league's in the state, the Blazers know they need to take a day-by-day approach.
"We've been doing good at not getting too far ahead of ourselves," said Ryan.
With his final high school season ahead of him, Dorsey is sentimental when looking back at his entire career at Timberline.
"I didn't think we would ever get to this level where we would have so much support from our fans and the community," said Dorsey. "We want to give everyone one last run to get excited about and we will do our best to deliver."