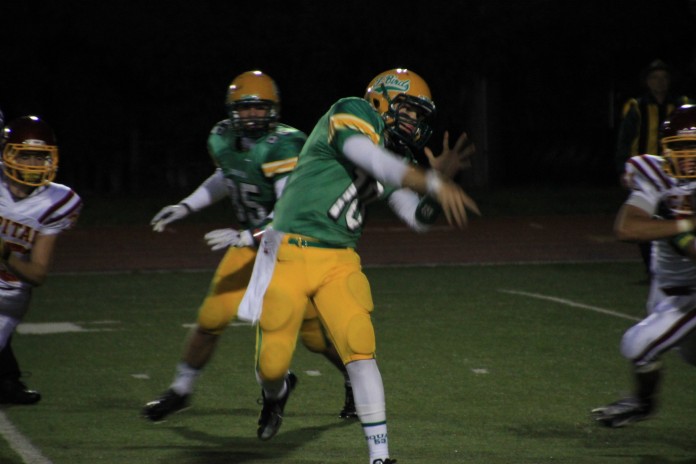 By Tom Rohrer

During offseason workouts, only three numbers ran through the minds of the Tumwater High School football team – 41 – 7.
371 days ago, the T-Birds scored the 7, with their opponent in the 2A state title game, Lynden High School, mirroring 41.
Tumwater will have a chance to avenge last season's championship game defeat at 10 a.m. Saturday morning when they face off against the Lynden Lions in the Tacoma Dome.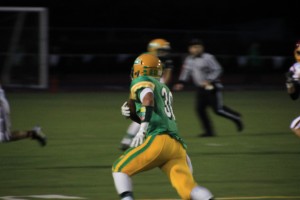 Both Lynden and Tumwater come into the game with a perfect record (13-0) and fresh off of a state semi-final victory on the east side of the state last weekend. The T-Birds defeated Prosser High School 45-40 at Edgar Brown Stadium in Pasco on Saturday, Nov. 30 while Lynden posted a 21-7 victory over Ellensburg in Moses Lake.
The upperclassman laden T-Birds, who have 16 players on the first and second All Evergreen Conference teams, used the 2012 season finale loss to push them through offseason workouts and the 2013 season.
"We expected to get back here," said Tumwater senior running back and 2A Evergreen Conference MVP Christian Cummings. "After losing last year, we had that bad taste in our mouth. We worked hard in offseason just to get back here."
Cummings longtime friend and senior classmate Jayden Croft noticed an intense, team-wide effort that wasn't present prior to the 2012 season.
"Going into our junior year we knew we would be good and didn't work as hard," said Croft the T-Birds quarterback and First Team Evergreen Conference honoree. "We knew we could be good again, but we worked way harder this past year.  It shows."
Between the two schools, Lynden and Tumwater have combined to win the last five 2A state championships.  The Lions have captured  four of those titles with Tumwater edging their competitor in 2010.
This year, however, it is the T-Birds, not the Lions, with the experienced roster.
"We definitely have an edge on them this year in terms of experience. They only have two returning starters and that's huge," said Croft, the grandson of T-Bird head coach Sid Otton.  "Last year, they got to play their semi-final in the Tacoma Dome.  This year, we both played east of the mountains.  This is the first time in the dome for both of us and a majority of our guys have played in this environment before."
While the 2012 Tumwater team was no push-over (the T-Birds finished with a season record of 12-2), they struggled in the 'moment' compared to a Lynden team that had 19 returning starters from the 2011 team.
"We all came out too scared in the new atmosphere," said tight end Zach Delucco, another first team All Evergreen Conference performer. "We didn't pay like we had the whole year."
Along with experience, the T-Birds will bring to the Tacoma Dome a balanced offensive attack that can score on the ground and through the air.
Combined with the dynamic Cummings is sophomore running back Easton Trakel and junior back Tyrus Snow, both who earned second team All Evergreen Conference honors.  When defenses focus on one of the three, lanes open for the other two speedsters.
"If they key in on Christian or Easton, we have counters," said Croft of the T-Birds 'wing-t' offense. "We always have a counter."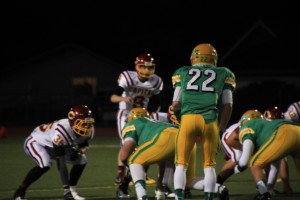 Last season, Croft depended on the receiving ability of 2012 2A State Player of the Year Andrew Brown, now a sprinter for the University of Washington track and field team.  After gaining on 30 pounds during the offseason and honing his pocket instincts, Croft has been able to provide a more consistent aerial attack for the T-Birds.  Having talented receivers such as Delucco and sophomore receiver Griffin Shea to throw to has been a key to his success as well.
"Last year, I was more timid in the pocket and would want to escape.  I'm a lot more confident now," said Croft. "Really, I was only throwing to Andrew every time.  Guys have stepped up and I've improved."
Seeing Cummings develop into the school-record breaking player he's become and fill in the shoes left by Brown has been enjoyable for his teammates.
"He's such a motivational star because his big runs and big plays get us so pumped," said Delucco. "He sets the games on fire."
"He makes our offensive line look good," said senior offensive lineman Nathan Padgett. "Seeing him break records for the school, it makes a statement for him and (the offensive line)."
Cummings is quick to credit the strong play of the offensive line for his success.  Four T-Birds earned first or second team all-league honors on the offensive line including Padgett (second team), seniors Korye Trejo and Dayton Newell (both first team) and junior Adam Zimmerman (second team).
"I got the big boys blocking for me and it's very nice having huge holes to run through," said Cummings with a laugh. "All glory to the lineman."
Defensively, the T-Birds will look to pressure Lynden's sophomore quarterback Sterling Somers, who replaced Josh Kraght (now playing at Portland State University).  Croft noted that the Lions have two receivers that stand over 6'3″, but that they no longer have the services of Zach Vis, who now plays for the University of Montana.   The T-Birds secondary will rely heavily on the play of seniors Gabe Gleizes and Garrett Terrell.
"We will probably bump (their receivers) up front," said Cummings. "If they go up top, our free safety will crack them."
"From a quarterback perspective, if we bump them, their receivers will be thrown off their route," said Croft. "Somers is trying to throw to a spot and if we can bump the receivers off, he can't look to that spot."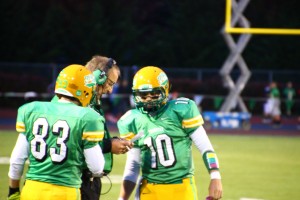 While the T-Birds have studied up on Lynden's schemes, the Tumwater players will approach the state championship game like every other contest.
"All season we've talked about playing against a faceless opponent," said Delucco. "No matter who we are playing, we don't worry about their stars or who their personnel is. We focus on what we do and what we can control."
"We will play our game and not theirs," noted Cummings.
Growing up in the football crazed Tumwater community, the T-Bird players have been exposed to the championship expectations laid down by Otton's five championship rings since 1987.
The pressure of competing in such an environment is something the players relish in.
"Playing in this community has been a blessing. We love the support we receive.  Even over in Prosser, we had as many fans as they did," said Croft, who began roaming the sidelines of T-Bird games as a six-year-old ball boy. "It's great knowing the community and school is behind us. We're playing for our school and community not just ourselves."
Win or lose, Saturday's championship game will be the last contest for the T-Bird seniors, a fact that is not lost Cummings.
"It's crazy just thinking about it," he said. "The only way we can go out is with a win, and I know we will do whatever it takes to do that."
Kickoff for the WIAA 2A state title game is scheduled for 10 a.m. at the Tacoma Dome. For more information, visit www.wiaa.com.