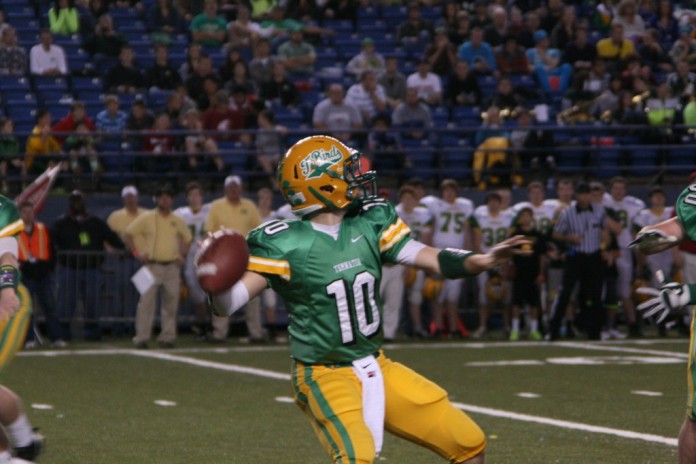 By Tom Rohrer
There was never any doubt Jayden Croft would eventually become the starting quarterback at Tumwater High School.
Growing up playing for the junior Thunderbirds in the Thurston County Youth Football League and scouring the sidelines of THS games as a ball-boy, Croft was always the one throwing the passes, not watching or receiving them.
"I've been playing quarterback since like second grade," said Croft, who led Tumwater to an appearance in the 2A state title game last year. "It's the only position I've ever wanted to play."
The grandson of famed Thunderbird head football coach Sid Otton and son of THS volleyball coach Tana Croft, the senior quarterback is 14-1 since taking over the starting job prior to the start of his junior year.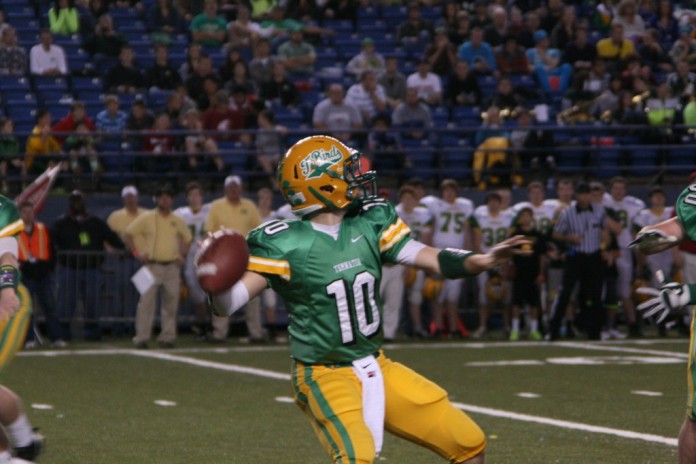 Now entering the last year of his high school career, the leader of one of, if not the, top 2A team in state, Croft is finding it crazy looking back to his younger days when he was in awe of the T-Bird players.
"One play I do remember (when Croft was a ball boy) playing against Olympia, Hank Bryant playing halfback got a rocket sweep, and hurdled this kid that was standing straight up on the sideline.  I was right next to it," said Croft, who is being recruited by Yale, the University of Pennsylvania and Central Washington University among others.  "When I was a kid, all the high schoolers seemed to be like gods.  Now that I'm the same age, it's crazy to think about."
After an 11-1 junior season that ended in a 41-7 defeat to now two-time defending state champion Lynden in the Tacoma Dome last November, Croft has the T-Birds clicking early on in the 2013 campaign.
The T-Birds, running a no-huddle offense, have put up over 40 points in every contest en route to a 3-0 start.  After opening the season with a 41-0 home victory over Shelton, the T-Birds defeated Timberline in Lacey 44-0 in week two and last week beat Inglemoor 41-24 on the road.  Tumwater has been able to perform in dominating fashion despite the loss of standout players Andrew Brown and Jamie Bryant to graduation.  The all-purpose player, Brown, is now a sprinter on the track and field team at the University of Washington and lineman/tight end Jamie Bryant, Hank's younger brother, is grey-shirting this year and will join the University of Washington football team in 2014.
"Guys have stepped up and played well.  It's not surprising to us.  We had 64 kids show up to back-to-back voluntary workouts in the summer and Coach Otton said that's the most he's ever seen," said Croft, who also plays on the T-Birds varsity basketball team.  "Christian Cummings is going off this year.  He had five touchdowns last week and three the week before.  It's nice having those kind of players because it takes some of the weight off your shoulders."
Not that Croft isn't scared of the pressure that comes from being the quarterback and the coach's grandson at a football-crazy school.  The pressure and high expectations that come with his position is something Croft relishes in.
"I would rather be in the limelight and the spotlight on a successful team than a player on a 1-7 or 2-8 team," said Croft, who is listed at around 6'1″, 190 lbs. "It's something that makes this game even more enjoyable and that's why you play."
To improve his play going into his senior season, Croft worked extensively with renowned quarterback instructor Taylor Barton, a former quarterback for the University of Washington who owns and operates the Barton Football Academy.  Croft believes he has improved his 'pocket presence' and is looking to stand tall amongst the pass rush rather than scrambling to escape it.  The work he put in with Barton has also improved his throwing motion
"My junior season, I feel I was timid in the pocket. I worked on patience, using my eyes and just playing within myself," said Croft, who cited some cone drills with Barton as a way to improve his pocket awareness.  "Another thing he helped me with was my throwing motion.  I was throwing the ball over my shoulder, just trying to fire it in.  Barton really exaggerates not bringing the ball down and keeping the throwing motion natural."
Natural would be a way to describe the athletes within Jayden's family.  His father Derric was a standout three sport player (football, basketball, baseball) at Lynden High School before playing basketball collegiately at San Diego State and Western Washington University.  Jayden's mom, Tana, was a standout volleyball player for Tumwater and has led the T-Birds volleyball team to a 2A state championship and three runner up finishes as the teams head coach.
Jayden's 69-year-old grandfather, Sid Otton, has been the head coach at Tumwater since 1974.  During that time, Otton has led Tumwater to four state championships at various levels of classification.  Sid's son, Jayden's uncle Brad, was the starting quarterback for the University of Southern California when the Trojans won the 1996 Rose Bowl over Northwestern.
Croft is now creating his own legacy as an athlete and a standout student as well.  Much of his success stems from lessons passed down to him by his grandfather.  Every day, Croft is thankful for the time he gets to spend on the field with the legendary coach.
"It's awesome playing for him and is really something more special than other players.  Growing up, being a ball boy on the sideline, seeing how he coaches, we just have a special bond," said Croft, who plans on playing baseball in the spring after sitting last season out.  "On the field and off the field, the most important thing he has taught me is respect – respect your opponent, your teammates and your peers, especially women."
There is a mutual respect during the fall sport season between Croft and his mother, as the two are engrossed in the stresses that come with their respective teams.
"It's cool but it's always a stressful time of year," said Croft, who is good friends with Tumwater track star Lane Russell.  "I got to my mom's games Tuesday and Thursday, then its football Friday.  Seeing the success she has had, it's awesome, because I know how hard she works and how much she cares about this school."
As members of a school with strong sports across the board, Tumwater High School players and teams have the opportunity to serve as role models for youth in the community.  Jayden, like the other members of the T-Birds varsity football team, is paired with a member of the Tumwater TCYFL team.  The pairs get together after their respective games to swap Gatorades, tips on playing and the recap from the contest.
"I was in their position once," said Croft, who also helps run the Little T-Bird football camp.  "I'm just trying to be a role model to those kids."
A leader both by example and vocally for the T-Bird football team, Croft is amazed at the passion not only from his team and coaching staff, but from the fans and the entire Tumwater community.
"It's great.  Our fans are out there every game doing something like a green out or white out," said Croft.  "It's the typical Friday Night Lights type atmosphere, and I'm blessed to be able to play in an environment and a school like this."
Fanfare and school spirit aside, Croft and the rest of his teammates still have a bitter taste in their mouth from last season's state title game.
Together, Lynden and Tumwater have won the last five 2A state championships (Lynden winning four), and with both teams near the top of various state football rankings, a rematch in the Tacoma Dome seems imminent.   However, Croft and the T-Birds are making sure to take it one game at a time.
"We just focus on our opponent for that week and that week only…period," said Croft, who will lead Tumwater into a home showdown with 4A state power Bellarmine Prep on October 11.   "That's the only way we can be successful.  Whatever happens down the road will be there."
With the pedigree, experience, and a talented team around him, look out for Croft and his team to be in the championship discussion all season long.
Tumwater hosts league rival Capital High School on Friday, Sept. 27 at Tumwater School District Stadium beginning at 7pm.