By Gale Hemmann

As temperatures drop and winter settles in, what could be better than a mug of hot chocolate? Nearly everyone likes hot chocolate. In fact, people have been drinking it for two thousand years. It is still popular around the world, often served with breakfast in France or made with cinnamon and spices throughout Latin America. An occasional cup of hot chocolate also has many health benefits – some studies show that the heart-healthy flavinoids of the cocoa bean are even more potent when heated up.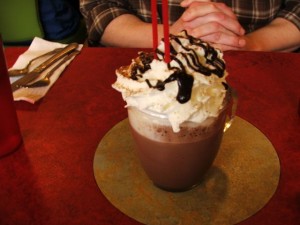 You can find hot chocolate on the menus of many cafes and restaurants around Thurston County. I decided to round up willing family and friends to take a hot-chocolate tasting tour of Olympia and beyond. I found some wonderfully unique cups, as well as many takes on the classic version.
Here are some of the highlights of my "hot chocolate tour."
Olympia
For a unique hot chocolate experience, stop by Sizizis (pronounced Siz-iz-iss) on Fourth Avenue. This funky café is open late and is one of the hippest spots in Olympia. They offer a delicious white hot chocolate option as well as dark hot chocolate. I gave the white hot chocolate a try and it was amazingly good – a sweet, flavorful, cream-colored brew that arrived in a charming vintage teacup. Sizizis is committed to using locally-sourced products, and if you have a non-hot-chocolate drinker along, they offer a full range of teas.
The popular Darby's Café offers a sweet, satisfying cup of hot chocolate. On a recent lunch date there with my brother, I ordered a cup and was not disappointed: it came in a generous mug, topped with whipped cream and cocoa powder. Darby's makes their hot chocolate with Ghiradelli chocolate. Sipping from my mug, listening to the eclectic music and enjoying the retro décor, I decided that a cup of Darby's hot chocolate definitely brightens up a drizzly Olympia afternoon. (Tip: Since Darby's is often busy, I recommend stopping by at an off-peak time, such as a weekday afternoon.)

The Bread Peddler's hot chocolate perfectly complements their European-style pastries.

I stopped by the European-style Bread Peddler café, one of my favorite writing spots, on an especially cold winter afternoon. I was looking forward to trying their take on hot chocolate, and they serve a solid cup: it's not overly sweet, made with house chocolate sauce and served with an artistic leaf-shaped swirl in your foam. The Bread Peddler's hot chocolate pairs well with their pastries – I had it with pan au chocolate and it was perfect, complementing but not overwhelming the sweet dessert.

For hot chocolate on the go, stop by the Filling Station on Fourth Avenue. This popular drive-thru spot has hot chocolate in adult and kids' sizes, and they offer a fun daily trivia question (answer correctly for a discount). This Filling Station is housed in an actual vintage filling station, making it a fun spot to stop by for a hot chocolate or espresso treat.
Lacey
Besides offering a pleasant, relaxing café space complete with fireplaces, Panera Bread offers a terrific cup of hot chocolate. Their "Signature Hot Chocolate" includes Belgian dark chocolate, salted caramel sauce, and chocolate-chip mini marshmallows. I shared a to-go cup with my mom on a recent crafting date, and she agreed it was delicious.
Tucked away in the Hawk's Prairie area, the new Masaala Chai café offers standard hot chocolate, but their specialty is authentic chai. This delicious Indian drink, made of steamed milk and spices, is another terrific cold-weather option. They offer several varieties, including a chai latte, as well as sweets (try the fresh homemade coconut truffles) and deli items to accompany your drink.
Tumwater
I stopped by the Sound City Coffee Company on a weekday afternoon for a hot chocolate break. They offer a pleasant, generously-sized mug of hot chocolate, as well as spacious tables to talk, write or check your email. Sound Coffee Company is a non-profit organization, making them a unique place to stop. *Editors Note:  Sound City Coffee Company is now closed.
So, what are my conclusions from this whirlwind "hot chocolate tour" of Olympia? Well, first of all, we are fortunate that Olympia has so many great hot chocolate options. Every cup I tried was tasty, warm and satisfying. As the actress Jo Brand says, "Anything is good if it's made with chocolate."
I also found that hot chocolate was a very affordable menu item at every location I visited. Most places were happy to substitute soy or rice milk in your drink for those who are dairy-free, or add extras upon request, making it a customizable drink.
Hot chocolate is a simple luxury, a small celebration of winter, and perfect to share. Why not grab a cup as an afternoon pick-me-up, or as a fun alternative to a coffee date? Going out for hot chocolate also makes a fun, affordable family outing, sweetening up a winter's day.