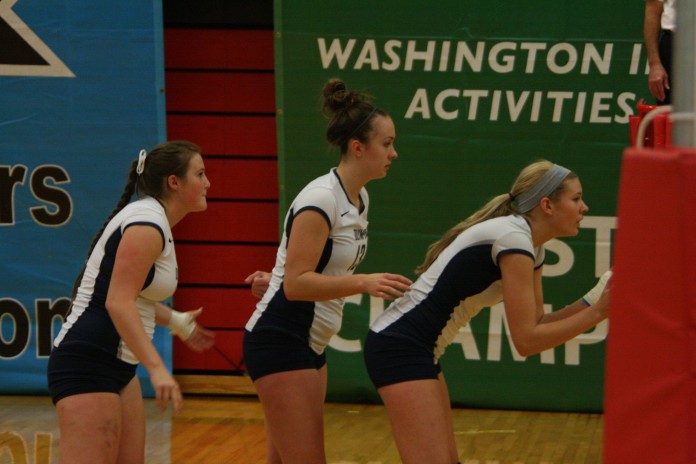 By Tom Rohrer

In the fall of 2010, Hannah St. Jean was a freshmen on the Olympia High School junior varsity volleyball team.
At the time, she was unaware of the glory, friendships, and life lessons she would obtain over the next four years.
Now, the standout middle blocker is a state champion, collegiate volleyball commit and leader on an OHS team that has started the 2013 season 6-0.
Looking back, St. Jean is saddened somewhat that her time at Olympia is ending but still excited for the future.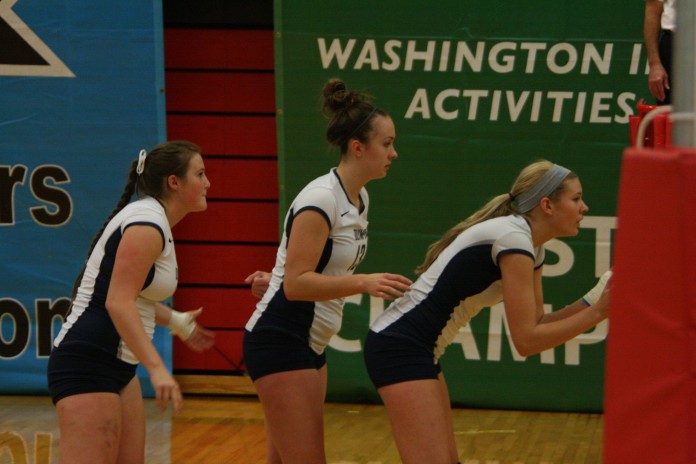 "I can't believe how fast it's gone.  It's been the best four years, and I'm so happy to be a part of this program and school because I've really changed as a person through it," said St. Jean, who recently committed to play volleyball at Franklin Pierce University, a Division II school in Rindge, New Hampshire.  "But we still have a long ways to go this season.  The ride's not over yet."
With a full 4A Narrows League schedule ahead, the 'ride' is far from over for St. Jean and the 2013 edition of the Bears volleyball team.
One of the most successful programs in the state over the last decade, the Bears volleyball team has finished with no fewer than 13 wins since 2007, with a state championship at the 4A level under head coach Laurie Creighton in 2011.
St. Jean was a sophomore on that state title team and also a key contributor on last year's 15-win team that finished fourth in state.  While the Bears did not repeat as state champions, St. Jean was pleased with the team's finish, and more importantly how they improved throughout the season.
"We started out poorly, and didn't do that well in league or districts, but we made it to state," said St. Jean, who is listed at 6'1″ on the Bears roster.  "We kept improving so much throughout the season, and in state, we played the best we could and the best we did all season.  I'm so proud of that."
While last season was memorable for St. Jean, it cannot come close to her experience on the state championship team.
"It was the most amazing experience of my life," St. Jean noted of the 2011 OHS team.  "Really, I just feel so lucky to be a part of that team."
As a senior, St. Jean has noticed her leadership role on the team increase.  She hopes to pass down lessons she learned from the upperclassman as a freshmen and sophomore at Olympia.
"Every year, my leadership role increases.  I just want to keep leading by example and showing the younger girls the ropes and how to act," said St. Jean.  "My freshmen year, I really looked up to Jennifer Liedes, and she's still a friend.  Christie Colasurdo was on the state championship team in 2011 and graduated in 2012.  Both Christie and Alex Basset were both great role models.  I learned a lot from all those girls."
St. Jean has had plenty of time to take in the intricacies of volleyball and how to be successful in the sport.  She began playing in a South Sound YMCA league as a fourth grader and three years later she began playing for club ball for the Olympia Volleyball Club.  St. Jean would move on to Capitol City Ice and most recently, 253 Elite, where she was watched by a friend of Franklin Pierce head coach Stephanie Dragan at nationals in Arlington, Texas.
Club volleyball and  high school volleyball have their differences, and her experience in both avenues of the sport has bolstered her desire to keep playing.
"I would say club is more competitive just because all the girls are really passionate about the game and are trying to play collegiately.  High school play is about pride, being part of the program and playing with your great friends," said St. Jean, a 3.87 student interested in math. "The game, I just love the feeling of all six players working together to accomplish the same goal. Coming in together and celebrarting together after points, that's what it's all about."
Like Olympia players before her, St. Jean has been shaped in part by Creighton, one of the state's most respected and successful coaches in the sport.
"Our volleyball program is known for being successful, and lots has to do with Coach Creighton," said St. Jean of her coach, who led the Bears to the 1998 3A state championship crown. "One of the main things she says to us is that you're a person longer than a volleyball player. I like that. She cares about us as people and wants to make us better. She focuses on character on and off the court."
Through her strong play both on the club circuit and in high school competition, St. Jean was able to garner interest from a number of universities before she committed to Franklin Pierce in early September.
With the commitment behind her, St. Jean can focus on leading the Bears back to the state tournament.
"We have lots of room for improvement and I'm excited that we can get way better. We've already improved from the beginning of the season," said St. Jean.  "I think that we have a lot of potential and we'll do well at state.  Our goal was to finish in the top three at districts and that's very attainable."
Her past and future both bright, St. Jean is thankful for her time at Olympia and the people who've made it special.
"I'm grateful for my team and my time here," said St. Jean.  "But I'm not ready to be done just yet."