By Gale Hemmann

It's undeniably fall in Olympia, the time of rain-slicked leaves, cool nights, and hot mugs of apple cider and coffee in our hands. And what would an Olympia autumn be without Arts Walk? The annual Fall Arts Walk takes place this Friday and Saturday, October 4-5, throughout the streets of downtown Olympia.  (For a set of photos from Friday night, click here.)
Local artists, businesses, city workers and volunteers have been working hard to put together a great event for art lovers (and the art-curious) of all ages.
As Picasso once said, "The purpose of art is washing the dust of daily life off our souls." So, fellow Olympians, I invite you to join me in leaving our warm abodes for an evening and venturing out through the streets of downtown. What better way to get recharged for fall and celebrate Olympia life than to take in all the sights and sounds, music and dance, color and wonder that is Arts Walk?
Arts Walk is truly Olympia in all its glory: the streets are a luminescent wash of artistic creations, impromptu street performances, and people of all ages enjoying the fun.
Whether you are coming to Arts Walk as a family, a couple, with friends, or solo, there is plenty to see and do. You'll want to download a map at the City of Olympia website (maps are also available at locations around downtown) to plan your route. The City of Olympia Parks, Arts and Recreation Department, who sponsor the event, are also pleased to offer an Arts Walk mobile app that gives you a personalized, by-the-hour tour of the event. For those with kids, you can even have them help plan the excursion. Looking at a map together ahead of time can help kids identify what types of art they're interested in seeing and make it a family event to look forward to.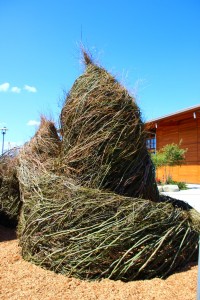 As local parents know, Arts Walk is a family-friendly event that offers a memorable time for young ones. (Having grown up in Olympia, I can still remember my first Arts Walk clearly.) You can start at the Hands On Children's Museum (Friday only), which will offer free admission from 6-10 p.m. The museum will be hosting tours of the cool "stickworks" art sculpture, Raccoon Run, by noted artist Patrick Dougherty – guaranteed to impress your kids. They will be doing some hands-on silkscreening and other activities in the "MakeSpace" area.
Afterwards, stop next door at the LOTT Clean Water Alliance WET Science Center, a hidden educational gem. The center will feature both youth art and hands-on activities.
Families will also enjoy the Olympia Family Theater Playspace (OFS), up a block or so from the main Arts Walk area. Many people have seen the live professional shows at the Washington Center for the Performing Arts, but this is where all the education and kids' theater take place. They will be showing work by students in the Olympia High School Art Club and offering fun "Five Plays in Five Minutes" shows on the half hour to showcase their upcoming season. Jen Ryle, the theater's Co-Founder and Artistic Director, says OFS is an affordable way to introduce kids of all ages to the joys theater. She invites families to stop by, grab a complimentary snack, and see what they're all about.
Arts Walk also makes a perfect date night. Grab your date and start the night off with viewing some art while you dine on classic pub fare at the Urban Onion or vegan-friendly delights (along with a sassy and eclectic vibe) at Darby's Cafe (featured on the Food Network). Or, for those on a budget, why not stop at Caffe Vita before hitting the art – sipping lattes and watching Arts Walk bustle by outside is a great way to set the tone.
After you've taken in some art, and perhaps a performance by a lively group such as Troupe Rashaad (Middle Eastern dance) or Flamenco Fury, why not head to the Yashiro Japanese Garden to take a peaceful stroll? Speaking of Olympia's sister city, the textile arts group Spectral Spiders has crocheted a vibrant "bridge cozy" over the Yashiro Friendship Bridge for Arts Walk, worth checking out.
No matter how you plan to spend Arts Walk, you are guaranteed to have a unique experience. Stephanie Johnson, Arts & Events Program Manager at the City of Olympia, has coordinated 33 Arts Walks. In talking with her, it's clear she's passionate about her job: "I get to be a conduit and help connect artists, businesses, and people. It's great to see new local artists develop. Many people bring in relatives and friends from out of town for the experience. It really is the 'quintessential' Olympia experience, in the very best sense of the word."