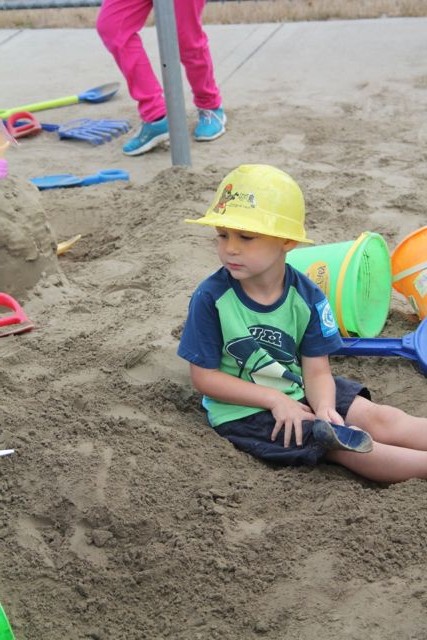 By Amy Rowley

It's the ultimate in thrifty family fun.  The largest beach party happens in downtown Olympia this weekend.  The three day celebration supports the Hands On Children's Museum Free and Reduced Admission Program. Sand in the City will take over Jefferson Street beginning on Friday morning and continuing through Sunday evening.
And, it's all free!
Last year, more than 50,000 guests traveled through the event, full of exciting activities, craft projects, educational opportunities and of course, sand.  Event coordinator Amy Brockman is expecting even more attendees this year.  "It's exciting because this will be the first year in which the Museum will be open concurrently with the event," she says.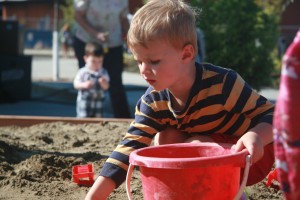 Parents will be enthused to know that the event has expanded to three sand pits this year.  We're talking about mammoth sand boxes, filled with every instrument needed to build the "perfect" stacked castle.
In the background, kids can get inspired over the enormous sand castles created by 13 community teams (Friday) and professional sand builders (Saturday).
Vote for your favorite sand sculpture to earn the People's Choice award.  Berschauer Phillips, last year's winner, will be back and creating a unique sculpture.  "Our team puts in so much work but we have a ton of fun (building our sand castle)," says team captain Drew Phillips.
Free Crafts Galore
With the new Museum approaching its one year anniversary, Sand in the City is a great way for families to be exposed to the exhibits inside the Museum, while playing outside.
"Sand in the City connects the community with interactive education.  We are bringing the Museum's resources out into the community, for free, while raising money to support future programs," explains HOCM's Executive Director, Patty Belmonte.
"Under three large art tents, spread throughout the event, families are exposed to the exhibits that await them inside," says Brockman.  "We want to show guests a glimpse of what they can see inside the Museum."
For example, in the "Art Studio" tent in front of the Museum, guests can decorate a Super Hero cape which is an extension of the Emergency! gallery exhibit on the first floor of the Museum.
Under the "Make & Take Activities" tent located in the parking lot, kids can create wands with flowing string and ribbons or make mini-aquariums out of recycled egg cartons.
Other free crafts include sea jelly necklaces, bird masks, and veggie hats – all that tie back to the educational learning provided inside the Museum.
During Sand in the City, HOCM will also unveil two exhibits in the half-acre Outdoor Discovery Center, including the new Patrick Dougherty stick sculpture.  While still under construction, the bulk of the driftwood fort will also be open.
Outdoor Activities Entertain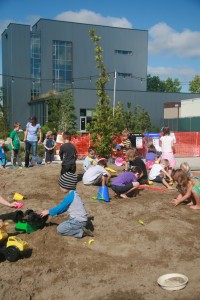 In addition to the large art tents, Sand in the City will also host a climbing wall all weekend and REI will stage stand-up paddleboard demonstrations and a photo booth.  A marine touch tank will also be open all three days, along with a host of different guest activities.
Families visiting the free event on Saturday and Sunday can pet live animals as well as enjoy a line-up of entertainers, musicians and dancers on stage.  Friday's music will be organized by a DJ taking special requests from the audience.
Providence St. Peter's Hospital will also be returning with the Mega Brain, a fan favorite from last year.  A station to practice your casting and splinting skills will also be sponsored by the hospital.
Food Vendors Expand
Brockman is especially excited about the expanded food vendors.  "You can expect great food from local vendors.  We really ramped up the number of food vendors this year.  They are all local, offering many vegetarian, gluten-free, and healthy options," explains Brockman.
Support Free Access
"In addition to being a great community event that provides local fun for families, 100% of the proceeds go to support free and reduced admissions programs.   These funds enable thousands of families, each year, to participate in education programs and enjoy exhibits, regardless of their ability to pay," reports Brockman.
Sand in the City is a free event at the Hands On Children's Museum at 414 Jefferson Street NE in downtown Olympia.  Donations are appreciated.  The Museum will also be open, during event hours.  The $25 family admission fee will be earmarked for the Free and Reduced Admission programs.  Members are admitted for free.
Sand in the City Hours:
Friday, August 23 – 10:00 am – 4:00 pm
Saturday, August 24 – 10:00 am – 8:00 pm
Sunday, August 25 – 10:00 am – 5:00 pm
Additional event information can be found here.