By Mary Ellen Psaltis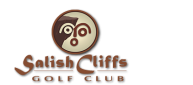 Earth, Wind, Fire and Water: The classic four elements or states of matter. You might include a fifth element – the Ether or Quintessence. I went looking around Olympia to satisfy my philosophical hungers via Happy Hours. Made sense to me at the time.
Happy Hour means different things in different places but it's likely to mean discounted drinks, doubles for the price of singles, two-for-one, finger food, or reduced price appetizers and light meals.  It is always supposed to be relaxing fun. Let's go.
Begin with Earth at The Mark. (407 Columbia Street SW in Olympia, 360.754.4414)
Olympia can be proud that its downtown plays host to The Mark, the oldest certified organic restaurant in Washington. Chef/owner, Lisa Owen employs strenuous desires to use organic, sustainable food and has managed to stay true to her ethical desires and hone her business over the past 12 years.  You can be confident that all the food and beverages are created and cooked with thoughtful attention to the Earth.
During Happy Hour (from 5:00 – 7:00pm) find two wines and two cocktails priced at $4.00. They change so if that is critical for you, call ahead. All their cocktails are "made with a sense of classic style, humor, health and decadence."
You might never know it, but The Mark has a hidden treasure of a patio accessible through the restaurant. The magical smells of jasmine surrounded the casual picnic table seating which is open to the skies above. You can even catch a view of the Washington State Capitol dome. Of course, there are plenty of tables inside. The atmosphere is subdued and peaceful; art abounds.
The Mark is open to the public on Thursday through Saturday but is closed during the week for private events. Check out their website for details.
Blowing in the Wind at Swing Wine Bar and Café (825 Columbia Street SW in Olympia, 360.357.9464)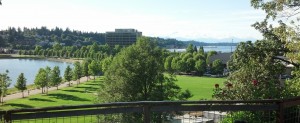 Allow the summer breeze to dance around your toes in the 'back yard' of Swing Wine Bar, the red house just down the street from the Capitol. The view from this high point expands from Capitol Lake across Budd Bay and onto the Olympic Mountains. It's spectacular on a sunny day; pretty darn nice any other time.
The Lush Rush from 4:00 to 6:00pm  has its own menu of savory bites and cocktails that can easily take you up to dinnertime. Hopefully you have saved some room to stay. There is a menu of $5.00 Bites – all worthwhile. Gobble a few Gorgonzola Stuffed Mushrooms or do your dipping into the Hubbard squash and Swiss fondue. Cocktails bear enticing names such as 'It's Five O'Clock Somewhere' and 'Lazy Sunbathers.' Find flights of wine and beer, too. Count on owner Nicole Butigan and her team to bring creative items to the menu regularly. Though not part of the Lush Rush menu, you might want to inquire about the Friends of Swing special cocktails.
On Fire at the Puerto Vallarta in Lacey (1400 Galaxy Drive NE in Lacey, 360.412.5402)
It takes me a mere second to get in the Mexican mood when I enter the Puerto Vallarta:  homemade tortillas being pressed before my eyes, bright tiles and hanging plants. Just like Mexican time… no need to hurry as Happy Hour lasts from 11:00 am -6:00 pm during the week and all day on Sunday.
Chips arrive with bean dip, red salsa and pico de gallo. Margaritas are $4.00 and there is a menu just for Happy Hour – with classics like nachos, quesadillas and a Mexican pizza. I liked the 'bikini' themed drinks – alcohol well under 100 calories per drink.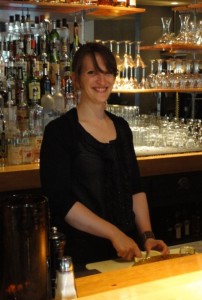 My low calorie Lemon Drop hit the spot with flavor – and hopefully it won't create any lasting layers around my waist.
The regular menu is available as well. Apparently it's easy to get happy Mexican style. You don't have to get anything 'afire,' but salsa, peppers and pico de gallo can warm you up.
Time for the Water Element at Waterstreet Café (610 Water Street SW in Olympia, 360.709.9090)
Chef and owner, Jeff Taylor, has been pleasing palates in Thurston County for many years.
Waterstreet Café is directly across the street from Capitol Lake and offers seating both inside and outside (under a roof). You have two chances to make it to Happy Hour – every day from 4:30 to 6:00 pm and on Friday and Saturday from 9:00 pm – 12:00 am.
The menu changes often – both drinks and food specials. Be intrigued by lemon roasted Brussels sprouts or fried pork belly with a bourbon cherry glaze. Draft beers might include Mac & Jack's Serengeti Wheat or Lagunitas IPA. Taylor is exceptional at finding wine, too.
Finally, the Fifth Element – Ether/Quintessence.  That's supposed to be the way your brain and body gets to feel after responsible imbibing and ingesting. Wonderful and satiated. It's all good.
Eat Well – Be Well.