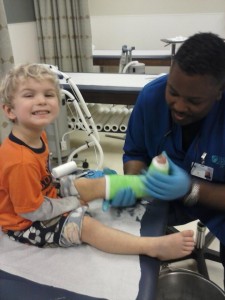 Personal connections are important.  We crave connection with other people, creating bonds that last, knowing others truly care.  When we are lucky, we are able to create those connections outside our personal friendships with those who provide services to us – caring for our health, finances, homes or pets.
At Olympia Orthopaedics Associates, patients have been forming these connections for years, specifically, with two long-time employees – Ed Kent, the Floor Supervisor at Oly Ortho's Westside Clinic and Donna Ockerman, the Back Office Lead at the Eastside Clinic on Lily Road.  I had a chance to sit down with both of them and it was quick to see why patients love them so much.
Ed Kent –A Jack of All Trades Keeping Oly Ortho Doctors and Patients Smiling
When I met Ed Kent at the Westside Clinic I liked him immediately.  He has a genuine warm smile and when you speak, you know he's really listening.  I can imagine the relief and trust I'd feel if I were his patient.  And that is why Ed Kent is one of the most beloved fixtures at Oly Ortho.
Kent came to Oly Ortho in August of 2002 after a 24 year career in the military.  Trained as an Orthopaedic Technician, Kent worked at Madigan for many years where he met Dr. Clyde Carpenter.  Through their interactions, Dr. Carpenter knew Ed was something special and encouraged him to join the growing Olympia Orthopaedic's practice as an Ortho Tech.
Kent's current job title is Floor Supervisor.  He is responsible for making sure all nine nursing stations in the building are staffed and supplied each day.  His role has extended to include facilities coordinator, supply management, certification for medical assistants, and building incident response.  He opens the building in the morning and locks it at night.  And even with these additional responsibilities, he sees patients every day.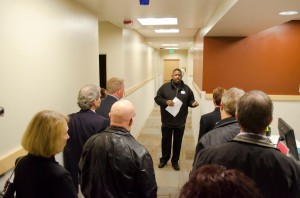 "I love what I do.  I really love the patients and wouldn't want to do anything else.  The interactive part is my favorite.  I've been offered other positions for the clinic several times and always turn it down.  I don't want to be away from the patients.  It's nice to see them from start to end.  When they come here they are in pain – are hurting – and when they leave, they can walk out having a better quality of life.  Knowing that I played a part in that is very satisfying," Kent says.
Kent's part in patient care at Oly Ortho ranges from casting broken limbs to simply greeting patients warmly in the lobby or walking someone to their car.  "I get in trouble sometimes when I get home," shares Kent, smiling, "because I have make-up and lipstick on my shirt from all the hugs I get in the lobby."
He knows, too, that he works in a special place.  "One of the things I love is that the doctors reward education and experience by letting you do more – the Medical Assistants and Ortho Techs here get to do hands on patient care, not just ushering patients to their room or completing paperwork."
Despite his dedication to his patients, Kent has another great love – fishing.  An army brat since his youth, Kent has lived throughout the US and Europe as one of nine kids in his family.   After enlisting himself, his own family logged 13 moves in 10 years.  When he finally settled in the South Sound in 1981 and caught his first salmon, he was "hooked."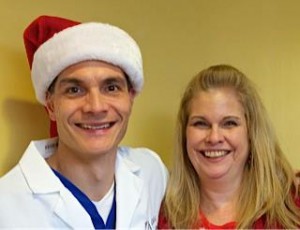 Ed Kent won't be moving anytime soon.  If he's not caring for patients and keeping the inner-workings of Oly Ortho humming you will find him with a pole in his hand, enjoying the peace that comes with the quest for the big fish.  Pacific Ocean, Puget Sound, lake or stream – he doesn't care.  When fishing, he's happy.  Almost as happy as when he knows he's helped a patient, making their day better at Oly Ortho.
"My heart is in taking care of patients.  It's an easy decision, whether to attend a meeting – even if it's to give me a pay raise – or be with my patients.  I'll choose my patients every day."  And they choose him, too.
Donna Ockerman – Creating Connections – Caring for Families
Donna Ockerman's title at the Olympia Orthopaedic's Eastside Clinic is "Back Office Lead."  This title would imply that she's a behind the scenes employee, keeping the office running without a hitch.  And, this is absolutely true.  But Ockerman is much more than the office manager.  She is a Certified Medical Assistant and Ortho Tech who has been with Oly Ortho for 13 years.
Daily, Ockerman runs the clinic at the Eastside office, primarily working with Dr. Agtarap.  She also does the staffing for the back office, including time cards and scheduling.  But when asked what she likes best, Ockerman is quick to answer. "I really enjoy the interactions with the patients.  Everyday things are different – you might think it's going to be easy and something will get thrown your way.  I like the busy activity of the clinic."
Ockerman is also truly a people person.  "I just get a kick out of people.  99% of people are truly so nice and we have so many long-term and returning patients, I really enjoy developing a friendship with them over time."
Ockerman can be seen working with Dr. Agtarap's patients, splinting or casting, helping assist when they are in pain.  When asked about their patients she shares, "Especially with Dr. Agtarap and me, because we've been together so long, it's like a family.  Even though Oly Ortho is big, we keep it feeling small and I think that's what people want."
Ockerman isn't a Washington native, but has lived here for twenty-one years, raising her children in the area.  Aside from her dedication to Oly Ortho, Ockerman is a licensed Zumba instructor, a fact that has benefitted her co-workers as she will lead classes for them in any space that is available, including the Lilly Road building's lobby, the Surgery Center and the large Physical Therapy space.  She's on a hiatus right now due to recent knee surgery but plans to teach again soon.
Ockerman truly shows dedication to her job, knowing the impact she makes on people's families every day.  "Patients like the one-on-one interaction here – they want people to remember them and know their family, and that's just what I do."