As a community based food-growing organization, GRuB works throughout Thurston and Mason counties partnering with youth and low-income individuals to create "community food solutions." In 2007, an AmeriCorps Backyard Garden Coordinator with GRuB's Kitchen Garden Project, Stephanie Snyder, was inspired to build ten backyard gardens in one day.  Volunteers and funds were raised and 'Day of the Bed' began.  In the years since, the event is held each spring to build new backyard and community gardens and celebrate another successful Kitchen Garden Project Season.
For this year's gardens, local businesses were approached to sponsor the event, with GRuB friends and allies coming together to build the gardens.  Locations of the gardens vary.  This year features an expansion of Shelton's HOPE garden and a learning garden at Olympia's Avanti High School.  The new Avanti garden is a companion to the Madison Elementary Giving Garden, which GRuB helped to build in 2010.  Previous gardens have been built for low-income apartment complexes and medical clinics, group homes, and low-income families.
Avanti High School teacher Rachel DeStefano participated in the event and summarized: "At the end of our work party on Saturday, volunteers were asked to wrap-up the day in one word.  Some examples were 'hot, fun, dirt, growth,' but I chose to describe the day with 'potential.'  There is so much that can be done with the new garden, and it will continue to grow and thrive along with our students."
"I really enjoyed participating in this wonderful community-building event and helping to bring awareness to the importance of healthy eating," shared Jenna Arkin of Earth Friendly Products, one of the event sponsors.  Olympia High School teacher Marion Sheridan asked her family to help with the Avanti build as "my best Mother's Day gift ever, volunteering with my daughter, son and husband for a cause we all believe in!"
The full Kitchen Garden Project build season runs from March through early June (weather permitting!) to be ready for spring plantings.  Plot maintenance is up to the owners of the garden. Unlike GRuB's typical backyard gardens, HOPE and Avanti gardens are facilitated by community groups, volunteers, or school parents.  What is grown, however, varies immensely.  While the majority of seedlings and plant starts are donations, plantings with cultural or familial significance are always welcome additions.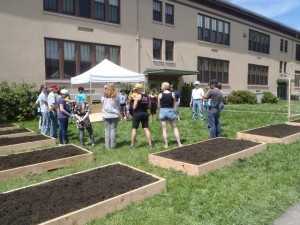 GRuB makes their expertise available via phone support as well as providing garden "mentors", staff and volunteers from previous years who are available for the first year of a new site.  Seasonal gardening workshops, an initial orientation, and basic 'Growing Guide' are available as needed.
2013 celebrates 20 years of GRuB's 'Kitchen Garden Project' or KGP.  The project has built 2500+ free backyard and community gardens since 1993.  To celebrate this anniversary, GRuB is beginning a '20 for 20' campaign to fund their work for the decades to come.  They are seeking sponsorship both via one-time $20 donations or a recurring $20/month for the upcoming year, looking to raise at least $20,000.  To give to the campaign, visit goodgrub.org/donate and note that your donation is for "20 For 20".
Should donors wish a more tangible statement, GRuB's Giving Garden program benefits two families at once.  For a one-time, sliding scale fee, GRuB will build a 4×8 foot garden at your home PLUS donate a 3-bed garden to a family in need! Normally these gardens cost $1,000, but to celebrate the 20th year of KGP, GRuB is rolling back the prices to $800, a portion of which is tax-deductible. goodgrub.org/kitchen-garden-project/giving-gardens
To sample the other bounty GRuB provides, their veggies, fruit, flowers, and herbs can be found at the West Olympia Farmers' Market, the GRuB Neighborhood Market Stand, or through shares in their vegetable or bouquet CSA (Community Supported Agriculture).  Details on CSA produce or pick-up/drop-off locations are available on their website – goodgrub.org.