Submitted by Dr. Diana Yu, for Samba Olywa
For Thurston County residents who enjoy the rhythms and dance of Samba Olywa, you are in for another treat come April 27th as the largest grey wolf pack will parade down the streets of Olympia, complete with howling!
Over the last few weeks, over 100 folks have gathered at the Eagle's Ballroom every Sunday evening from 5 – 7pm to practice the rhythms and steps for this year's performance.  It is amazing to see individuals transform into a moving pack of wolves.  At each practice, more and more folks arrive wearing their version of a grey wolf costume and I can truly say that you've never seen wolves like these – definitely works of art and one of a kind.
This year Samba Olywa will be paying special tribute to Geoff Johns, a noted percussionist from Vashon Island who recently passed away.  Geoff was one of the folks who started Samba Olywa years ago and continued to work with us and local groups to spread the joy of percussion and music.  He was an enthusiastic and talented musician, and an inspiring teacher.  One of the pieces we will perform this year, Afro Baio, was created by Geoff to accompany choreography arranged by his wife, Carol Lutra-Johns.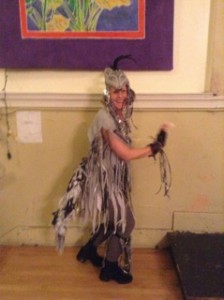 Samba Olywa is an amateur percussion and dance group dedicated to building community through the learning and sharing of Samba and other rhythms. We provide the opportunity for anyone, regardless of experience, to join us as we take our spirited and joyous energy to the streets and to the stage.
Procession is such a wonderful way to meet others and give back to the community. From the time the studios are open, allowing any person to unleash their inner artist all the way to the procession down the streets of Olympia, we are a community. With thousands participating and tens of thousands watching, enjoying and joining in the revelry, we can all put aside the negatives, stress, and strain and just be happy to be alive.
Come join us on Saturday at 4:30 pm. While you are there, just look around you and see the smiles. Watch the children's faces light up and their little happy feet dancing to the beat of the drums. You will smile too.
It all started in 1995 as part of the Procession of the Species Celebration, the Olympia community's honoring of our natural world through the public making and sharing of art, music and dance.  We've performed as zebras, octopi, butterflies, the sun, and the rainforest. This is still our main event and procession practices usually start in February each year.  A smaller group of Samba Olywa also performs several times a year throughout the Puget Sound region. Our performances range from small performances at private functions, to large community celebrations throughout the Sound. Visit our Facebook page for photos and clips of our gigs.