By Doris Faltys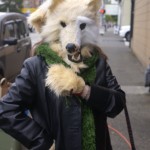 Walking down Columbia Street my friend Sally and I met a well dressed Grizzly Bear.  She was comfortable with having her photo taken but did not divulge her name.  She did share that she is a taxidermist and had made her costume.  Look for her in the Procession of the Species Parade tomorrow night.
Erin Moore has been fascinated with jewelry since she was 11 years old.  She purchases most of her materials at the International Gem and Jewelry show in Seattle each year.  You can find her work at #10 Belleza Ropa.
Brent Knott of Harborwood Designs used to work at the mill in Cosmopolis.  A few years ago at a friend's suggestion he bought a lathe and began making projects out of wood at home.  "Is your friend surprised with the kind of work you are producing?" I ask.  "He thinks I am kind of crazy," Brent answers.  ""This work just fits me I guess 'cause I enjoy doing it." Brent is #61 at the Alchemy Salon & Spa.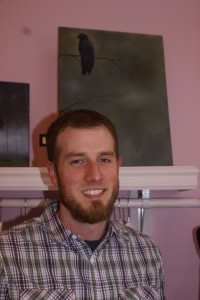 Devin Fernandez switched from digital art to acrylic painting.  He finds painting more enjoyable.    Devin says that he drives 10 hours per day and finds subjects to paint, "in passing."  He says, "either you can paint or you can't and I am still trying to figure out if I can."  Devin is in spot # 98, Sweet Life Boutique.
Olympia is over flowing with art, demonstrations, music; there is a lot to see and experience.  Come downtown and see for yourself!!