Olympia's Hometown Property Management provides an unparalleled level of professional service for homeowners renting out their properties – many of them while living thousands of miles away.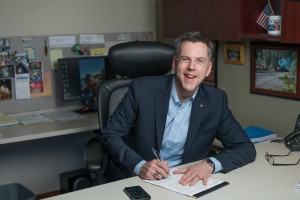 "With the military here, we have owners literally all over the world," says Hometown Property Management co-owner Andrew Barkis.
One of only 35 property management companies in the entire United States to achieve the esteemed CRMC designation from the National Association of Property Managers  – and the only one in our region to do so – Hometown Property Management offers different levels of property management solutions designed to fit a homeowner's particular needs, from partial to full service.
Barkis and co-owner Daniela Anderson share a long history in property management. Working with their dedicated staff of 14, they currently manage over 900 area homes.
Barkis holds a MPM designation, making him a master property manager, an honor that is reflective of many years of hard work toward the business and education requirements needed to achieve that certification.
He originally fell into property management as a college student in Seattle during the late 1980s.
"I was going to Seattle University, and I had an opportunity to manage an apartment building on First Hill, about two blocks from Seattle University. The package was free rent, which was very attractive for a college student," Barkis says with a laugh.
He'd been headed toward a career in the Army, participating in the ROTC program at Seattle University, but was sidelined by a knee injury and lost his commission.
"After I graduated in 1990, the owner of that particular building owned a lot of property in Seattle, and I went to work for him as a property manager. That's really where I started," says Barkis. He went on to work in Spokane for a large firm, and then came to Thurston County in 1996.
Hometown Property Management was originally Century 21 Hometown, a longstanding real estate company located in Lacey.
"I joined the firm in 1996 as a property manager with a very small portfolio of about 40 homes," Barkis explains. "I started out working with a part-time assistant as a division of the real estate company and we just started to grow it."
In 1998, another company purchased Century 21 and the property management division became its own entity: Hometown Property Management.
"Sam Wilson purchased the company and I went to work for him," says Barkis of the early days of Hometown Property Management. "We worked together with the intention that at some point in time, in the future, I would have the opportunity to purchase the company."
Over the course of next few years, Hometown Property Management obtained other companies in the area, one of which was Prudential Real Estate, where Daniela Anderson worked. "We acquired her portfolio and she came to work at Hometown," says Barkis.
In 2004, Barkis and Anderson purchased Hometown Property Management from Wilson and set to work doubling its portfolio of managed homes.
"We've created an amazing program of property management that's unmatched in this area – probably in this region," says Barkis.
"We are a professional property management company focused only on property management," he continues. "We don't do a multitude of different things, we just focus on single-family property management."
The downturn in the economy and housing market has meant a boon in the property management business. Homeowners who must relocate for jobs often prefer to rent out their homes, rather than sell in a slow market.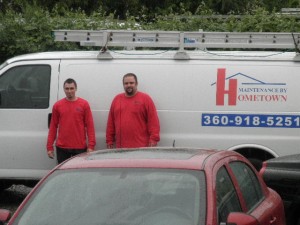 "People worry, saying 'What are we going to do with our house? It's the biggest investment that we have,'" says Barkis.
He admits it can be a scary time for homeowners, who have heard the horror stories of trying to rent out a home on their own, with the potential of tenants who damage property or refuse to pay rent. Meanwhile, the owner is living hundreds or thousands of miles away.
"Well, that's where we come in," says Barkis. "We sell peace of mind."
Hometown Property Management is as a professional company with all the necessary services for a successful rental situation.
"We're going to assess your house, find you a quality tenant, oversee that tenant while they're living there, and collect that rent and make sure you're receiving the monies you're supposed to receive every month," Barkis says.
Hometown Property Management also handles any issues that might arise. "God forbid there is a problem? Well, don't worry about it; we've been doing this so long that we have all the resources to deal with it," he continues.
The firm also offers maintenance. "You have to take care of that property while you're gone, just as if you were living there," Barkis says. "The furnace has to be checked and the gutters need to be cleaned." Hometown Property Management has a lengthy list of inspections that it does to assure everything's taken care of.
Through experience, training, education, systems, technology, and fantastic personnel, Hometown Property Management has developed and implemented a complete property management program that Barkis feels confident offers his clients a higher level of service.
Four managers and two assistants keep everything running smoothly. Two leasing agents are designated to show properties full-time. And on top of an accounting department, Hometown Property Management employs a full front office staff. "I feel it's so important that we have live people answering the phones," Barkis stresses. "I can't stand automated systems, so people get that personal touch."
There's a technology piece to Hometown Property Management that also sets it apart.
"We use a server-based online program where you can connect and check your statements, get notified when there's work orders, and other things," says Barkis. "It's interactive so you can be engaged in the process. As a homeowner, you can be as involved as you want or you can just say 'Send me the money.'"
Using this technology, Hometown Property Management has found more ways to keep its clients and tenants connected to the management team.
"If for some reason they can't get us by phone, they can log in, they can email, and send in an alert. We all have iPads and we get the alerts. So we can respond even quicker and get immediate action."
Tenants can also pay their rent through the website, while homeowners can log in to keep on top of work orders and other details.
"Our responsibility is to our client, to the owner of that house," say Barkis. "But the tenant is our customer and we have to take care of them, too. It's fraught with challenges."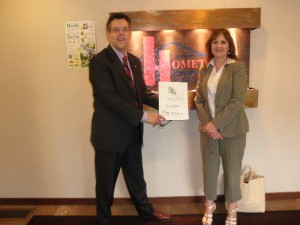 Hometown Property Management rises to those challenges again and again. In fact, it's those tests that keep Barkis so energized by the industry.
"I love it," he says. "You're dealing with so many different facets of the public and it's ever-changing. Every day is different."
Hometown Property Management's website offers information about the company, including informational videos, rental listings, web portal areas for homeowners and tenants, useful area links, and more.
Hometown Property Management
1600 4th Ave. E.
Olympia WA 98506
360.456.7368
877.456.7368