Nothing says fall like hot apple cider, apple crisp and apple cider donuts! All these delicious fall favorites start with one glorious ingredient: fresh apples from nearby farms. Here is where to go apple picking in Olympia and throughout Thurston County, including places to buy fresh local apples that don't require any effort at all.
Apple Picking Near Olympia
Curran Apple Orchard
3920 Grandview Drive W, University Place
This family-owned and operated farm has been in business for over 100 years. The drive is worth it for apple lovers: They have more than 15 varieties of apples, as well as a variety of other fruits and vegetables. In late summer the farm also holds summer concerts, so it's easy to head up for the day, pick up some apples, take a farm tour and enjoy a day in the country. Want guaranteed apples for a year? You can adopt a tree that you take care of year-round, and then you get to harvest all the fruit from it that season! What's more, they often host a special cider pressing day just for tree adopters! Learn more on the Curran Apple Orchard website.
Fairy Sheep Farm
Chehalis
This small sheep farm in Chehalis has Chehalis and gravenstein apples that are great for applesauce, pies or cider. Fairy Sheep Farm offers u-pick for $5 a bag. Windfall apples for animal feed are free. Email them for availability at fairysheepfarm@gmail.com.
Butler's Farm
3414 137th St NW, Gig Harbor
This farm stand in Gig Harbor operates on the honor system and has in-season fresh produce, including apples and flowers. It's worth the drive to get those freshly-picked apples, nothing smells or tastes quite like them. Have cash or a check with you. You can leave a message with any questions at 253.858.8647.
Apple Pickings Tips:
Go during the peak season, which is usually September and October.
Dress in comfortable clothes and shoes.
Bring a bucket or bag to carry your apples.
Bring sunscreen and a hat.
Be prepared to walk, as most apple orchards are large.
Check the orchard's website or call ahead to confirm hours of operation and availability of apples.
Where to Buy Local Apples
Want local apples without having to head to a farm? There are several places that offer a great selection of local produce! First, head to your local Farmers Markets! Olympia Farmer's Market, Yelm Farmers Market and the Tenino Farmers Market are all great places to look for local apples and other produces.
Lattin's Country Cider Mill & Farm
9402 Rich Road SE, Olympia
Lattin's Country Cider Mill & Farm is synonymous with apples in Thurston County. While you can't pick your own apples here, you can purchase an abundance of apples and apple products, including cider, apple butter, apple fritter, donuts and more. Stay awhile and explore the farm animals.
Local grocery stores often carry local apples as well.
Both Ralph's and Bayview Thriftway stores have local apples, and you may even catch them on sale! Honeycrisp apples, for example, are perfect for eating raw, baking or applesauce.
Check out Spud's Produce Market as well. With two locations, they have an abundance of locally-sourced apples during the fall season, perfect for baking, canning, or just enjoying raw.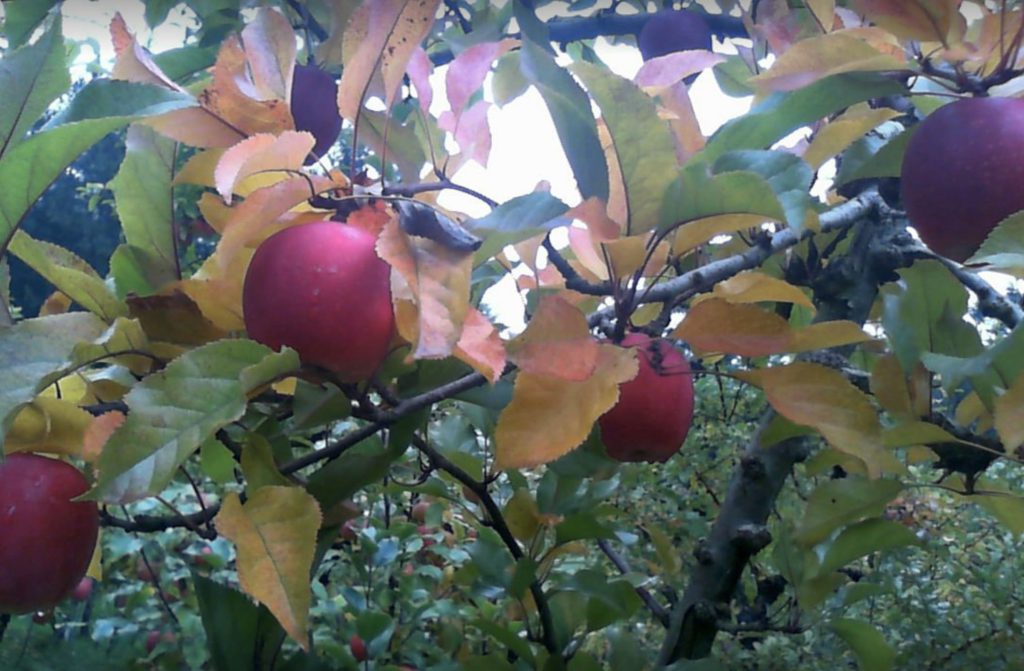 Simple Crock Pot Apple Butter
Fairy Sheep Farm shared this incredibly easy apple butter recipe that anyone can make without standing over a hot stove all day! Even better, it has no refined sugar.
Ingredients:
Peeled and chopped apples, enough to fill your crock pot
2/3 cup fresh lemon juice
1 tablespoon lemon zest
1/2 teaspoon cinnamon
1/4 teaspoon mace
1/4 teaspoon cloves
1/4 teaspoon nutmeg
2/3 cup raw honey
Put all ingredients in crock pot on high. Leave lid slightly off, so moisture can escape.
When apples are soft, transfer to blender and blend until smooth.
Return to crock pot on high and leave lid off.
Stir occasionally, once every 20 – 30 minutes to check consistency. When you scrap the bottom of the pot and the butter does not fill in the space rapidly, it's done! Allow to cool some and then put in canning jars and refrigerate. Can also freeze. If freezing, leave space in container for expansion!