The YMCA is known for sports and childcare, and yet there's much more going on. It's easy to hear talk about inclusion, diversity and equity, and our South Sound YMCA has developed a culture to encourage these important aspects of people living together in community. The organizational theme is Raising the BAR, putting a focus on Belonging, Achievement and Relationships. "The Y is for all. We live that mission day in and day out," says Kyle Cronk, CEO and passionate executive who walks his talk.
You might need to update your thoughts about the Y. It was founded as the Young Mens' Christian Association in London in 1844, in response to unhealthy social conditions stemming from the Industrial Revolution. People may wonder, "How do I fit into that?" Good question. At the Y, as it is now known, membership has clearly expanded since then, but inspiring people to grow in body, mind and spirit (defined by you) remains a constant.
The South Sound YMCA has a mission to include and support the many sorts of people who live in the area. The national YMCA of the USA tagline is "Y for All". "We don't affiliate with (just) any organization," says Kyeshia Likely, executive director of community engagement.
At any South Sound YMCA location, people can come as they are, regardless of denomination, culture, or in what ways they identify. You and your family are welcome. The single caveat is that you can come if you don't create harm for others, notes Kyeshia.
South Sound YMCA: Cultivating an Anti-Racist Environment
"We are on a pathway to be anti-racist. It's hard to push against status quo. It's bold," says Kyle. "You can have incredible impact on community."Since 2015, when he was hired, change has been cultivated and encouraged. "We have an integrated leadership philosophy," he says, adding, "it creates a climate that values people." The board has diversified, bylaws have been rewritten, and many conversations have occurred. Both Kyeshia and Kyle agree that staff are critical as the organization moves forward with new ideas."We are not perfect," adds Kyle, but that unattainable image pales to taking tangible strides to be inclusive and aware of people's culture, color, language and lifestyle.
To deepen connections and build relationships within the organization tremendous time and energy has gone into connecting the various Y components: childcare, youth sports, fundraising and membership. Previously, there was limited interaction with each other. Big Tent events began to happen, focusing on developing opportunities for BIPOC folks to socialize, network, and grow in Thurston County. "That was the start of raising the bar," recalls Kyle.
Management has become more unified and works together. The cooperative environment at work supports individuals to be their authentic selves, and in turn, creates programs that encourage those participants to do the same. "We align values and actions," says Kyle. It truly makes a difference when people feel accepted, valued, deeply listened to, and respected. The impact grows when people are invited and welcomed to participate and contribute.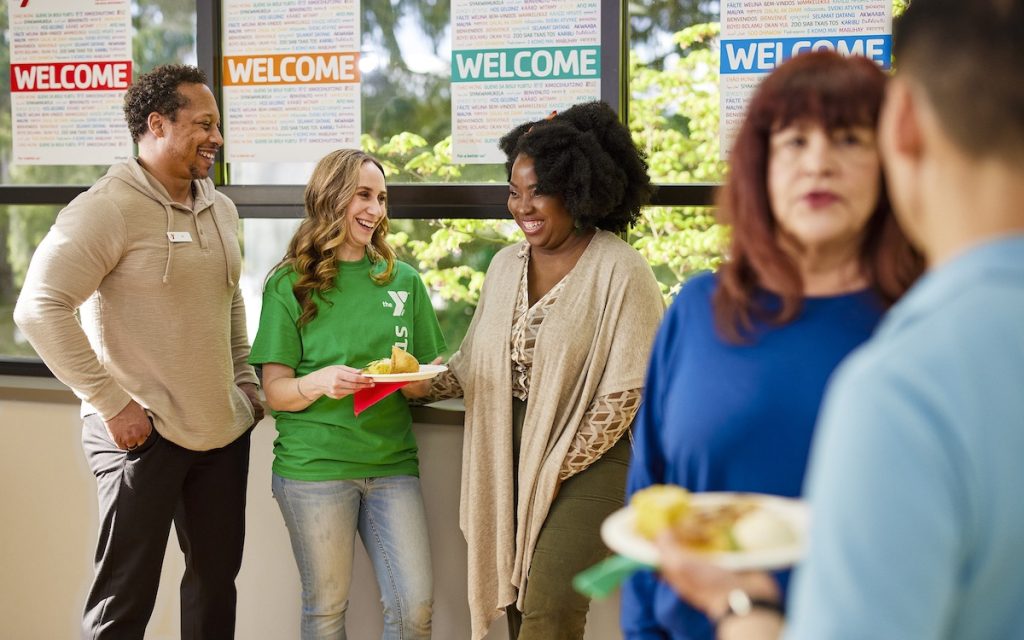 "I feel like we are raising the bar," says Kyeshia. There is diversity in culture, language, color and gender identity within the staff and with members, which is reflective of our community and the world. "What has been great since I have been here is that more people feel they belong here," she adds. Among many things in pursuit of this goal, team members regularly meet in small groups, have opportunities for DEI trainings and work to engage meaningfully with the community.
South Sound YMCA's Community Engaged Activities
"The overarching YMCA work is about people. It's a human development organization – how to build people and reach full potential in body, spirit and mind," says Kyle. As staff become more comfortable to show up as their authentic selves, this sense expands out to members.
Kyeshia organizes volunteers to participate in activities like Capital City Pride. She co-creates events such as the upcoming conference for BIPOC professionals called Regional Emerging Multicultural Leadership Experience which will happen in October. An important aspect of her work is supporting marginalized communities, dealing with concerns around housing, food, health and childcare. She is good at getting others involved.
The Y maintains a focus on youth development, social responsibility, and healthy living. Part of that is encouraging everyone to be a leader. "You are a leader of yourself," points out Kyle. Spreading out leadership encourages more diverse participation. The South Sound YMCA is working towards better access to healthy living in all aspects of life, where anyone can come and feel at home. It's growing a culture of acceptance. "That's our vision," affirms Kyle.
Find Your Involvement with the YMCA
It's easy to become a member. You can join singly or as a family of varying configurations. There are many classes to get your body moving. Maybe you would like to help with youth sports; the Y is working to collaborate with other organizations for more volunteer opportunities.
South Sound YMCA Locations
Briggs Community YMCA
1530 Yelm Hightway SE, Olympia
Plum Street YMCA
505 Plum Street SE, Olympia
Shelton Family YMCA
3101 North Shelton Springs Road, Shelton
Check out enrichment programs, activity schedules and membership options at the South Sound YMCA website. Your generous support is appreciated.
Sponsored