Partnerships come in all shapes and sizes. Big or small, local or regional, corporation or grassroots organizer, successful business partnerships are those that engage each party's unique assets to the benefit of the entire community. Puget Sound Energy (PSE) and Olympia's GRuB recently strengthened a Powerful Partnership that focuses on sustainability and love of the environment.
PSE's Powerful Partnerships Make a Big Difference
The Powerful Partnerships program started in 2016 and over the years has worked with 80 organizations across PSE's 10 service counties. Through this initiative they've donated $830,000 so far. They work with award recipients, particularly groups serving vulnerable and highly impacted communities, on ways to save energy and money on bills, decrease carbon emissions, safety and emergency preparedness.
Tommy Winslow is PSE's Outreach Manager for Thurston and Lewis Counties. He explains that amongst the many groups they've worked with "we especially enjoy working with smaller organizations where we know those dollars can be put to use in their communities in a unique way."
He says that PSE looks for teams doing good work in the community and who interact with customers they might not typically reach. An internal committee reviews applications and there aren't strict regulations on how distributed funds can be used. But, he says, they love hearing how groups use the monies to grow and thrive. "It gives us a chance to get to know more about organizations doing good work in the community and to help us get to know our communities more," says Winslow, "many of these partnerships have continued over time."
Spreading the Sustainable Love with GRuB
GRuB, or Garden-Raised Bounty, has been a fixture in Olympia since 1993. It began as free vegetable gardens for low-income families in southwestern Washington. In 2001, GRuB as we know it today, came to be after several successful mergers of literal grassroots gardening organizations.
As a 501(c)3 community nonprofit, GRuB relies on grant opportunities like PSE's Powerful Partnerships as well as donations from individuals, families and local businesses in the area. Grants Coordinator Clare Follmann says that they've partnered with PSE in the past, but for this project, someone from the utility reached out and urged them to apply.
Through the award, they received $13,500 to support various programming. It also allows them to partner with PSE in promoting a sustainability challenge for GRuB's staff and volunteers, host a PSE volunteer work group and PSE-led employee training on sustainability, and have an energy efficiency assessment to figure out ways of reducing their carbon footprint.
"One of GRuB's core practices is to gather people together to work reciprocally and collaboratively across differences," explains Follmann, "which includes different sizes and types of organizations. We believe we can accelerate change by developing relationships, sharing resources and supporting each other on our growing edges. GRuB looks to deepen our commitments and practices around equity, climate justice and wellness. This relationship gives each organization another avenue to share what we're learning and to ask for help and feedback."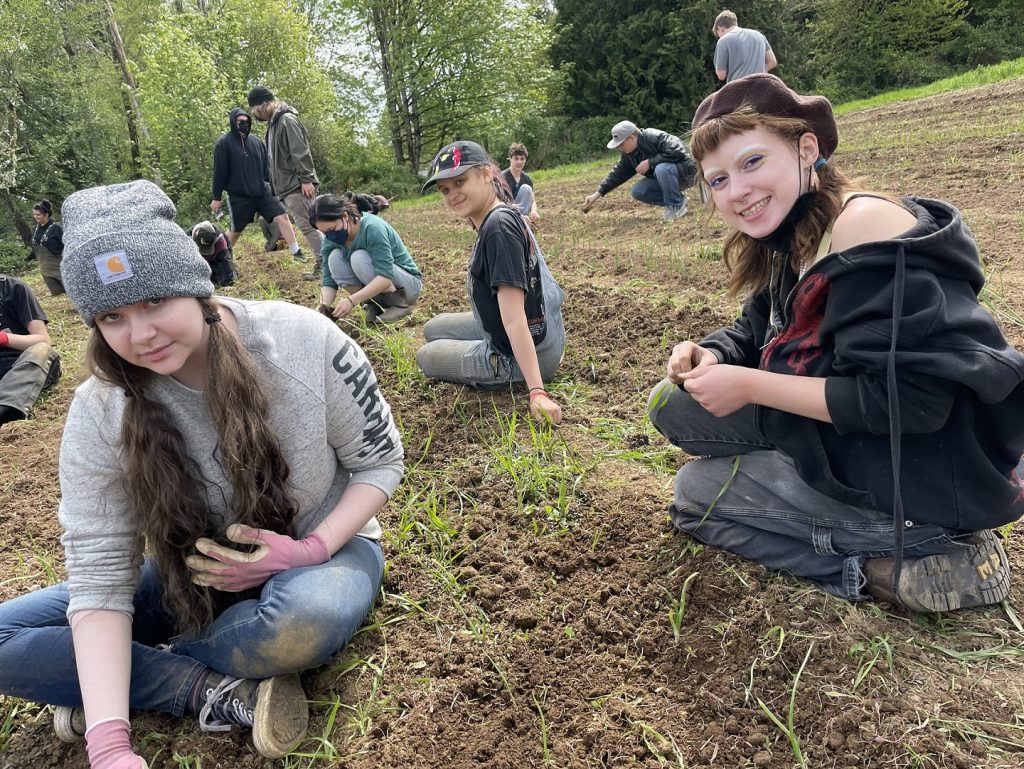 Giving Back through Conservation, Community and Working Together
Keen to develop new lifelong partnerships, GRuB is developing a Healing through Hives program, which supports military veterans interested in beekeeping. They're also building 35 backyard gardens community-wide with a priority on BIPOC and LGBTQIA2S+ communities who often face greater food disparity.
For students, they're taking applications for GroundED, which Follmann describes as a combination GED, workforce development and youth empowerment program based on their three-acre Olympia farm. A partnership with Career Connect Washington, they've built curriculum and network around vocational pathways for youth in their programs.
Want to know more about lowering your home's energy bills through Puget Sound Energy? Visit their website for advice and rebates to help. You can also take an online Home Energy Assessment or ask an advisor all your heating and cooling questions. Information is even available for those with electric cars.
Follow PSE on Facebook, Twitter and Instagram or their video content on YouTube. You can see the latest updates, events and activities at GRuB via Facebook, Twitter and Instagram as well. Consider volunteering at GRuB to give back while living up to their grubby, wonderful, outdoorsy name. Together you can join this amazing partnership and build a sustainable future for all of Western Washington.
Sponsored