Looking for something fun to do throughout the summer? Check out the Flaming Pig BBQ Annual Rides N' Rods Show, featuring classic cars, decked out motorcycles, and more! Car aficionados and families alike will love seeing the varied and unique builds out on the lot every month. With delicious barbecue, teriyaki, ice cream and coffee available during the show, you can easily spend a relaxing afternoon checking out the sweet rides. Rides N' Rods is held at Old Town Center in Tumwater on the third Thursday of every month starting on April 20 from 5 p.m. to 7 p.m. Anyone that wants to come show off their hot rod is invited to roll up and hang out. In lieu of a registration fee, Flaming Pig BBQ will be collecting donations toward local charities, so come out, have fun, and make a difference all in one day!
Keeping Community Alive in Tumwater at Flaming Pig BBQ
Flaming Pig BBQ recently changed ownership in 2021, but their mission stayed the same. For new owner Chad Smith, it was important to carry on the efforts the previous owners had made to keep the community going and to help rebuild opportunities for connection. "We are all still coming out of COVID and we want to help bring the community together," says Chad. "I come from a sort of small town, and after moving here in 2019, I like Tumwater a lot and am interested in investing back into the community."
Events like the Rides N' Rods Show is a perfect example of the ways that Flaming Pig BBQ strives to create fun activities and ways for people to connect with one another. The show started in 2020, and after taking over the business, Chad has been excited to carry on the annual event.
Individuals were left in isolation in the pandemic, and small businesses struggled to stay afloat after a series of lockdowns, closures and limited capacity restrictions. Now that life is returning to normal, Chad is eager to also support not only social recovery but economic recovery for his fellow business owners. "We love having our local vendors come in to be part of the event," Chad shares. "Sweet Lee's Ice Cream has been a valued participant, and Aloha Acai Lava Bowlz has offered delicious options for people. We keep it to our parking lot businesses as much as possible, so you can enjoy Sweet Magnolia coffee and Niko Teriyaki when you are done exploring the show."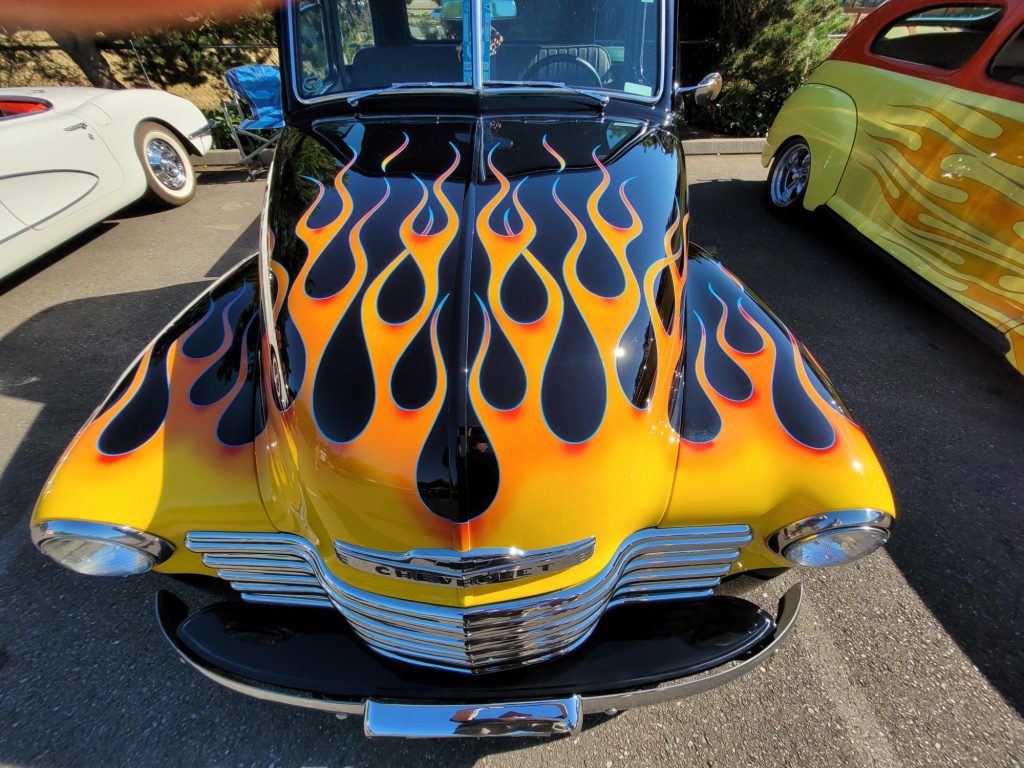 Of course, if you are in the mood for some good ol' fashioned barbecue, Flaming Pig BBQ will still be serving up some tasty dishes all afternoon long during the show. They are now serving draft beer too, so you can relax and unwind with new friends and family members with some great food and drinks. No matter what you are in the mood for, though, Flaming Pig BBQ invites you to come out for a day of fun and delicious food to support connection and community.
Flaming Pig BBQ Offers Connection Through Cars and Motorcycles
The Rides N' Rods Show is open to any vehicle, including motorcycles, trucks, classic cars, rat rods and more. "It is for anything with an engine!" says Chad. "It is a lot of fun and a great chance for car aficionados and motor enthusiasts to get together and swap stories." The Rides N' Rods Show is an informal event that welcomes anyone with a unique ride to come show off their vehicle in a meet and greet format. Coupled with upbeat music over the speakers, good vibes will be flowing all day as people spark new conversations and interests in the world of motor vehicles.
Even if you don't own a classic car or know much about vehicles, the Rides N' Rods Show is still a great place to spend an afternoon. There will be booths with games for kids to join in the fun, as well as an award show to recognize the fan-favorites each month. In addition to the social aspect and fun energy, Flaming Pig BBQ is selecting local charities to promote and support throughout the event. Show attendees can easily donate to great causes and make a difference while being out in the community for a day of fun and food. "We have a few organizations in mind," Chad shares. "We really try very hard to support our local community, so we will be focusing on that." If you are a local nonprofit organization and would like to partner with Flaming Pig BBQ for this event, you can submit a proposition via email to info@flamingpigbbq.net.
With vivid classic cars, upbeat music, and mouth-watering food, this summer-long event is one you will want to mark on your calendar every month. Stop by for the first show on April 20 from 5 p.m. to 7 p.m. and kick-off your summer early!
Flaming Pig BBQ
111 Tumwater Blvd. SE #B-102, Tumwater
360.628.3971
Sponsored