During the mid-20th century, people were on the move and in a hurry. Cars brought a new phenomenon to the region: fast food. Lacey's restaurant scene was dominated by mom-and-pop burger stands. The most famous of them was probably the Flavor Nook, with its uniquely shaped burgers. 
Flavor Nook's History
The Flavor Nook opened as a small snack stand next to a Shell gas station on Pacific Avenue between Lacey Boulevard and Sleater-Kenney Road on Saturday, October 30, 1954 with a buy-one-get-one-free burger sale and free ice cream cones. They moved to their permanent location, 3935 Pacific Avenue, in July 1955. Being on what was then called the "Lacey Highway," its prime location helped secure its popularity.
The Flavor Nook was built and operated by Fred and Mabel Pacis. Fred was an immigrant from the Philippines. In Mabel's obituary, their family credited Mabel with creating the restaurant's signature burger. Denny Bradley acted as manager for the restaurant.
When the Pacis family sold the business seven years later to DeWitt and Mae Vining, the special burger remained on the menu. In the obituary for their son, Jim, a commentator wrote about how Mae used to make the burgers.
Home of the Long Burger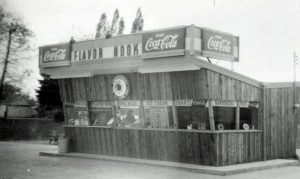 The Flavor Nook's signature burger kept customers coming back again and again. They were the stuff of legend. "It was a burger joint with something I've yet to see replicated," wrote Olympian reporter John Dodge in 2014, "oblong, whole-wheat hamburger buns sprinkled with sesame seeds." Served also on white buns and with a homemade sauce, these fat juicy burgers were cheap too, at $0.40 each. On sale, three of them could be bought for $1.05. They also came in junior size.
But "Lacey's Favorite" served a wider menu than just burgers. They had plate dinners such as Swiss Steak, New York Strip Steak, fried chicken – half a chicken! – with French fries, salad, rolls and coffee. Barbecued beef on a bun came with a choice of potato salad or potato chips. Fish and chips were another option, as well as clam chowder, a Fridays special, and prawns. People could also buy a 21-piece basket of chicken plus fries for $4.95.
The Flavor Nook had 27 flavors of "thick and delicious" milkshakes and malts, including candy cane (for the holidays), licorice, ruby cocktail and zombie. They served chocolate and vanilla freezes and offered sundaes, donuts – made fresh daily – and ice cream cones. People could purchase root beer floats by the cup or buy a gallon of root beer to take home.
A Fun Place to Eat
The second Flavor Nook offered drive-up and inside service and people could ring ahead for to-go orders. In the May 12, 1996 issue of the Olympian Virginia Painter described the Flavor Nook as: "one of a kind. It sported a cantilevered design faced with knotty pine and logs." The place was a destination, with teenagers gassing up their cars at Binger's station and cruising a circuit between the Flavor Nook and Eagan's West Side burger stand on Friday nights.
The Flavor Nook kept long hours, starting breakfast at 6 a.m. in 1963 and opening on Sundays. In later years their hours were Monday through Thursday 9 a.m. to 11 p.m., Friday and Saturday 9 a.m. to 1:30 a.m., and Sunday 12 p.m. to 11 p.m. They were even open New Year's eve, at least in December 1953.
The Flavor Nook also had one of the first neon signs in Lacey. It shorted out in 1968, burning a small part of the roof.     
Lacey Community Spirit
Under both Pacis and Vining families, the Flavor Nook had a strong community spirit. They collected money for charity (a grinch stole their coin box in January1961). In 1966 they joined with restaurants throughout Thurston County to raise money for the March of Dimes by selling coffee by donation. They supported local youth sports and helped sponsor a 1956 Disabled American Veterans film festival at Zabel's Open Air Theater.
With such a deep connection to teenagers, the burger restaurant regularly helped pay for newspaper advertisements supporting the North Thurston High School Rams football team ahead of big games. The restaurant also ran ads in the school's Rambler Yearbook—and in the first Timberline High School Yearbook in 1972. They congratulated graduating classes on their store sign.
Despite being a fast food restaurant, the Flavor Nook had people and groups meet there, such as the North Thurston High School Booster Club and the Lacey-North Thurston Businessmen's Association. In 1963 head grid coach Jim Fouts showed a film of a recent North Thurston football game to the Booster Club. And with such a connection to cars, the Lancers car club – with advisors Dee Vining and Larry Deines – met there weekly in the 1960s.
Flavor Nook: A Nostalgic Favorite
But the fast food market was changing as national chains began to edge out local stores. The Flavor Nook closed in the early 1970s and their "delicious, homemade" food was no more. The Jekel & Son's Bicycle Shop and the Waterbed Shop operated out of the building before Midas Muffler arrived in the late 1970s. The Flavor Nook building has been demolished.
Despite being gone for so long, the Flavor Nook remains a fond memory of many people. In 2022, an online survey by the Olympian over what restaurants people missed the most, the Flavor Nook easily made the list. It may be gone but people can still taste its good food.