If you made a New Year's resolution to get more fit, or you need to get out of the house, consider joining the Lacey Joggernauts run/walk club. No matter the weather, the free club meets every Saturday morning. So like the last five years, the Joggernauts greeted 2023 for their weekly outing on the first Saturday in January despite a steady rain.


The Joggernauts invites runners, joggers and walkers of all ages and abilities to get fresh air on Lacey routes. And, the club supports not only community wellness, it also holds a separate fundraiser for wounded military veterans.
Free Lacey Run/Walk Club
The Lacey Joggernauts' name describes its format: you can "jog or not." Scott Kampen founded the free run/walk club in 2018. The club is hosted by an all-volunteer group headed by a nonprofit board where he serves as president. He started the group with a handful of friends because there was no Lacey running group for all ages. "I wanted it to be family friendly," he says. "A lot of clubs start in bars, which is fine, but it limits family participation."
Since starting as a group of friends, more than 600 people have joined the club's Facebook group. Kampen says they average about 30-35 participants each Saturday. On sunny days more than 50 participants have turned out. There is no pressure to participate every week, and involvement levels vary.
The group is open to the public. There's no fee to join or participate. The Joggernauts gather in an upper parking lot outside the Thrive Community Fitness Center each Saturday at 8:45 a.m. for a 5K (3.1 miles) and/or 8K (5 miles) run/walk beginning at 9 a.m. on a pre-mapped route through Lacey neighborhoods or on the Chehalis Western Trail. All ages and fitness levels are welcome. The Joggernauts also invite you to bring your well-behaved and leashed canine friends, known as "Doggernauts."
Lacey Joggernauts Supports Participants
Kampen says he also formed Joggernauts to lose some weight and to have fun doing it. "The Joggernauts offers a nonjudgmental environment for people to come out and walk, run, jog, whatever they want, and to meet other people," he says. "And we provide an opportunity for people to get out and walk who don't want to walk by themselves, in a safe environment."
From beginners to advanced participants, someone will help you keep a steady pace. "We look at the group as giving people a free opportunity to work on their wellness and set goals for themselves, whether it is running, jogging or whatever," he says. "It's a real supportive group."
Joggernauts Vice President Lori Provoe can attest to that. She says group members were very caring when her 27-year-old son Tyler died suddenly in March 2020. The Joggernauts held a car procession in front of her house so people could drop off remembrances, since COVID-19 in-person restrictions were in effect. And members of the group sang Christmas carols in her yard that year. "It's more than just a running club," she says.
Earn a Joggernaut Medal on Lacey or Remote Routes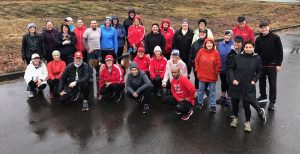 The Joggernauts post the weekly route in advance on their Facebook page. Kampen also describes the route to participants on the day of the run/walk, shortly before folks head out. The route is marked with red Joggernaut signs. Once you walk or jog 10 times, you receive a free medal.
Participants are not just from the Lacey-Olympia-Tumwater area, but also from around the globe. "People from across the U.S. and in other countries as well, such as military personnel stationed in Germany or Korea, participate virtually," Kampen says. He says they ask remote participants to post a photo of themselves on the run/walk and describe their location if they want it to count towards obtaining a medal.
Lacey Walking Club Helps the Military Veterans Community
That military connection is no accident. The Joggernauts sustains more than just local runners and walkers in their weekly fitness journeys. The group also sponsors a separate fundraiser for 4 the Fallen, a volunteer nonprofit organization based in Olympia that supports injured veterans. "It's a great way to give back to the community," says Kampen.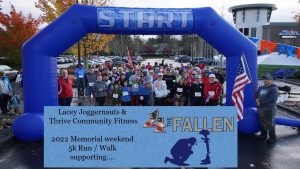 In past years, the Joggernauts held two fundraisers on Memorial Day and Veterans Day. This year, Kampen says they may combine those into one summer event.
Improving Your Health While Having Fun With Lacey Joggernauts
Kampen has seen his own fitness, and that of others, improve through Joggernauts. Several members, Kampen included, also now participate in other walking or running events including marathons. The goal is to give the community a free option to add to their wellness routine. Just show up on Saturday mornings to participate. Join the Joggernaut group on Facebook.