Being un- or under-insured is all too common these days. It's reported that more than 40% of working-age American adults found themselves in this limbo during 2022 alone. To meet increasing local need, The Olympia Free Clinic recently moved sites but reopened their doors to the public on November 21, 1022. Their new location is 520 Lilly Road NE, building 3, just past Providence St. Peter Hospital.


The Olympia Free Clinic, a volunteer-based nonprofit, offers medical, mental health and specialty care services to the those in-between folks at no cost to the patient. They also connect patients with needed community resources which benefit their health, wellbeing and future success.
Who Can Use the Olympia Free Clinic?
The Olympia Free Clinic provides generous guidelines about who can receive care. Patients must be over the age of 18, since children are covered for free at traditional primary care providers. You don't need to live in Olympia and simply considered underinsured.
For example, if you have private insurance but can't afford the deductible or copays, can't get a Medicare or Medicaid approved provider appointment, need care not covered as medically necessary by your insurer or find there to be a demonstrated lack of community resources for the care you need, the Free Clinic welcomes you. Find a list of services not provided at The Olympia Free Clinic on their Frequently Asked Questions page. Meeting with a resource navigator during your visit is highly encouraged and can help overcome lingering barriers to continued good health.
The Olympia Free Clinic Meets Vital Needs
Nancy Murphy, LMHC, explains how their volunteers and staff work tirelessly to fill a very real void. "We are a place that serves people who are uninsured, underinsured and waiting to see a provider under their insurance," says Murphy. "We also have skilled resource managers who are available to help with insurance, housing, benefits and more. Everything we do at the clinic is free for the patient and our clinics are Monday and Wednesday nights from 5 p.m. to 7 p.m., by appointment or on a walk-in basis."
The clinic moved between November 17 and 19 and officially opened their new doors to the public for sessions November 21, 2022. "This move was a huge blessing to be able to meet our desires for patient access and being in close proximity with some of our contacts that we send patients to like Kaiser, Providence and Surgical Associates," says Murphy, "as well as continued growth, expansion, development of new programs and access for our community in a way that meets our patient's needs."
Free Clinic is Thankful for the Volunteers that Keep Doors Open
As a 501 (c)(3) nonprofit, The Olympia Free Clinic relies on dedicated volunteers to keep the doors open. Murphy explains that they have one full-time staff member, their Clinic Director, and three part-time staffers: one volunteer coordinator and two patient coordinators. More employment positions will be opening soon.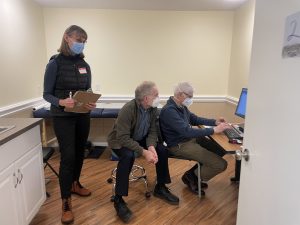 "But the real meat and potatoes," says Murphy, "is our Volunteer Medical Director, Dr. Michael Matlock, who oversees all the medical and patient side of things, and our volunteer board who oversees the organizational side of things." This includes an array of psychology providers, mental health counselors, nurses, doctors, nurse practitioners, physicians assistants, pre-med students and non-medical volunteers who all come together to make this clinic work, Murphy explains. On an average night, there are approximately 10 volunteers keeping the clinic running smoothly.
There are community partners as well. Providence does their imaging and Kaiser does the lab work all for free. Specialists are brought in as needed and those are free to the patient as well, or – if they have insurance – it will be billed on their behalf.
Will You Join The Olympia Free Clinic's Volunteer Team?
The clinic also always welcomes new volunteers. "We have a wide variety of positions with no previous medical or volunteer experience required," says Murphy. But as needs grow, they're also looking for those with medical, psychological or mental health experience for clinic work and telehealth visits. To discuss ways you can help, sign up to become a volunteer, call 360.890.4074, extension 4, or email the volunteer coordinator at coordinator@theolympiafreeclinic.org.
Then consider donating to the clinic on a one-time or monthly basis. Follow TOFC on Facebook and Instagram for updates, clinic changes or ways to help. Patients can make a financial contribution at the time of service but are never expected to do so.
Reports showed that the number of Americans who skipped medical care because of cost jumped from 22% in 2020 to 30% in 2021 and 42% in 2022. Postponing much-needed treatment can be dangerous but thanks to caring organizations like The Olympia Free Clinic, the un- and under-insured in our area find hope, support and the road to a healthy future.
Know someone who would benefit from The Olympia Free Clinic advocacy and care? Questions about services can be directed to clinic@theolympiafreeclinic.org or by calling 360.890.4074, extension 3. Subscribe to their newsletter for the latest fundraising events, clinic details or other news.