Many of us hope to live long, full lives brimming with memories and experiences. For Charlie Jackman, this hope has become a reality as he anticipates his 100th birthday on October 2, 2022. Reaching 100 years of life is quite the milestone, and he is grateful to have his family and health as he continues to soak up the golden years. Charlie reflected on his life and found that staying active and carrying his faith with him have made this longevity possible. Becoming one of the few centenarians is a rare occurrence, and his family is thrilled to be able to celebrate and commemorate this special birthday with him.
A Brief History of Charlie Jackman
Charlie was born in 1922 in England and moved to a farm in Alberta, Canada in 1925. His family later relocated to British Columbia, where Charlie finished high school. As part of the British Empire, the declaration of World War II led to Charlie joining the Canadian Navy in 1941, which took him through a series of educational opportunities in Vancouver, Edmonton and Ontario. While in Ontario, Charlie went to trade school to become an electrician and decided to take a trip to Detroit where he met Helen, who would become his first wife. Before long, he was shipped out to Nova Scotia where their ship was promptly destroyed. Luckily, Charlie got out unharmed and stayed in the harbor for four months helping repair the ship. After serving a stint on submarine patrol and convoy duty in Europe, Charlie returned home and was discharged in 1946. e serv
All throughout his service, Charlie kept in touch with Helen. They soon were married after his discharge and lived in an apartment in downtown Victoria. At the time, Charlie was working in a mental hospital for the criminally insane and had grueling 10-hour shifts for 6 days straight with 2 days off. He rode his bike six miles to and from work every day. Charlie later left that job to begin doing contracting work with his brother-in-law, where they worked on businesses and houses. Their first son, Ron, was born in 1947, at which point Helen wished to return to America. Charlie applied for citizenship and they put their house up for sale, moving to the Seattle area to start their new life.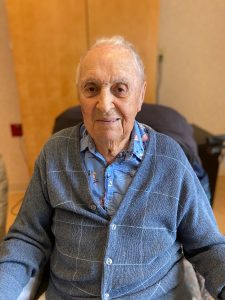 Charlie went out to find a job a few weeks after settling in King County. He walked into General Electric and talked to the hiring manager about open positions. During the interview, Charlie was set to start work at 8 a.m. sharp the next day. He spent the next 30 years working for General Electric, working as an outside salesman before relocating to Tacoma to serve as a store manager until he retired in 1982. During this time, Helen and Charlie went their separate ways, and before long Charlie met his late wife, Patricia. They were married in 1967 and blended their families together. Ron was 20 years old at that time, and Patricia brought with her three sons, who Charlie took in as his own. Patricia and Charlie had two daughters together, Gina in 1968 and Julie in 1969.
Charlie Jackman's Golden Years
Once the kids were grown, Charlie and Patricia moved in with her parents to help take care of them. They loved to travel, so they bought a travel trailer to escape to Arizona every now and then. Patricia's parents later fell ill, and they cared for them until their passings in 1993 and 1995. With their family dynamic shifted, the couple decided to move to Arizona in 1995 and remained there for almost 20 years. They thoroughly enjoyed their time in the desert but found it was becoming challenging to care for their home in their later years. Their daughter Julie was moving back to Washington to live in Olympia and encouraged her parents to join them so they could live close to one another again. In June 2014, Charlie and Patricia relocated to Olympia and moved into a local retirement home, The Firs.
Patricia had unfortunately been diagnosed with diverticulitis in Arizona. She later developed dementia and was moved into Manor Care, now known as ProMedica, until she passed in 2019 at the age of 86. Charlie lived with Julie and her husband until 2020, at which point he transitioned to ProMedica for some additional daily support. They helped support him through his operations in 2014, which were the only major medical issues he has experienced in his later years.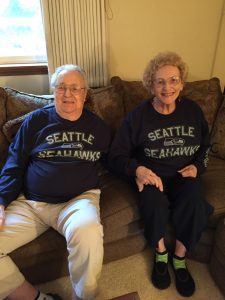 For Charlie, his good health is largely attributed to his remaining active over the years, from golfing and camping to walking every day. Additionally, Charlie feels that his spirituality has been a great contributor to his health, and he enjoys listening to his audiobook Bible to stay connected to his faith. "I see my health as my biggest asset and I am so grateful to have my health," says Charlie, "especially when I see so many people younger than me struggling with theirs."
Celebrating the Newest Centenarian
Charlie's family is thrilled to see him in good health as he approaches 100, and cannot wait to celebrate this milestone with him. Julie is hosting a large gathering of family and friends at their house on October 1, the day before his birthday. For his actual birthday October 2, they have arranged for a drive in Charlie's favorite car, a 1957 Ford Thunderbird, as well as lunch at the Olympia Oyster House. ProMedica, the facility where he lives, will also have a party for him to commemorate this amazing birthday.
It isn't every day we see people living into the triple digits, and for Charlie, he feels truly blessed to have his health and 100 years of good fortune and adventure to look back on. Today, he is grateful for the family and friends he has that bring him company and connection as he continues to enjoy his golden years.