Are you ready for beer, the Chicken Dance and more bratwurst than you can eat? It's Oktoberfest! Time to celebrate with some fun events that will have you dancing and drinking all night. Maybe you just want a place to pick up some great German food, we have that too! Here is where to celebrate 2022 Oktoberfest in Olympia and throughout Thurston County.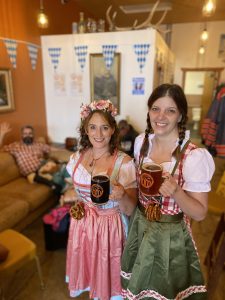 Headless Mumby Brewing Company
September 17-October 1
232 Division St NW Olympia
Headless Mumby Brewing Company is pulling out all the stops for a two-week long Oktoberfest celebration! It all kicks off on September 17 with a cask tapping! They will have new Marzen pretzels handmade by a local baker, foods from CarbonPob and traditional German music. Get there early to get one of their limited edition Oktoberfest steins, handmade by a local artist. Learn more about the Headless Mumby Brewing Oktoberfest in this article or visit the Headless Mumby website. 
Oktoberfest BINGO
September 23, 6 p.m.
Lacey Senior Center
6757 Pacific Ave SE, Lacey
Senior Services for South Sound is putting on a different kind of Oktoberfest event in Lacey, BINGO! Try your luck at this 21-and-over game that is sure to be a ton of fun! They will also have a costume contest with prizes, so wear your lederhosen. You can purchase festive food and drinks and try your luck with a a 50/50 raffle. Cost is $25 and cash only at the door. For more information, visit the Senior Services for South Sound website.
Hoh River Brewery
September 21 – October 9
2442 Mottman Road SW Suite A, Tumwater
Hoh River Brewery is celebrating Oktoberfest in Tumwater with a special release: Oct-HOH-berfest Lager. The Lager will be available September 21 through October 9. During that time, the Lager will be on special. They will also be offering free snacks and have drawings for free swag! For more information visit the Hoh River Brewery website.
Madeline's Bavarian Wurst   
700 Capital Way N, Olympia at the Olympia Farmers Market
360.402.8866
Madeline's Bavarian Wurst at the Olympia Farmers Market has wonderful German food year-round, making them a great choice for your Oktoberfest celebrations! They have all your favorite German foods, including hot potato salad, bratwurst in every style imaginable – even with curry! – and more. For Oktoberfest, look for their special: Uli's Weisswurst served with Oly Kraut's Eastern European Sauerkraut, housemade hot German potato salad and red cabbage apple slaw.Visit Madeline's Bavarian Wurst website for specials and operating hours.
German Diner
8910 Martin Way E, Lacey
The German Diner in Lacey serves up a number of traditional German dishes that are a perfect way to celebrate Oktoberfest in Thurston County. They have specials that are only available on certain days, so definitely ask your server or check the menu. Pair your meal with a cold German beer and make sure to save room for dessert, because the German Diner offers a variety of delicious German cakes, including a moist and flavorful black forest cake. Follow the German Diner on Facebook book for more information.